Pimples are caused by clogged pores that produce sebum and other impurities. Although topical treatments can easily remove these substances effectively, they don't work overnight. Treatments usually take two to three days to get rid of pimples. Though, most natural remedies can take longer to yield results but are safe and affordable. However, once you see results, pimples should begin to disappear.
There are many natural remedies for pimples. But we have found these seven natural ingredients in our homes. Or you can easily purchase from health food stores and supermarkets. Besides, their use is safe for all skin types.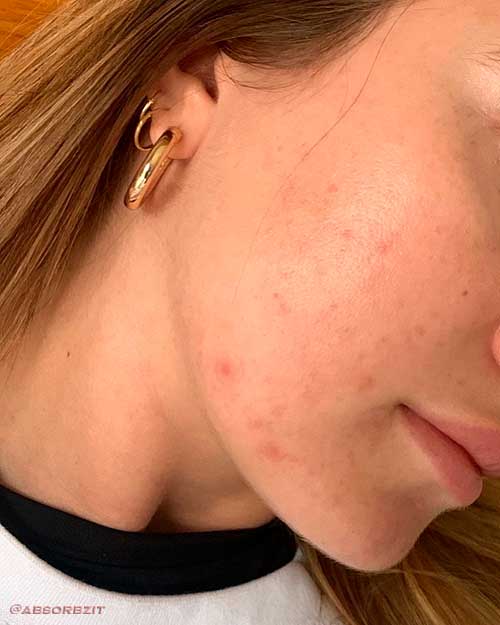 1. Oatmeal
Oatmeal is a natural exfoliant that helps to clean out pores and promote clear skin. Its high lipid and protein content also helps to heal dry and sensitive skin. Additionally, oatmeal contains antioxidants that can heal damage to the skin from UV rays and pollution.
Oats also contain oat bran, which can reduce skin irritation and skin bacteria. Honey is an excellent natural antibacterial, combined with oatmeal; it can reduce the appearance of acne and promote clear skin. Oats are a great alternative to sugary acne treatments, but they won't work as well if you have severe acne.
You can use oatmeal as a facial mask to give an additional efficient treatment. Apply it to the area where you'd like to get rid of pimples, and it will absorb the excess oil and bacteria. It will also exfoliate dead skin cells. You can also mix oatmeal with other ingredients to make a soothing bath. Incorporating essential oils, like chamomile or lavender oils, can help soothe your skin and help you relax.
Oatmeal is also rich in lycopene, which fights free radicals and protects skin cells. Cucumber also contains vitamins A and E, which promote healthy skin. If you don't want to use a facial mask, you can grind oatmeal to powder, mix it with pure aloe vera gel, and apply it to your face. Within 20 mins, wash it off using warm water.
2. Aloe vera
The natural healing power of Aloe Vera can help with a variety of skin problems, including pimples. It can soothe your skin, reduce inflammation, and boost skin cell renewal. In addition, it can help to reduce dark spots and relieve pain. As a bonus, it's also a natural skin moisturizer.
Aloe Vera is utilized as a treatment for a skin or as a juice. It's available in health stores as well as supermarkets. Just make sure to choose a brand with a high percentage of aloe vera gel and no other additives. It's the perfect solution for detoxification and skin care.
Additionally, you can use Aloe Vera as a homemade exfoliating mask. You can make a simple homemade mask using 1/4 cup of pure aloe gel and a teaspoon of raw or white sugar. For added benefit, you can use tea tree oil to fight acne effectively. However, tea tree oil is vital, so you must be careful not to leave it on your face.
Of course, you can use Aloe Vera to reduce skin scars. However, aloe vera is not a perfect treatment for acne scars and is not appropriate for all skin types. If another factor causes your acne scars, you may be better off opting for medical treatments for acne scars, such as laser treatment or dermal fillers.
3. Multani Mitti
Multani Mitti is an excellent natural solution to pimples. It helps to eliminate old skin cells that have died off. Also, it reveals healthy skin. It can also help fade scars and dark marks on the body. If you want to use it as a skin treatment, try mixing it with lemon juice and neem. So, you can apply Multani Mitti on the face and neck with a paste. It can be used daily or just a few times a week. Then, apply the mix to your face for about "30 minutes", then reinse. You can mix Multani Mitti with sandalwood powder to make a face pack.
Multani Mitti is an effective remedy for pimples as it removes any excess oils from the face. Of course, this natural ingredient, in turn, reduces acne scars. Its exfoliating action helps remove dead skin cells, which aids in healing your skin quicker. Also, it contains minerals that are beneficial for the skin.
Multani Mitti is a natural ingredient used to fight acne and dry skin. This ingredient also fights pimple-causing bacteria and is an excellent mattifier for oily skin. It also helps improve skin tone and firm pores without disrupting the natural oil.
4. Tea tree oil
If you're looking for a safe, natural way to eliminate pimples, consider using a tea tree in the affected area. It is recommended to apply pure tea tree oil to dry skin with a cotton bud. For sensitive skin, dilute it with water or aloe vera. You could also mix a handful of drops of it with your regular moisturizer or facial wash.
Tea tree oil is an effective way to treat acne, but you should be careful to avoid it if you have sensitive or eczema-prone skin. Although it works effectively, it can cause irritation and redness on the skin. For this reason, you should spot-test it on your forearm before you start using it on your face. However, if you're unsure, you can apply it to your face every other day until you notice any improvement.
When used on the affected area, tea tree oil have antibacterial properties. It's efficient against a variety of bacteria, including staphylococcus as well as p.acnes. Moreover, terpinene-4-ol, which is present in tea tree oil, works by destabilizing the bacteria cell.
Tea tree oil's antibacterial, antiviral, and antifungal properties make it a great solution for all skin problems like acne. A recent study found that combining tea tree oil and resveratrol ingredients can save the skin against sun damage. Additionally, combining the two compounds reduced bacteria and oil in the skin's pores.
5. Ice
Applying ice to a pimple can reduce inflammation and redness. You can also try using an aloe vera or cucumber ice cube. Both contain antibacterial properties that can help you get rid of pimples. Wrapping an aloe vera or cucumber ice cube in a muslin cloth will also help reduce redness and swelling.
After cleansing your face, apply ice to your inflamed pimples. Also, this can also lessen swelling and decrease the size of the pimple. Apply the ice for about three to four minutes. Repeat this procedure every day, at minimum, until the pimple goes away. Make sure not to use a hot compress to prevent damaging your skin.
Ice is also a great way to get rid of pimples without the negative effect of traditional acne drugs. It's important to avoid overusing these medications, as they can cause your pimples to grow larger and become more inflamed. You should also avoid overusing products that contain alcohol. Alcohol-based astringents, toners, and exfoliants can make your acne worse.
While ice can be a quick and effective way to get rid of pimples, it should only be used when a doctor has recommended it. A hot compress opens up pores, so don't use it right after ice therapy. Hot compresses can cause more damage to your skin than ice does.
6. Virgin Coconut Oil
Another natural way to get rid of pimples is to dab it with virgin coconut oil and leave it on for a couple of hours. Alternatively, you can apply turmeric paste to the affected area. Turmeric has curcumin as an ingredient that may lower inflammation and reduce the risk of breakouts in the future. This paste is best applied twice daily to the affected area, though it can cause allergic reactions if applied to the skin for extended periods.
7. Garlic Pressed in Olive Oil
It is also possible to apply garlic to the area affected. A few cloves of garlic are pressed in olive oil then apply the mix to the affected area. Applying garlic oil to the pimples twice daily can help the area heal more quickly.