Do you want a lightweight gel-cream moisturizer that provides a burst of hydration for healthy, glow, and cooling skin all the time? Then you are in the right place. And Belif aqua bomb cream will provide you with moisturizing with the addition of Aloe Vera that is available now, It's the true cream aqua bomb aloe vera!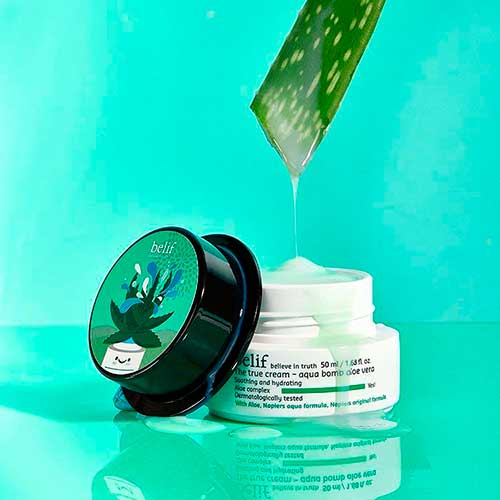 This lightweight gel moisturizer works with normal, dry, combination, and oily skin types. And it's a dull dry skin treatment. Because of the aloe vera ingredient that has amazing soothing properties. So, let's take a look at the natural Aloe Vera benefits for your skin.
Aloe Vera Benefits For Skin
This magical plant has tons of benefits and is considered one of the best herbal remedies. So, it is widely used in several different cosmetic products due to the:
1. Hydration Properties
It can be absorbed easily and soothe your skin without clogging your pores, and lock moisture into your skin.
2. Aloe Vera Anti-Aging Properties
Using Aloe Vera regularly improves your body to produce natural collagen protein that keeps your skin youthful. Also, it has other vitamins like E, and C in addition to other nutrients that are important to your skin's health.
3. Aloe Vera Sunburn Relief
After spending a long time without protection from sun rays, we get burnt. Furthermore, the surprise is that you can count on Aloe Vera for sunburns instead of cortisone-based products. In order to soothe your skin and lessen the redness and irritations of sunburns.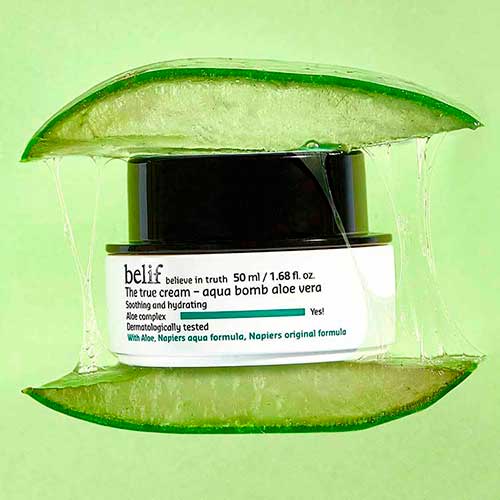 4. Aloe Vera for Healing Wounds
Aloe Vera's wound-healing properties are really efficient to accelerate the healing process. So, the Aloe Vera gel can penetrate your skin better for healing and renewing your skin cells.
5. Aloe Vera Plant Remove Dark Spots
Indeed, Aloe Vera's benefits for acne scars are amazing so, it can lighten and stretch marks. because of its ability to regenerate the skin cells, also you can mix the Aloe Vera gel with lemon juice to reduce freckles and age spots. as one of the best home remedies for acne scars.
6. Aloe Vera for Acne
Also, Aloe Vera has amazing properties such anti-bacterial, antiseptic, and anti-inflammatory properties. so it can protect your skin from agents which cause acne. also as we said it can penetrate your skin deeply but this time for a deep cleanse.
Belif Aqua Bomb Aloe Vera Cream Highlighted Ingredients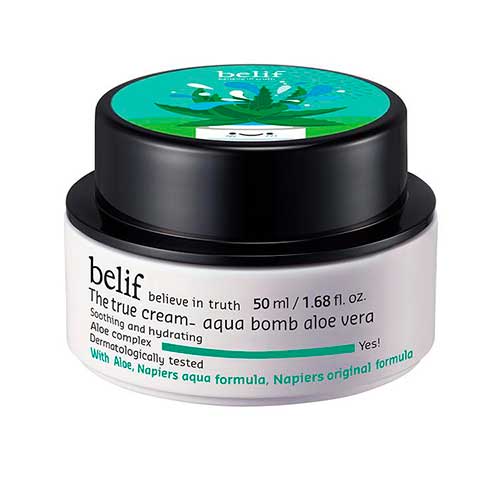 Aloe Vera can treat a lot of skin conditions. so it has been used for centuries and is also an anti-inflammatory Lady's Mantle plant. and is a blend of apothecary herbs in addition to chickweed and plantain for hydration boosting.
This gel cream moisturizer can give you amazing results within 14 days according to the clinical results published on the belifusa product's website, eventually. At last, Aqua Bomb Aloe Vera is worth shopping for online, and give it a try!