Eyeshadow is an eye makeup used to enhance your eyes look, by applying it to your eyelids to make your eyes attractive. Applying and blending eyeshadow over your eyelids is performed using sponges, and brushes, and also you can use your fingers. But you should look for the best eyeshadow palettes that give you plenty of makeup looks and avoid the cakey look at the same time.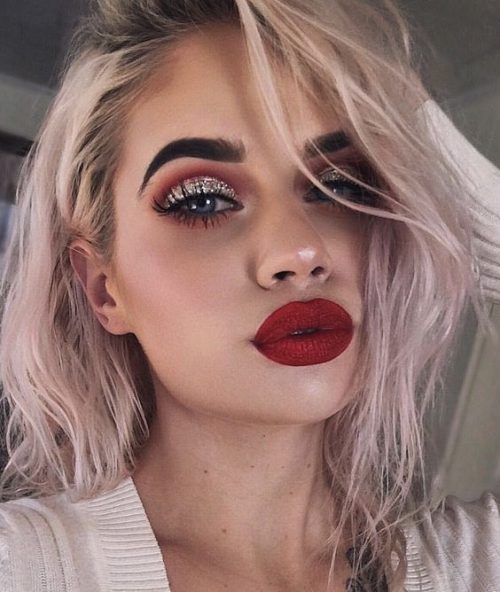 Hey there! Stylishbelles.com is a participant in the Amazon Services LLC Associates Program, an affiliate advertising program designed to provide a means for sites to earn advertising fees by advertising and linking to Amazon.com
Eyeshadow forms are powder, liquid, and cream that can give you a sheer, matte or shimmery finish. What you want depends on the eyeshadow type. Besides, all of them can be removed easily from your face using an eye makeup remover, water, soap, baby oil, or olive oil. Also, makeup wipes can be used.

The best eyeshadow palette brands will give you the look that you dreamed of, just keep scrolling!
1. URBAN DECAY Naked Palette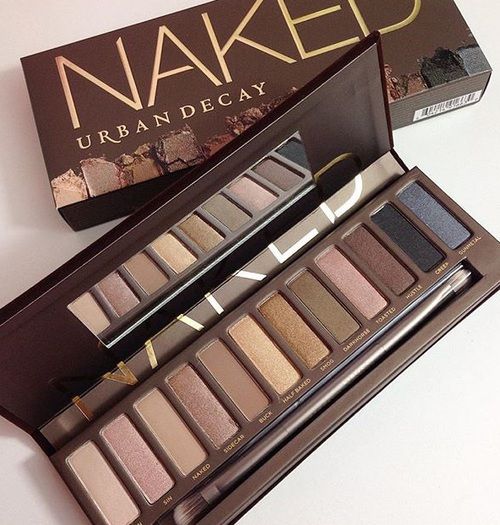 Its neutral eyeshadow palette comes with 12 bronze-hued shadows and provides you with different looks. Because it is including a variety of finishes such as matte, satin, shimmer, and sparkle which takes your eye color to an awesome level. Additionally, all shades are high pigmented which, provides the formula its glide and the final result is an intense color. Also, it will give your makeup a permanent sparkle and long-lasting put on your eyelids.
Related: 3 Best Urban Decay Eyeshadow Palettes!

The 12 Urban Decay Eyeshadow Palette is loaded in a chocolaty velvet case with a double-ended brush for Shadow/Blending, and the 12 eyeshadows descriptions are:
Virgin: is a cool pale beige shimmer and it's an awesome neutral eyeshadow
Sin: is a pale nude shimmer that, has a little pink finish
Naked: is a nude matte which, is medium beige brown
Sidecar: is a beige shimmer which, is medium bronze brown
Buck: is a fawn brown or darkened beige-brown matte
Half Baked: is a golden bronze shimmer
Smog: is a deep coppery bronze shimmer
Darkhorse: is a deep mocha or chocolate brown shimmer
Toasted: is an antique copper penny shimmer
Hustle: is a plum-brown satin with a soft shimmer finish
Creep: is a dark blue-black with a silver shimmer
Gunmetal: is a dark blue-gray metallic shimmer with silver micro-glitter.

2. ANASTASIA BEVERLY HILLS – Modern Renaissance Eye Shadow Palette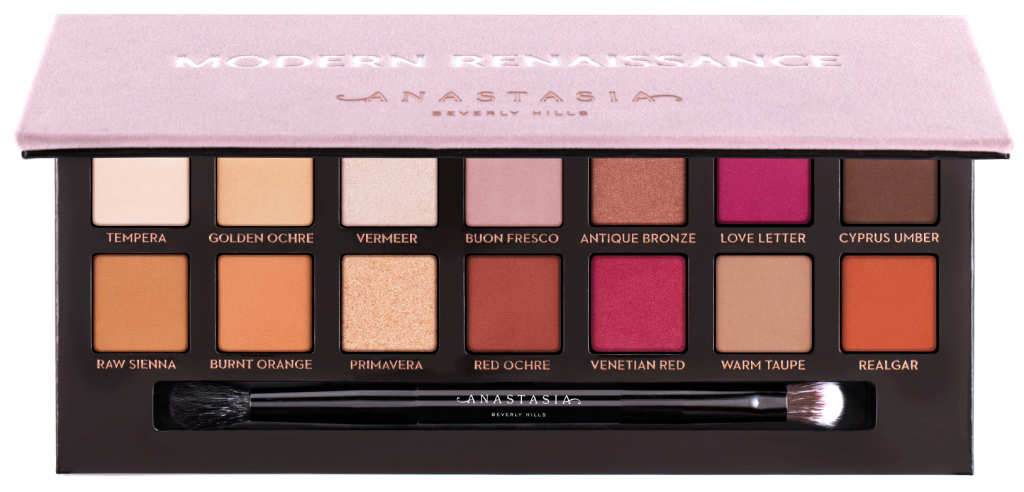 Modern Renaissance Palette comes with a high pigmented 14 shades with different tones between neutral and berry. Where 11 shades are matte and 3 are metallic which, gives you a wide range of an awesome day to light makeup looks:
Tempera: is a velvety beige color that has an ultra-matte finish.
Golden Ochre: is an earthy yellow color that has an ultra-matte finish.
Vermeer: is an iridescent shell color that has a metallic finish.
Buon Fresco: an antique lavender color has an ultra-matte finish.
Antique Bronze: is a Metallic sable color that has a satin finish.
Love Letter: is a raspberry color that has an ultra-matte finish.
Cyprus Umber: is a dark coffee color that has an ultra-matte finish.
Realgar: is a brick color that has an ultra-matte finish.
Warm Taupe: is an earthy gray color that has an ultra-matte finish.
Venetian Red: is a crimson color that has an ultra-matte finish.
Red Ochre: is a sienna color that has an ultra-matte finish.
Primavera: is a shimmery gold dust color that has a metallic finish.
Burnt Orange: is a deep orange color that has an ultra-matte finish.
Raw Sienna: is a neutral amber color and has an ultra-matte finish.
Check the MODERN RENAISSANCE EYE SHADOW PALETTE price on Amazon!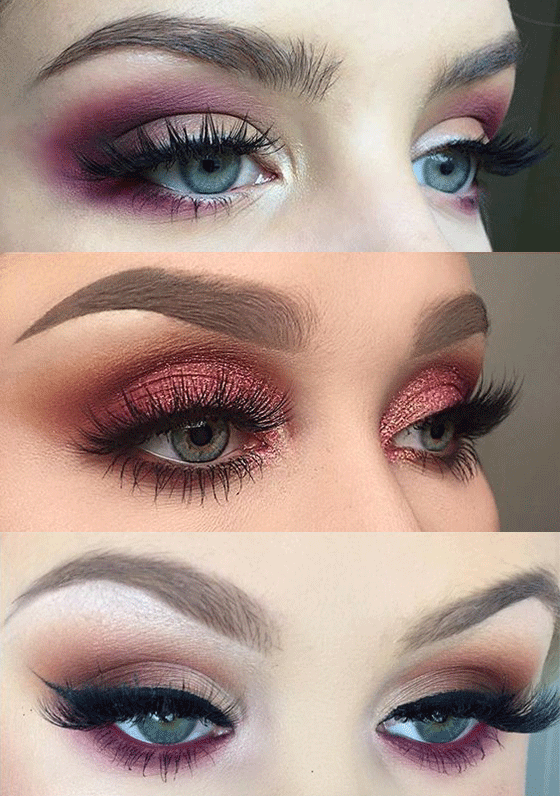 3. Too Faced Sweet Peach Eye Shadow Collection Palette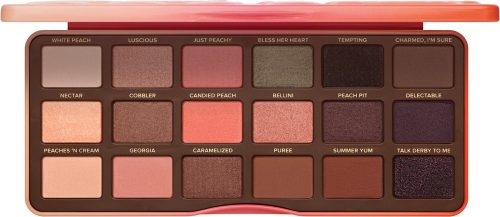 The Too-faced sweet peach is an eyeshadow palette that comes in 18 shades with different tones. Further, it will give you a wide range of makeup looks for every day and every night to be sweet as a peach throughout the year. Also, the sweet peach palette has high pigmented shades with a juicy scent and antioxidant essence of peach. Besides, 18 shades are suitable for all skin tones.
A glamour guide with some looks is included to give you an easy start. Also, you can check the latest price of the Too Faced Sweet Peach Eye Shadow Collection Palette on Amazon!