The ColourPop Orange You Glad Eyeshadow Palette is the perfect way to add a splash of color to your face. Aside from the novelty orange box, the eyeshadow palette also includes the usual suspects, like matte and shimmery shades. Plus, there's a cool mirror on board, making touch-ups a breeze.
The ColourPop makeup brand was rolling in the industry for some years with the monochrome collection of pink, Red (Main Squeeze), blue, green, and yellow palettes, and their latest shade, bright orange.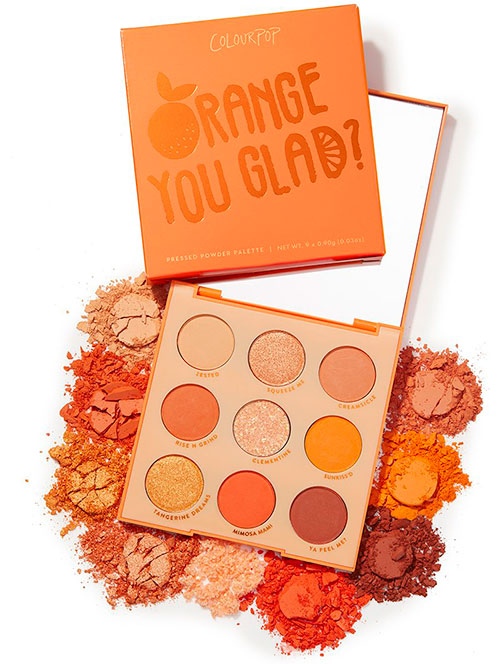 ColourPop Orange You Glad Shades
One of the best eyeshadow palettes that you will have in this generation is this Colourpop Orange You Glad Palette. Typically, this ColourPop eyeshadow comes up with a total of nine various shades with glitter, metallic, and matte finishes. Also, what this ColourPop palette differs from other ColourPop cosmetics palettes is that all the available colors of this eyeshadow are included in the family of orange.
In addition, some of the shades of this new palette that stand out are the Clementine, which is a light orange shade with a copper flip; Tangerine Dreams, which is a metallic mid-tone red-orange. Also, the Rise N Grind is a matte orange. Furthermore, what's best about this pressed powder eyeshadow is that it is suitable for different skin tones.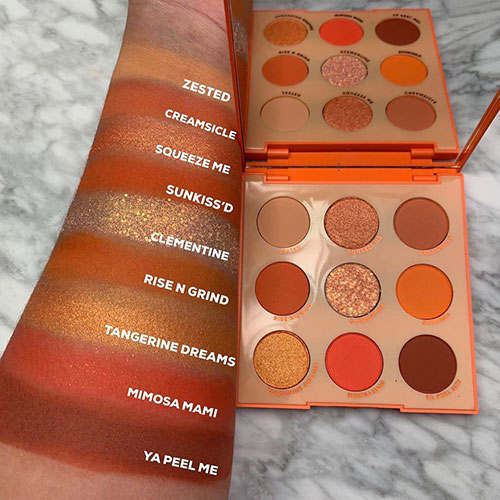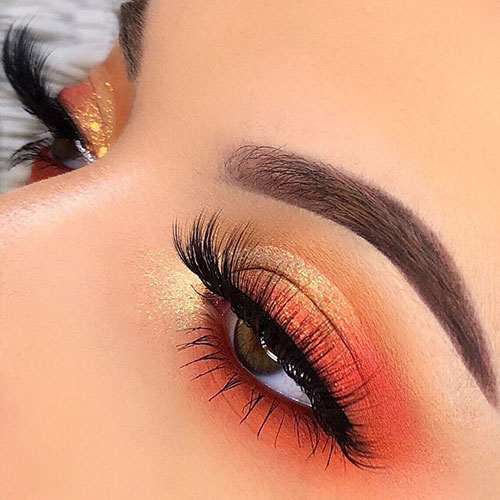 ColourPop Orange You Glad Palette Come up with Four Single Eye Shadows
The ColourPop Super Shock Shadow Foursome that you can purchase for only 7 US Dollars for each one. It comes with different eyeshadow styles, such as:
Let Me Pass – a pumpkin spice orange with gold glitter
Bubble Bee – a bright metallic yellow-orange
Monkey Business – a matte neon red
Flipper – a soft tangerine with silver glitter reflects.
Every shadow of these four single eyeshadows of ColourPop is magnificent. further, the only thing that you should keep in mind about these ColourPop swatches is that it is always on-trend in several seasons. Indeed, orange will perfectly fit in the fall season, and red is a suitable shade for the summer months.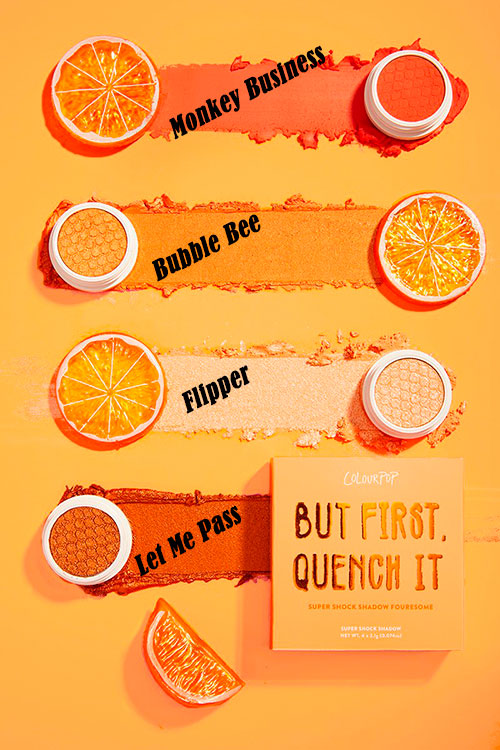 It Also Features a Set of Brush in Orange
The ColourPop Orange-themed brushes have a simple yet elegant design. As we all know, Colourpop is a brand that definitely exerts more effort into its products rather than its packaging. But still, their set of orange brushes suits professional or non-professional makeup artists easily and quickly.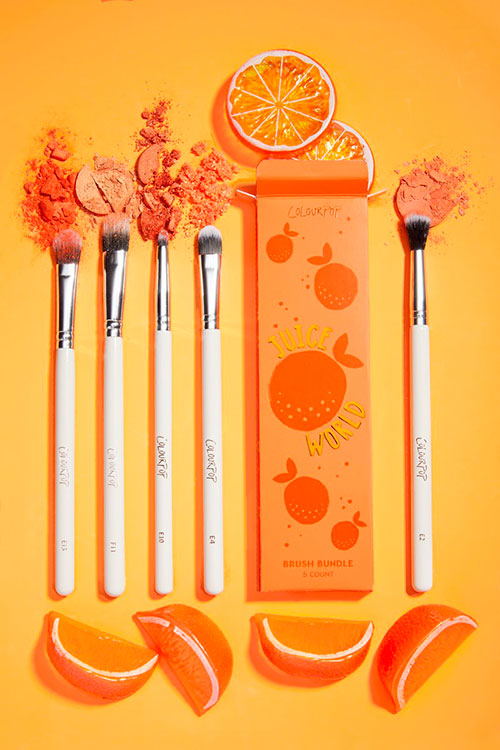 ColourPop Offers Numerous Makeup Looks with the Orange Shade
Of course, ColourPop is a brand that will offer its customers several options of makeup at different prices. Besides, if you count the several duos of the set, you will have nine collections of makeup. Its duos include Blush Stix with matching lip glosses that are already available. This set of ColourPop eyeshadow comes up with the ColourPop You Glad eyeshadow palette with Créme Gel Liners.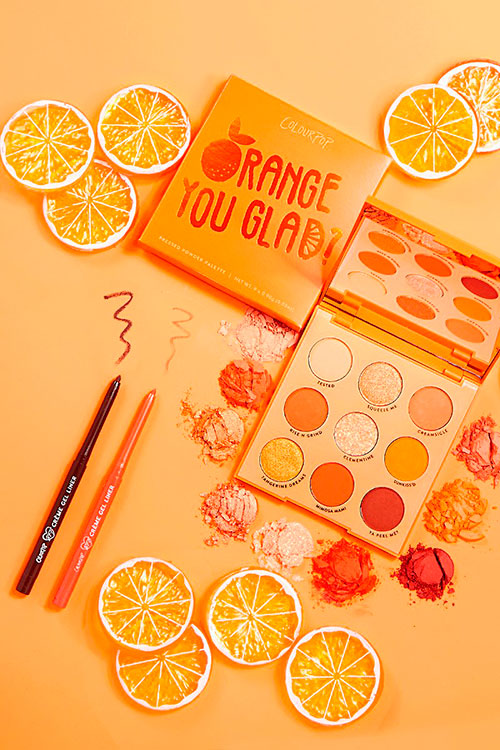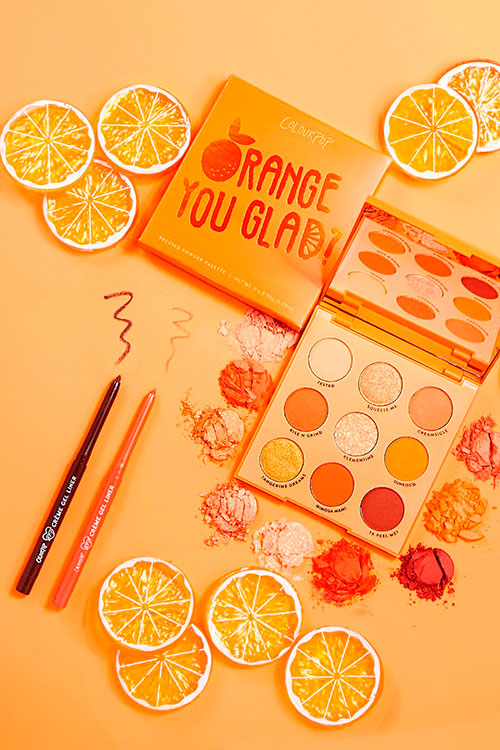 Every one of us wants to be more attractive and elegant when we face other people from different walks of life – whether in school or work. Purchasing this ColourPop You Glad eyeshadow palette will help you achieve the look you want (SHOP NOW).