If you're looking for an eye cream that contains retinol, then look no further than the Glow Recipe Avocado Melt Retinol Eye Sleeping Mask. This is a deeply nourishing eye mask that's packed with brightening ingredients to treat wrinkles and depuff the eye area. A formula is also a vegetarian-friendly option.
Of course, you can reignite the beauty and spark of your eyes with the use of this powerful yet gentle eye mask sleep. That has niacinamide, coffeeberry, encapsulated retinol, and avocado. Because of its long-lasting activity, it will release nutrients into your eyes that will help to de-puff, fight fine lines, brighten, and moisturize.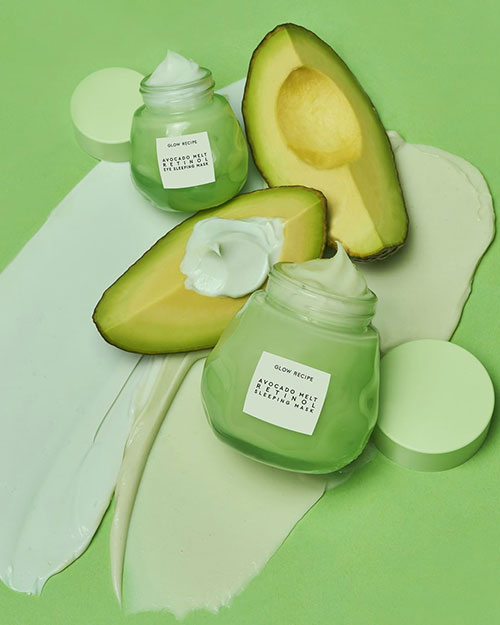 Hey there! Stylishbelles.com is a participant in the Amazon Services LLC Associates Program, an affiliate advertising program designed to provide a means for sites to earn advertising fees by advertising and linking to Amazon.com
Glow Recipe Avocado Melt Retinol Eye Sleeping Mask Ingredients
The Glow Recipe Avocado Sleeping Mask has coffeeberry, niacinamide, encapsulated retinol, and avocado.
Coffeeberry
Coffeeberry contains antioxidants, which will soothe, revitalize, and neutralize the free radicals in your eyes. It also has caffeine that will help your eyes to decrease the dark circles under eyes appearance. Also, can decrease the puffiness of your eyes.
Niacinamide
It is a water-soluble antioxidant and vitamin B3 that will work with the compounds of your skin. That will help your eyes to enhance wrinkles, fine lines, and dull appearance. It can also restore the cellular energy of your eyes, and reconstruct the broken DNA. Besides, declines the effects of the UV rays that will brighten up the under area of your eyes.
Encapsulated Retinol
Encapsulated retinol is known in helping to the firmness of your skin and removes damage. That comes from too much exposure to free radicals, such as air pollutants. The encapsulation will enable the retinol to be absorbed by the skin profoundly and reduce some amounts every second. Which makes it a gentler treatment compared to traditional retinol.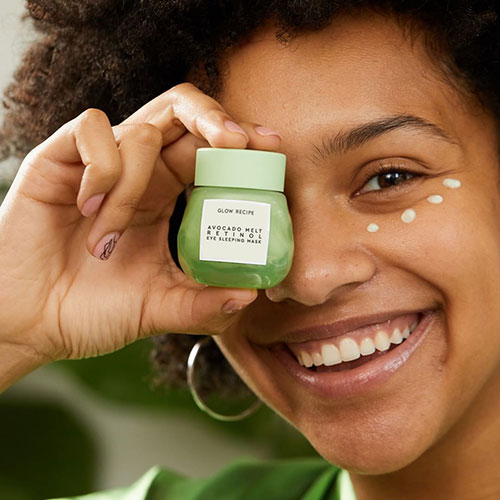 Avocado
Avocado, as we all know, is a nutrient-dense fruit that contains a high amount of vitamins, including Vitamin C and Vitamin E. These vitamins are the best protector from environmental aggressors and wrinkles. Also, this mask has avocado extract and avocado oil for the best nourishing and soothing experience.
The glow recipe avocado sleeping mask is free from cruelty, synthetic fragrance, synthetic dyes, alcohol phthalates, silicones, sulfates, mineral oils, and parabens.
This eye sleeping mask will help your eye skin to look more awake and brighter. It will also make your skin feel more supple and nourished. It has a luxurious, creamy, and rich texture. The glow recipe avocado mask also has a fruity, calm, and fresh scent. If you are looking for the best eye mask for sleeping, we recommend you try this Glow Recipe Avocado Melt Retinol Eye Sleeping Mask.