Hempz Lotion Sensitive Skin Herbal Body Moisturizer is an all-natural formula that's gentle enough for even the most sensitive skin. It uses an oatmeal complex to soothe and protect your skin. Plus, it's dye-free, THC-free, gluten-free, and fragrance-free. It also contains the natural restorative power of hemp seed oil, which is rich in essential fatty acids and vitamins.
A good night's sleep for 8 hours and drinking lots of water every day are very useful for having hydrated skin, however, you will need to use a body moisturizer. Especially, for dry areas like your heels, and your face is definitely the most important area that maybe need to be moisturized twice a day. So, we have chosen a good body moisturizer to try it's (Hempz Moisturizer for sensitive skin)! That really helps you to restore hydration to your sensitive skin.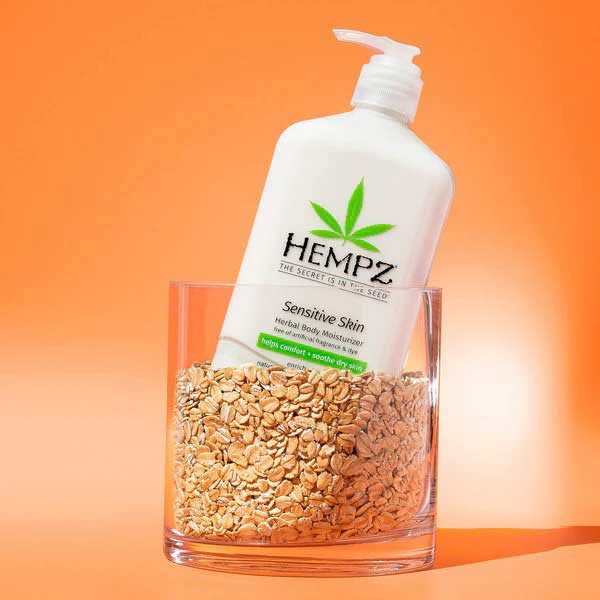 Why Use Hempz lotion?
Sensitive Skin Herbal Body Moisturizer is made from natural extracts and oils like hemp seed oil the best source of fatty acids. That provides your skin with protein and nutrients to keep your skin conditioned with a perfect healthier look.
Oatmeal complex in Hempz moisturizing body lotion for sensitive skin helps to reduce dryness and itch and reduces skin irritations. Also, makes you feel that your skin is soft and smooth.
Shea Butter is an important ingredient that helps for protecting your skin from sun rays and dehydration. So, it acts as a skin healer and helps you feel your skin soothe and calm.
Natural cocoa seed butter is another useful ingredient that acts as an antioxidant. Besides, helps your skin for reducing the signs of aging and is deeply moisturized. 100% Vegan ingredients and perfume-free moisturizer. So, I think it's a good idea to give it a try and maybe your skin loves it.
To Conclude
At last, Hempz Sensitive Skin Herbal Body Moisturizer is a paraben-free, fragrance-free, dye-free, and gluten-free lotion. Which is formulated with hemp seed oil to help moisturize and soothe sensitive skin. It is ideal for anyone with dry, sensitive skin. The hemp seed oil helps to lock in moisture, and the Oatmeal Complex moisturizes and protects sensitive skin.