Herbivore Botanicals has released a new under-eye cream: Herbivore Super Nova Caffeine Eye Cream to brighten and hydrate the delicate skin around the eyes. In addition, the cream contains powerful ingredients, including turmeric, which is rich in antioxidants. Besides, this formula is gentle on the eye area and helps to reduce puffiness and fine lines.
Hey there! Stylishbelles.com is a participant in the Amazon Services LLC Associates Program, an affiliate advertising program designed to provide a means for sites to earn advertising fees by advertising and linking to Amazon.com
Super Nova 5% THD Vitamin C + Caffeine Brightening Eye Cream is designed to be used under your favorite concealer. Also, it instantly helps to diminish under-eye bags, improves skin tone, and brightens dark circles. This formula can suit all skin types, also you can wear it under any concealer.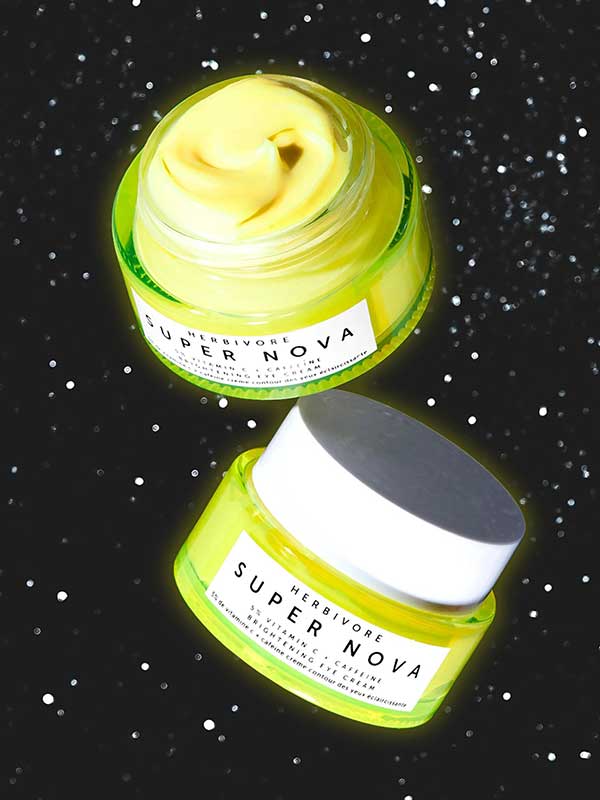 Why Use Eye Cream?
Eye creams are formulated specifically to address the needs of the delicate skin around your eyes. So, you can get an eye cream that will tackle a variety of issues, from fine lines and dark circles to bags beneath your eyes.
What are Caffeine Eye Cream Benefits?
It's no secret that caffeine can help improve your health. Because, it has antioxidants, and also it can work for soothing irritated skin. Caffeine is also vasoconstriction, which means it constricts blood vessels, therefore it can reduce puffiness and dark circles.
Why You Should Use Herbivore Super Nova Caffeine Eye Cream?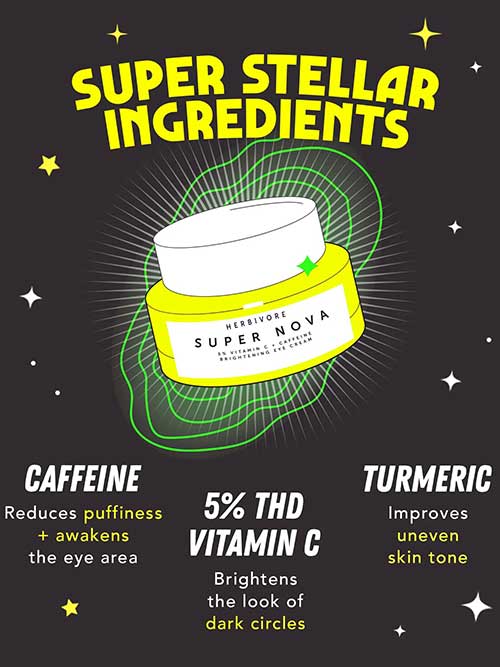 This new formula from Herbivore is an under-eye treatment that works to address the dark circles, discoloration, and puffiness that often surround the eyes. The formula contains caffeine, which visibly awakens the eyes, and helps to energize the skin. Plus, the product is free of chemicals, parabens, and fragrances.
Additionally, this eye cream suits sensitive skin, it's formula also targets hyperpigmentation and discoloration. Which can make your eyes appear darker and less youthful.
To Conclude
All in all, this new under-eye cream from Herbivore Botanicals is effective and worth checking out. Whether you're looking for a treatment for the under-eye area or a face serum that addresses uneven skin tone, this product is a must-try.