Every woman wants to know the secret of how to make hair grow faster and naturally and faster! But haircare is unfortunately something not easy and takes some time due to our busy daily schedules. Besides, the polluted environment surrounds us all the time.
But if you have some patience you'll definitely achieve this desired goal because you already have the motivation and you are craving it badly. So, we will help you and give you the secret through some natural hair growth tips and tricks that will grow your hair for one to two inches every month! Just keep reading.
How to Make Hair Grow Faster?
As we mentioned you will need patience because the process is slow but fortunately it could work for everybody effectively, and so easy for applying. All remedies we will use are natural remedies that have natural ingredients. But, before applying any remedy you should measure your hair length from root to tip and take it down. Because you will need it after a month for comparing with your new hair length. And you will find great results as we said that it will grow your hair for one to two inches every month, so be patient.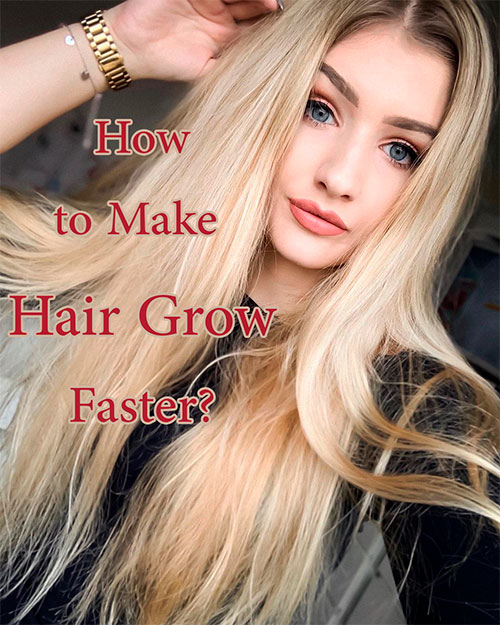 Stop shampooing every day
Stop shampooing your hair every day, and maybe three days per week is sufficient to maintain the natural oils in your scalp. Which are useful for your hair and keep it from being dried and brittle. Also, you should use a conditioner after shampooing your hair to hydrate your hair and replenish it with the necessary nutrients stripped by the shampoo. Just apply these natural hair growth tips and you will notice the difference after a few days.
Use styling tools Carefully
Be careful about the temperature you use with heat styling tools and don't use them for a long time, maybe 5 seconds at a time is safer. Also, you could use a heat-protecting spray such as "Redken Extreme Play Safe 3-In-1", and don't forget to brush and detangle your hair thoroughly. In order to prevent your hair from getting caught in the styling tool.
Avoid hot water in the shower end
Hot water should be avoided at the end of your shower and it prefers to use cold water to rinse your hair. Because it helps in sealing the moisture in your hair to help grow it fast. Just repeat this tip after each shower and you'll feel the difference.
Eat healthily
Protein is so important for hair growth so it's recommended to eat a sufficient amount daily within your meals. Further, you can find it in natural sources like eggs, fish, beans, and green vegetables. Also, you can depend on hair-boosting supplements that contain the essential amount of protein and minerals.
Avoid brushing wet hair
Avoid brushing wet hair because it could be stretched and broken in seconds and this with prevent your hair growth. So, it's recommended to use a wide-tooth comb.
Hair masks and Rinses
Use an oil or hair mask treatment twice a week especially moisture-based hair masks and oils that will supply your hair and scalp with nutrients. Furthermore, it prevents hair dryness, and help in your hair growth also there are types helping in preventing dandruff.
Here are some natural hair masks and washes that are simple and easy for making you can use them any time as much as you need. Besides, they will work as beneficial natural remedies to grow your hair fast.
Onion Water Rinse
This natural wash will give you great results because of its antibacterial properties and sulfur which enhances the collagen tissues. Then, allows hair to grow fast. Also, it can prevent hair loss, and you can make onion water at home easily all you need is five medium-sized onions and chop them into four parts. Then, put them in a pan and pour one liter of water, and boil them for five minutes. Then, separate the water and the boiled onions using a strainer or a muslin cloth. Now you can use this onion water as a rinse after shampooing your hair twice a week.
Neem Oil Mask
Neem oil is very useful and widely used because of its antibacterial effects, it can enhance your hair growth, and minimize the grays. Also, cure and reduce dandruff, and this is due to it being rich in nutrients like vitamin E, antioxidants, fatty acids, and calcium.
In addition, neem oil preparation can be made at home by bringing some neem oil leaves and washing them completely. Then, put them in a blender and add some oil to get a nice smooth paste after blending well. In the next step, we will use coconut oil or olive oil as carrier oil. Because neem oil should be diluted in a suitable carrier oil before applying. So, add some coconut oil to a glass bowl and add to it.
The neem oil blending paste then put this glass bowl in another vessel of boiling water over a medium flame. Then, it's time to stir these components well until turned to dark green. At last, strain this liquid using a strainer or a muslin cloth, and that's it.
You can apply this neem oil mask over your hair and scalp and massage it well. Then, wait for 30 minutes to one hour then wash it thoroughly with your favorite shampoo. And in only a few weeks you'll feel the good results.
Image credits: 1 –