A new leave-in repair treatment has been released by NatureLab. It's a reparative Perfect Repair Leave-In Treatment foam for many hair concerns like dry, damaged, and color-treated hair. Also, it is useful for restoring, conditioning, and speeding blow dry time.
This leave-in hair repair treatment has a blend of nutrient-rich oils, as well as keratin that helps for quick results that last long. Vegan smart keratin technology strengthens the hair cuticle and well penetrates the hair cortex in order to rebuild the hair body and revitalize shine.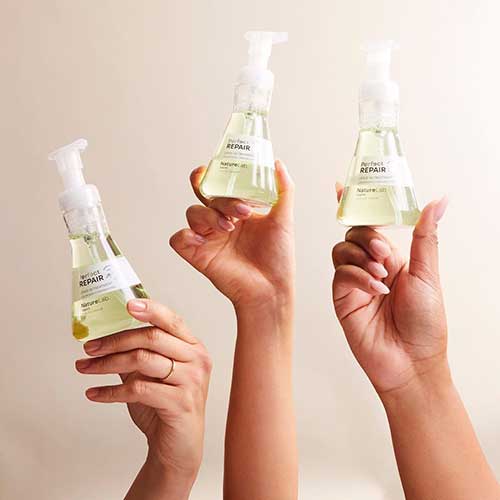 NatureLab Perfect Repair Leave-In Treatment Ingredients:
This new leave-in treatment for hair has amazing four ingredients that are perfect for damaged and color-treated strands. And here is the benefit of each ingredient:
1. Bamboo Stem Cells
To fortify hair and boost healthy hair growth by extending the anagen which, is the active growth phase of the hair follicles cycle.
2. Cupuacu Butter
It's a moisturizing emollient butter, as it can absorb water and lock in moisture in the hair. Also, diminish frizz, and add a glossy shield for hair protection from further damage.
3. Argan oil
It's very useful for hair and scalp, and also adds extensive conditioning for hair. So, it can restore hair glossy, in addition, to diminishing frizz.
4. Prickly Pear oil
It has antioxidants and anti-inflammatory properties. That can replenish hair and scalp and shield strands from UV radiation by the sun and free radical damage.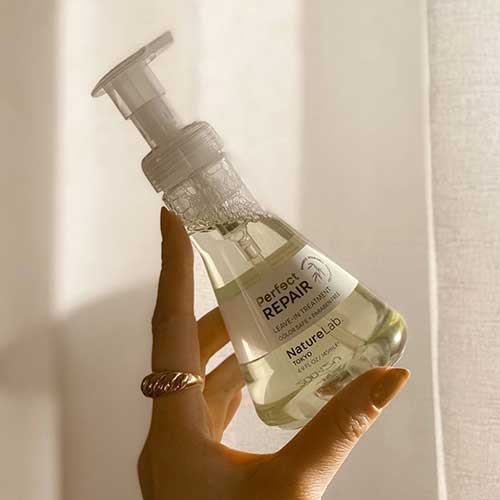 This a leave-in treatment for damaged hair and color-treated hair. Also, it is formulated without parabens, sulfates, or phthalates. And it has a beautiful fragrance of the Japanese bamboo forests compared with a hint of green tea and cypress.
How to use & Results
You can pump foam into your hands and apply it to your hair as needed. And the good news is 81% of consumers saw a noticeable improvement in their hair health and appearance in 30 days. Also, you will gain soft strands, a healthy fortified scalp, and a revitalized lustrous appearance. Furthermore, if you need more information visit the website of NatureLab Perfect Repair Leave-In Treatment.