Moisturizing is so important in order to take care of your skin and this is a skincare routine step that every girl knows. But first, you should know what skint type you have in order to apply the appropriate moisturizing. So, our product today is a lightweight moisturizer from Tatch it's "Limited-Edition Tatcha The Water Cream". That will help moisturize your skin if you have oily or normal to oily skin type.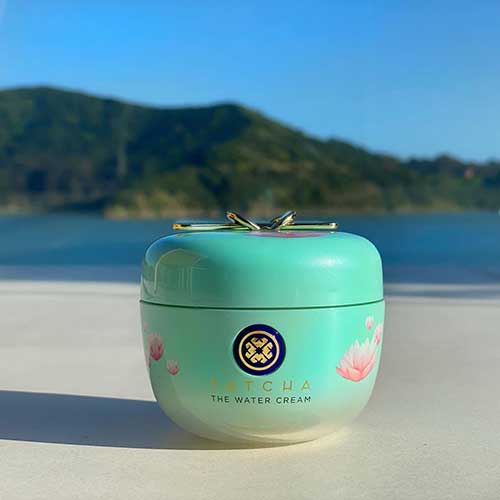 Are you interested to know, What is a Water Cream Moisturizer?
Water cream is a water-based moisturizer with a lightweight texture. So, the main ingredient is water and is soaked after applying it to your skin for delivering moisturizing. But other moisturizers contain different oils so they have a heavy texture.
Some details about Limited-Edition Water Cream Tatcha
This water cream is oil-free, a non-irritating moisturizer that provides your skin with balanced hydration. In addition to, deep treatment benefits without feeling your skin greasy. Besides, this water cream is recommended for oily and normal oily skin types. also for pores and anti-aging skincare concerns.
Indeed, these powerful Japanese wild rose ingredient help to clarify and refine the skin by tightening pores and leaving the skin texture smooth. Also, the second powerful ingredient is the Japanese leopard lily which helps to absorb the excess oil and prevent breakouts. Also, this water cream by Tatcha delivers anti-aging by Hadasei-3™. which is a trinity of green tea, rice & algae. So these Japanese super-foods help you fight the sign of aging skin and restore your healthy and youthful skin radiance.
How to use Tatcha The Water Cream
Scoop a pearl-size amount of water cream with the gold spoon, then massage gently onto your face and neck in upward strokes. Use water cream daily morning and night to calm and balance your skin. Tatcha is a good brand and its products worth your money. so you can give this new water cream by tatcha a try and you will never regret it!