The winter season is a great and perfect time to try blue nail ideas. It's a beautiful color that looks great on all of your fingers and toes. Also, blue winter nails can be beautiful and glamorous. You can add sparkle to your blue nails with a glitter topcoat. If you want to create a winter wonderland on your nails, you can do so with snowflakes and icicle nail art.
Indeed, using blue as an accent color is a stunning option to create a look that is both stylish and fun. Whether you are celebrating winter or looking to experiment with new colors, there are plenty of ways to incorporate blue into your nail design during winter. From elegant to whimsical, you can find a look in this post, that fits your personality!
1. Classy Icy Blue Winter Nails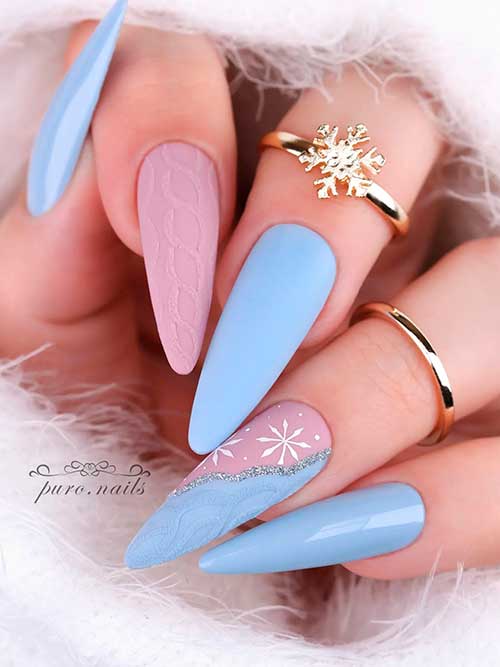 Of course, one of the most popular nail designs this time of year is blue winter nails with nude accents. It's not only chic and dazzling, but it is also very versatile. Besides, these nails will match any holiday outfit. So, if you're a fan of icy blue nail color, you'll be happy to find that this manicure is perfect for you!
2. Blue Winter Nail Design with A Holo Touch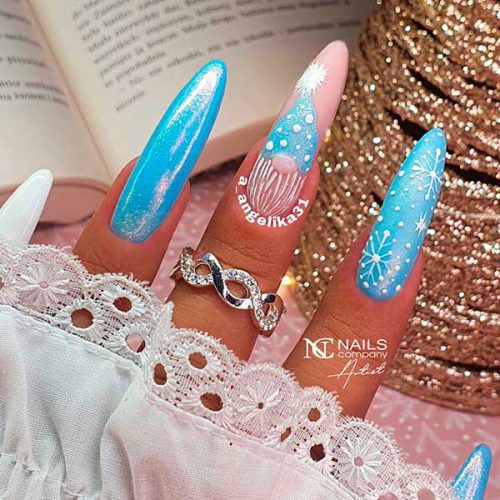 A blue winter nail design is perfect for a cool, icy look. This shade is great for both day and nighttime and can be worn on its own or layered for a more dramatic look. If you want to add a little sparkle to your looks, holographic nail powder is a great option. Also, you can add some snowflakes and a gnome nail art on an accent nail during Christmas.
3. French Blue Nails with Plaid Nail Art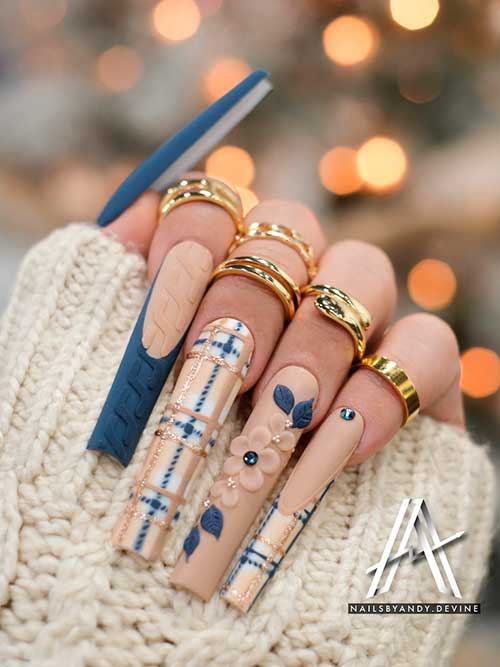 In the winter season, you can look forward to wearing a matte blue and nude winter nail design. Additionally, this is a great style to show off your nail length while still keeping it chic. Also, French and plaid nail art are perfect styles during winter. Besides, the colors are perfect for the winter season and can be worn with a variety of clothing and accessories.
4. Blue Ombre Winter Nails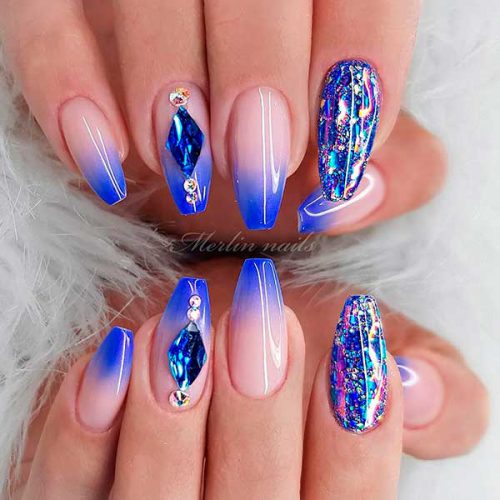 Blue Ombre Winter Nails are a funky way to create a stunning winter nail design. In addition, these nails are perfect for a New Year's party or brunch on a cold winter's day. Besides, this design works well with a variety of skin tones and is flattering for most people. For a dazzling look, add unicorn glitter and rhinestones to accent nails. So, if you like the effect, it can be replicated at home.
5. Cobalt Blue Winter Nails with Glitter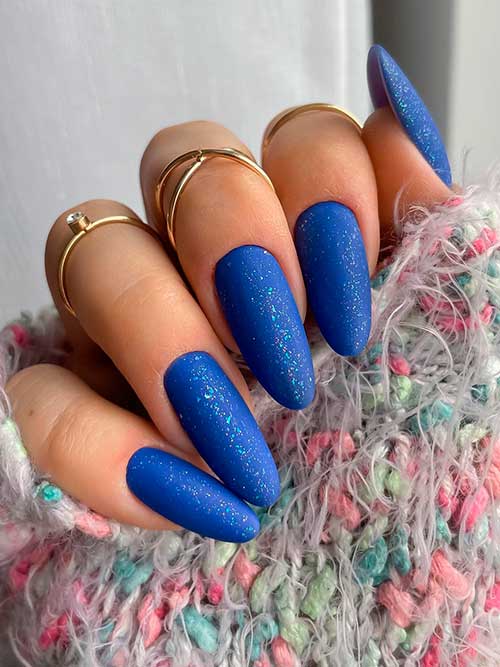 If you're looking to update your nail art this winter, consider painting your nails in cobalt blue. The rich, bright hue adds a splash of color to your mani and pairs well with all your jewelry. Besides, you can create several different nail art designs with this gorgeous color. But, you can recreate this chic and simple matte style with a touch of glitter.
6. Icy Blue Sweater and Plaid Nails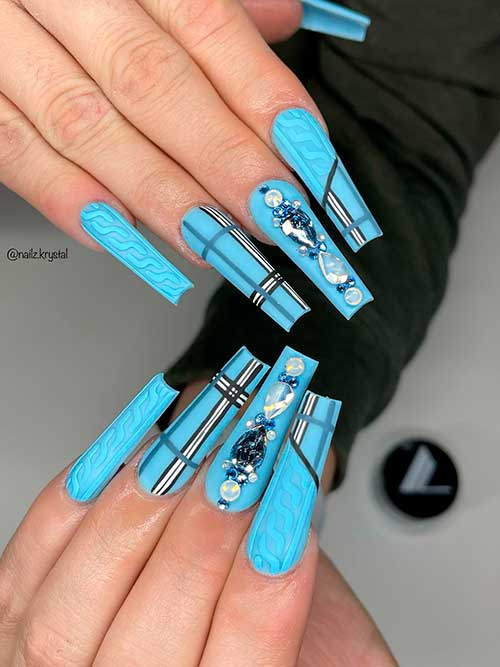 Sweater and plaid blue winter nails are a classic look for the season. Also, you can use acrylic or piles of gel to create your nail art. This style of nail art is very popular and widespread for a few years now.
7. Metallic Blue Winter Nails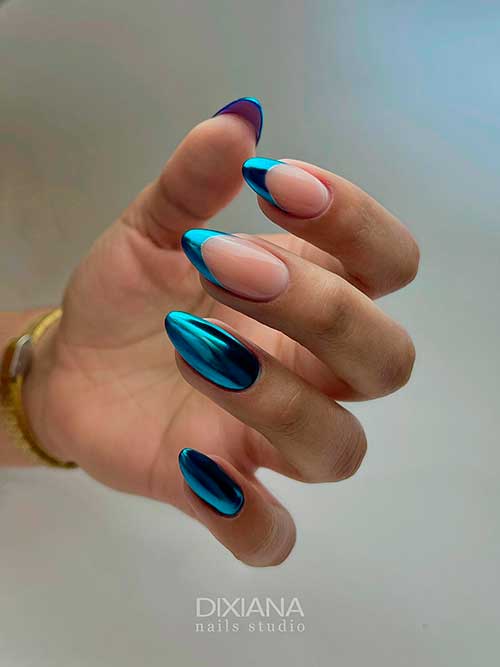 If you're looking for a festive look this winter, metallic blue nails may be perfect for you. Indeed, they're not only gorgeous, but they're also an easy way to add shimmer and mirror-like effects to your manicure. Also, you can add a classy look with French accent nails.
8. Classy Winter Blue Nails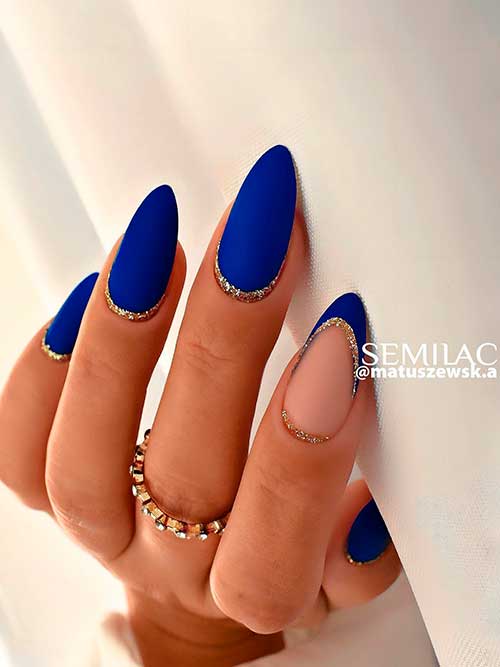 If you are looking for an eye-catching manicure for the winter season, consider painting your nails matte blue with gold glitter. Of course, glitter can add a little sparkle to your blue manicure, making your winter blues bright and sparkling.
9. Matte Different Blue Shade Winter Nails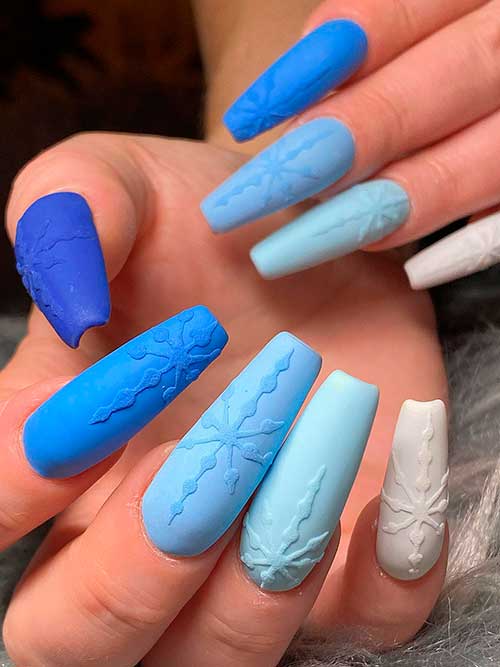 For the winter season, you can opt for a different shade of blue nails with 3d snowflakes. Also, these colors can be used to add an element of fun to your look. Indeed, these soft shades of blue are so cute and flatter different skin tones. And the matte finish will add an elegant touch to any design.
10. Short Glitter Blue Nails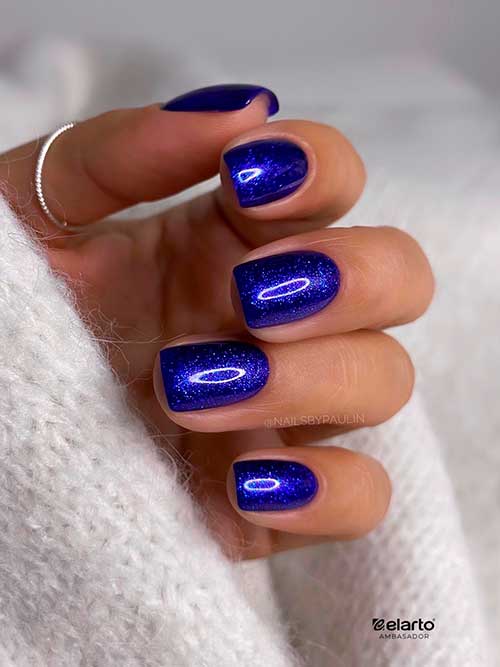 The winter season also brings on new trends in nail art. It's all about a fun, sexy look that goes well with any outfit. So, you can a shimmer blue nail polish to create a picture-perfect winter mani. And it's easy!