Whether you're looking for a simple nail art idea or something more elaborate, there are many dark purple nails to choose from. While purple is associated with luxury, it can also be a cute and playful color.
The best dark purple nail designs are easy to do. A simple nail art design will let the colors pop. The best thing about dark purple nail polish is that you can wear it in a variety of situations. Whether you're going to a social event or to a formal dinner, it can enhance your personality.
1. Dark Purple Nails with Leaf Nail Art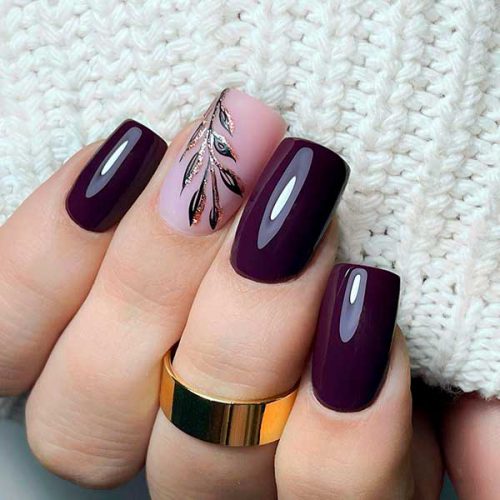 Whether you have long or short nails, dark purple nails with leaf nail art are an easy way to add a spark to your appearance. Additionally, you can use a single color and mix it with a nude pink on an accent nail adorned with leaf nail art.
Dark purple is a rich, mysterious shade that is not as sweet or flashy as pink or red. It is associated with luxury, ambition, and power. Also, you can add a hint of glam to your dark purple nail art with a glossy finish.
2. Dark Purple Chrome Nails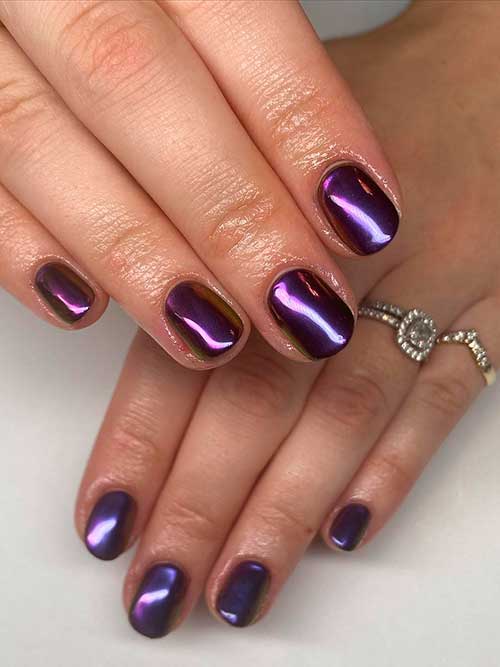 If you're looking for a chic look or a playful vibe, chrome powder is a great way to add a hint of sparkle to your dark purple manicure. Of course, chrome-colored polish adds shine to your nail color and makes your fingers appear longer. So, it's really a great idea to recreate these cute dark purple chrome nails.
3. Matte Dark Purple Nails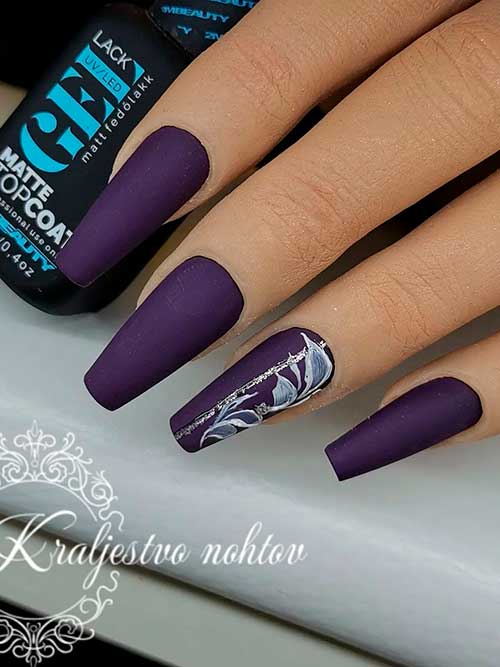 Indeed, one of the best ways to wear dark purple is to use a matte finish. So, if you are looking for a nail design that looks elegant and glamorous, matte dark purple coffin nails with leaf nail art can work with almost any style.
4. Dark Purple Nails for Christmas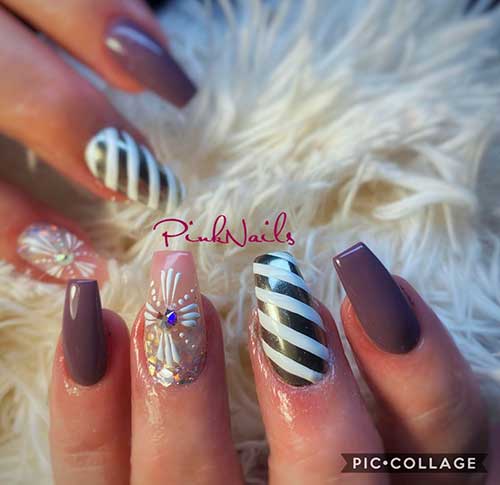 Whether you're going to a formal Christmas party, New Year's Eve celebration, or just for a special night out, this dark purple nail design will be a fun addition to your holiday looks. Dark purple is the color of stars in space. It's also associated with royalty and ambition.
5. Dark Purple Nails with Unicorn Tears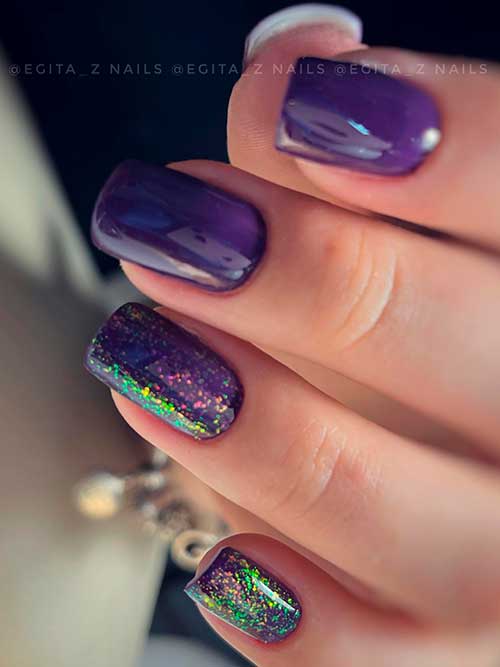 Whether you're an enchanted fairy or a sassy unicorn lover, you can try these dark purple nails with unicorn tears. Besides, unicorn tear nail designs are one of the hottest trends in nail art today. Also, the iridescent shimmer is a dazzling combination of sparkles and iridescence and is the perfect nail polish to add a splash of color to your manicure.
6. Dark Purple Nails with Glitter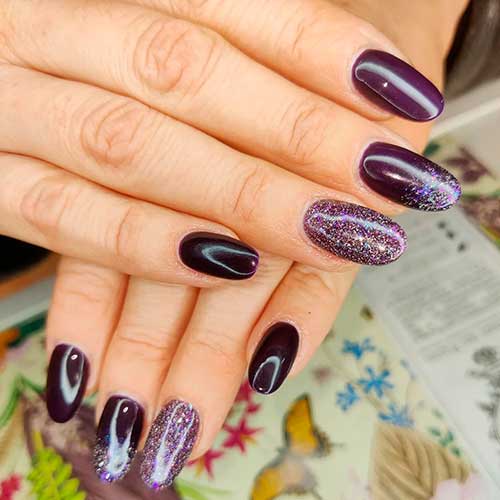 Adding glitter to your dark purple nails can be a fun way to dress up your outfit and make a statement. In addition, dark purple is a deep and rich color and will evoke feelings of glamour, mystery, and power.
7. Sparkling Dark Purple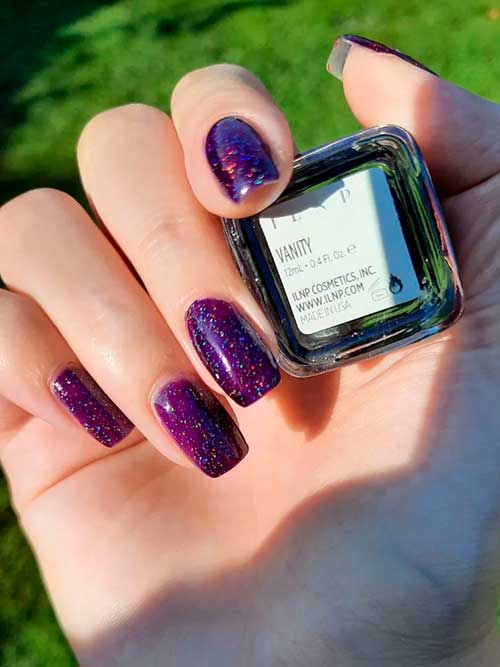 Indeed, adding sparkling dark purple nails to your outfit is a great way to add a touch of elegance to your look. Whether you are going to a party or just want to add a little sparkle to your wardrobe, sparkling purple nails will add a touch of glamour to your outfit.
8. Dark Purple and Silver Nails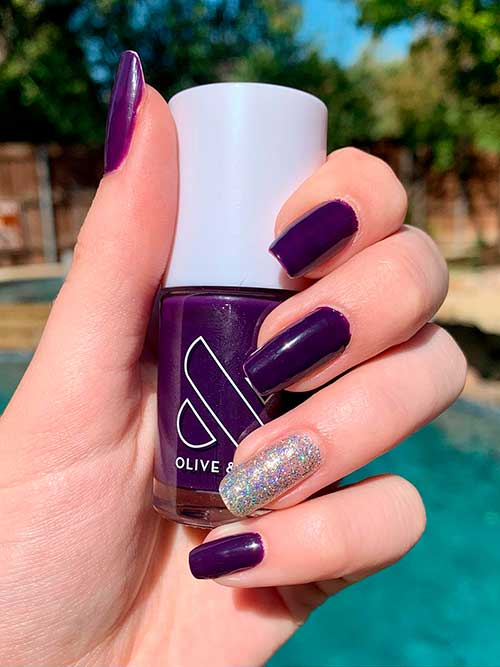 Using purple and silver nails can create a futuristic look. Because the colors are complementary, and they can be worn with anything from camp-inspired attire to edgy clothing. So, you need silver glitter and dark purple nail polishes to achieve this look.
9. Dark Purple and Nude Nails with Glitter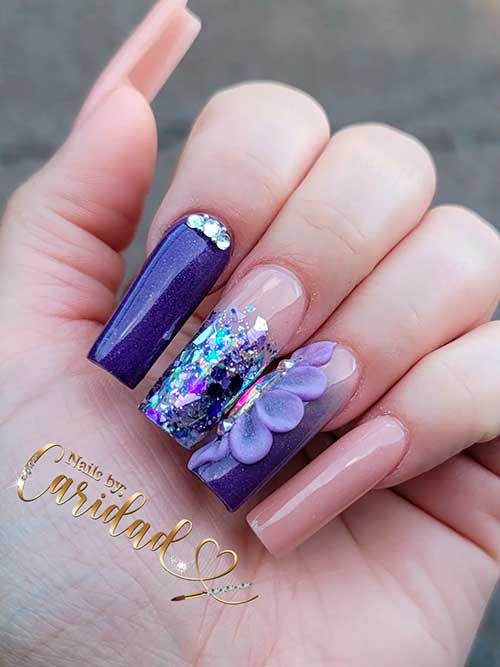 If you are looking for a new look, or want to try something a little different, dark purple and nude nails with glitter are a great way to make a statement. These shades are often associated with royalty, but you can use them in a variety of ways.
10. Dark Purple Celestial Nails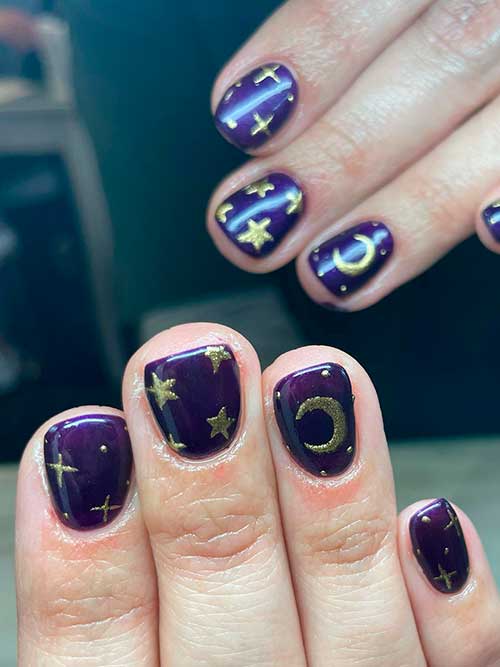 Indeed, getting a celestial nail design is a fun way to create an astronomy-inspired mani that is unique to you. From the stars to planets and moons, these nail designs are a unique way to connect with the expansive heavens. You can even incorporate cool colors into your celestial nail design to add some awe-inspiring glamour.
11. Stiletto Dark Purple Flower Nails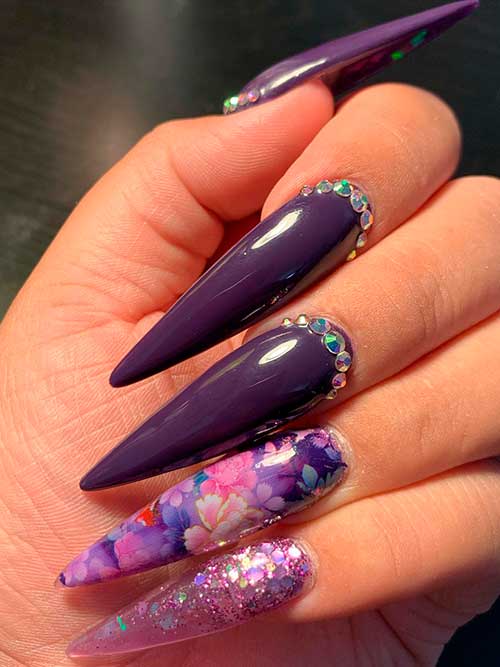 If you're looking for nail designs for an event or just to show off your feminine side, these long stiletto dark purple nails with flowers and glitter accent nails are for you. Of course, Purple nails are not only cute, but they can also make a statement.
12. Dark Purple with Pearl Nails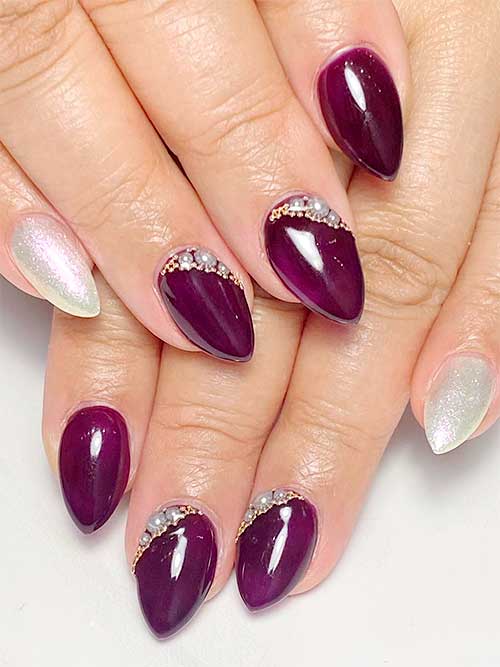 Whether you want to glam up your nails with a pearlescent finish or simply add a pop of color, this dark purple with pearl nails is a perfect choice. So, don't hesitate to recreate this nail design to make a statement.
13. Matte Spring Purple Nails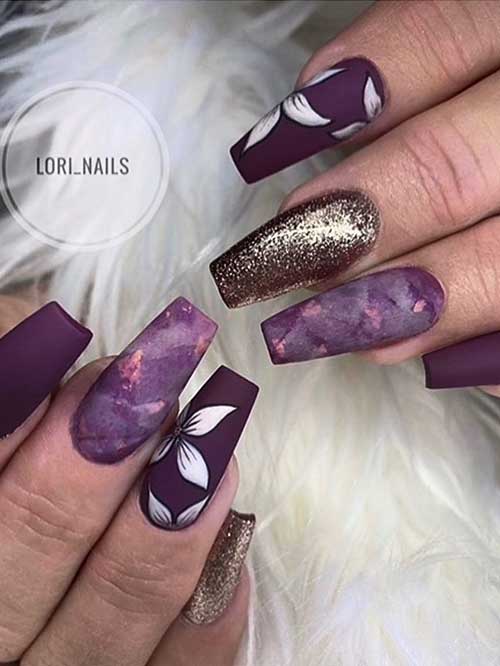 Indeed, many women love purple color shades, especially dark ones. Besides, this nail color can suit any time of the year. So, you can recreate these matte purple nails with white flowers, gold glitter, and marble accent nails to wear in spring.
14. Almond Dark Purple Nails with Stripes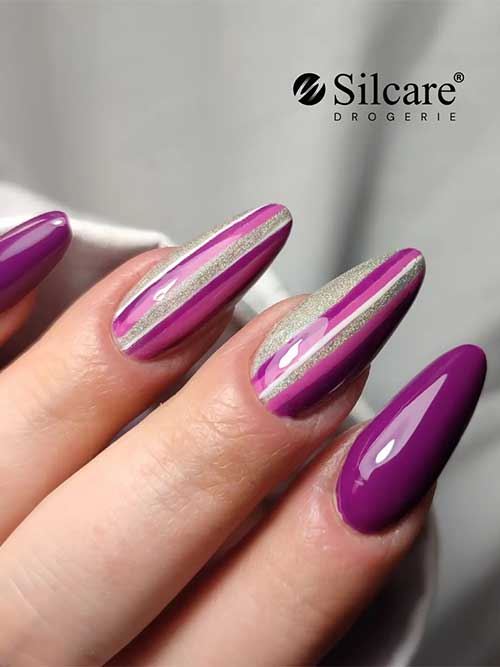 These glossy purple nails with stripe nail art are a perfect idea for purple nail color lovers. Besides, this nail design can work perfectly with any denim outfit. So, choosing this feminine nail color can elevate your entire look.