Pink is a classic, but it doesn't mean you can't go for a more creative and unique look this V-day. So, you can work a bold color into your design; use heart shapes, French tips, kiss prints, or glitter to show your love on this occasion. Indeed, pink Valentine's Day nails are a perfect and romantic choice that is worth trying.
So, if you're searching for pink nail ideas for Valentine's Day, fortunately, look no further. Because we have found some romantic and unique pink valentine's nail ideas in different pink shades and styles, you will love to recreate them this year. Now, check out these valentine's nail designs to inspire your next manicure!

1. Ombre Pink Valentine's Day Nails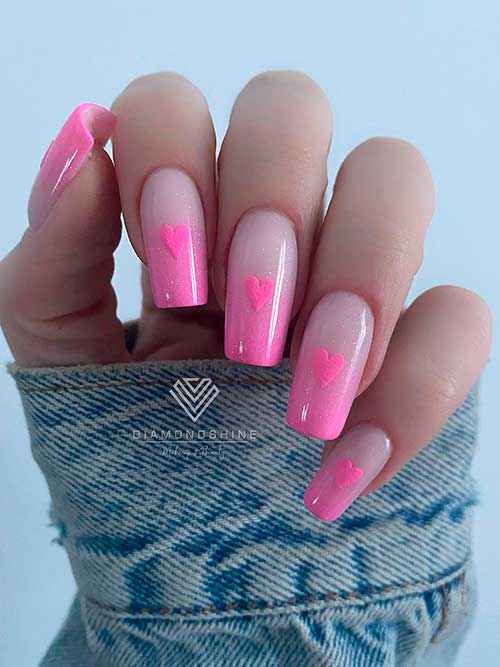 If you're looking for something subtle and romantic, or you want to make a statement, these ombre pink Valentine's Day nails will help you create the perfect mani this February 14! Besides, you can a pink heart shape on each fingernail to add a touch of romance to your manicure.
2. Matte Hot Pink Valentine Nails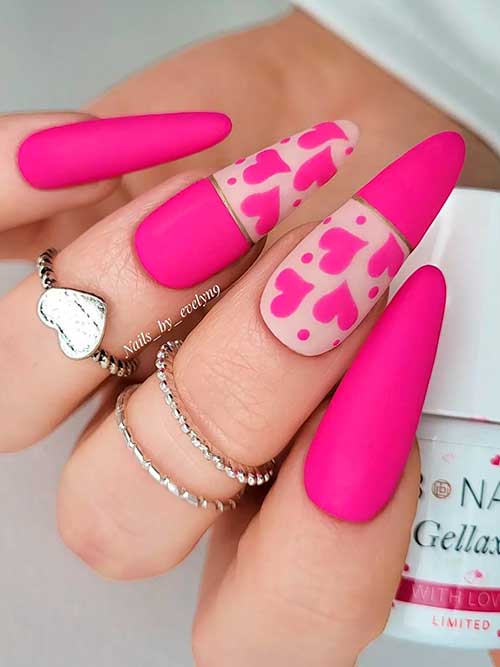 Of course, Valentine's Day is all about love, candy, and romance. Also, it's only fitting that you show your heart's feelings with a cute nail design. So, these matte hot pink valentine's nails are a great way to express your heartfelt feelings.
3. Glam Valentine's Day Nails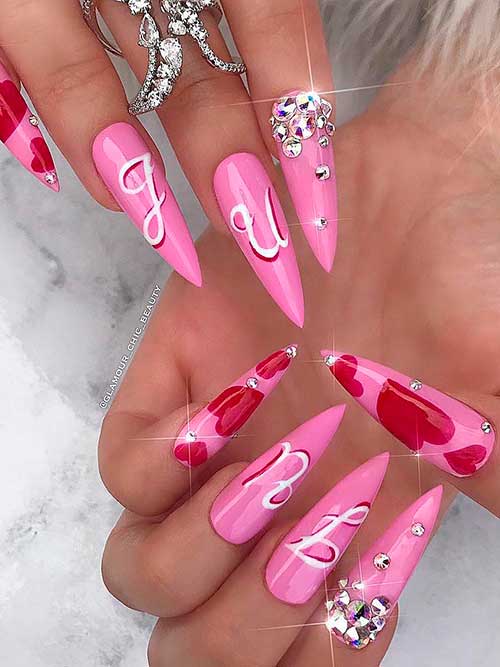 For those who want to try out a different kind of nail design this Valentine's Day, you can go for these glamorous pink stiletto-shaped nails. Besides, you can spoil yourself or someone you love with letters. Additionally, the red hearts add a romantic and eye catchy look.
4. Pastel Pink Valentine's Day Nails with Kiss Lips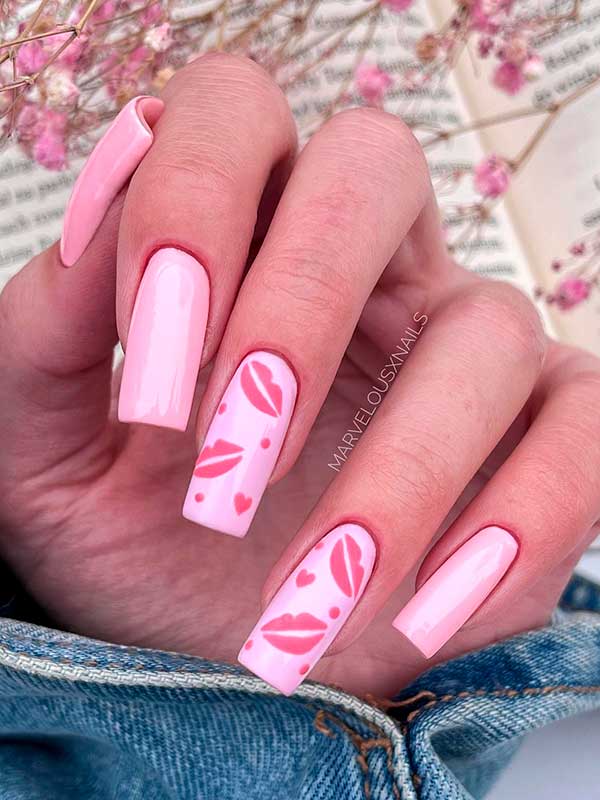 Of course, you can show off your love on Valentine's Day by painting your nails in a pastel pink color with bold kiss lips, and tiny hearts on top. In addition, you can use a nail pen, nail stickers, or stencils to create this look.
5. Short Pink Valentine's Nails
Who doesn't love cute short romantic nails?! So, these short pink valentine's nails with white hearts are a great and simple option to celebrate love this year. Besides, this nail art idea will not only make you stand out from the crowd but will also add a romantic touch to your entire look.
6. Elegant Pink Valentine's Nails with Gold Glitter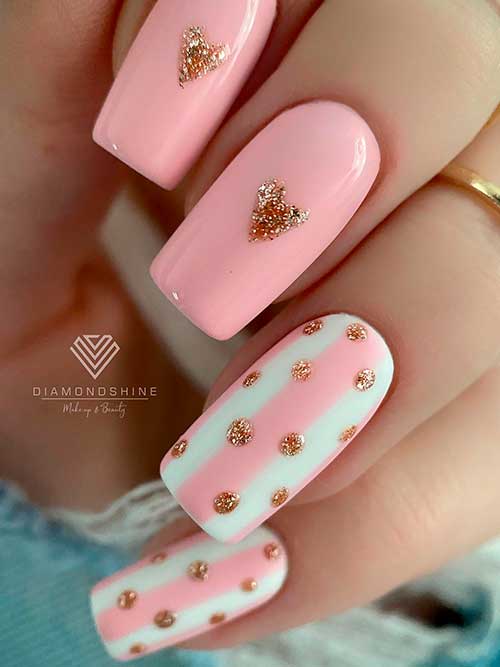 Embrace the romance and elegance by painting your nails with a gorgeous pink base then, add some bling to top it off. Indeed, this nail design that features a pastel pink shade adorned with gold glitter hearts and dots is simple enough to achieve by yourself and will really make you stand out!
7. Glitter Pastel Pink Valentine's Day Nails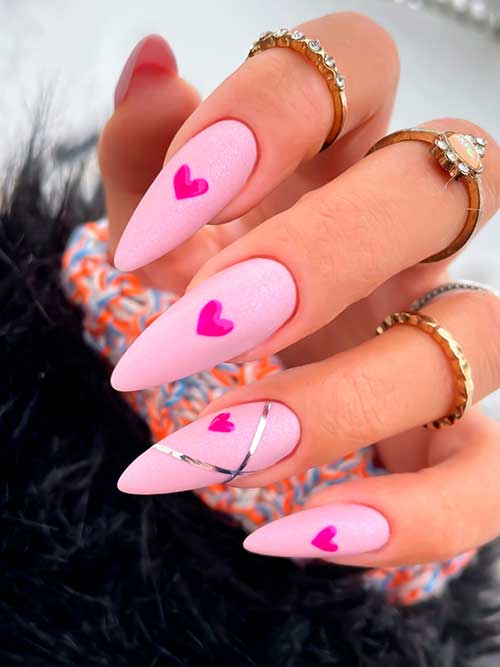 Nothing says romantic like pink nails, and if you're looking to wear an eye catchy look this year then, try these glittery pink nails. Indeed, the mix of the glittery pastel pink base color and the hot pink heart shapes really does make this a great look!
8. Ombre Pink Valentine's Nails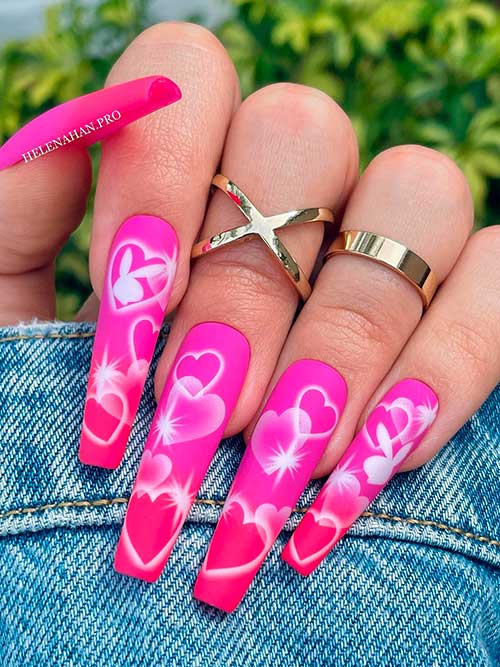 Indeed, this ombre different shades of pink manicure with white hearts is a pretty and unique way to show love on this occasion. Besides, it also looks very elegant and eye-catchy, and perfect.