Applying a touch of Christmas to your nails can be a fun and festive way to brighten up the season. From candy canes to snowflakes, there are plenty of festive white Christmas nails to try this year. Also, if you're looking for something a little more unique, you can use nail stamps and glitter to add some festive charm to your mani.
Anyway, whether you have been looking for some ideas for white Christmas nails for your holiday season party, or you have simply been looking for a nail design for yourself, you've come to the right place! There are several nail designs for you to choose from, just keep scrolling and enjoy!
1. Classy White Christmas Nails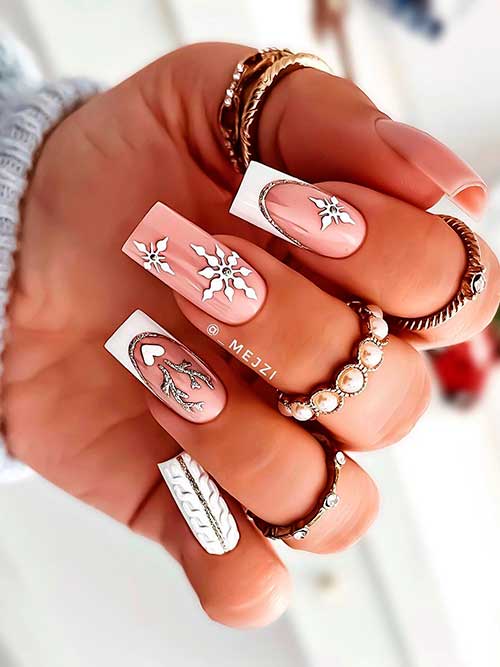 During the festive holiday season, you'll want to get festive with your nails. Besides, you can choose from many designs. So, you can try this Christmas nails' white and nude base colored design. The design features French tips with snowflakes and sweater nail art on an accent nail.
2. Creamy White Xmas Nails with Glitter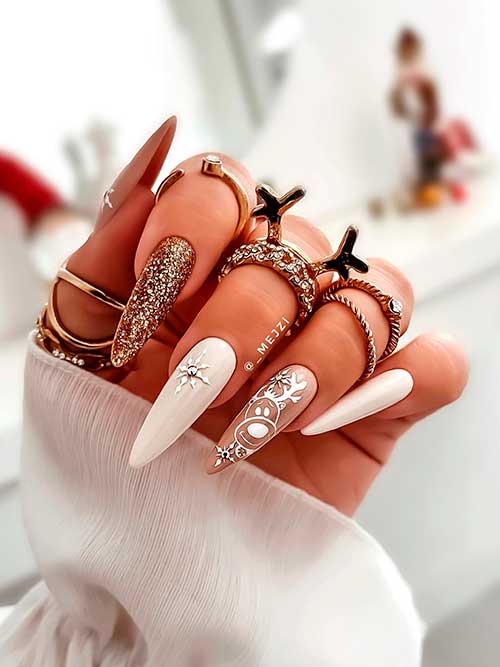 If you want to add a little sparkle to your nails, you can go with these creamy white Xmas nails with glitter. Also, you can try painting the reindeer shape or use a nail sticker to achieve this look. You can also use white pearls to add a festive look to the white snowflakes.
3. French White Christmas Nails with Festive Glitter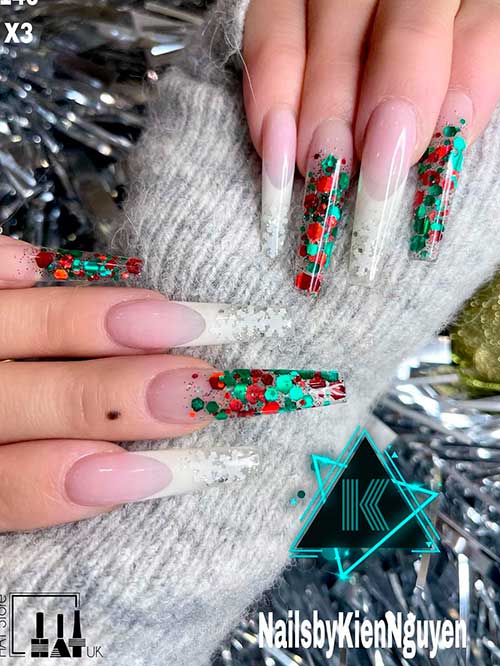 Indeed, adding a sparkle to your Christmas nails can make them look festive, and can add some fun to your holiday attire. So, you can add sparkly encapsulated snowflakes to your white French manicure. Besides, adding red and green glitter into two accent nails. This is a great way to get a sparkly effect without spending a fortune.
4. Red and White Christmas Nails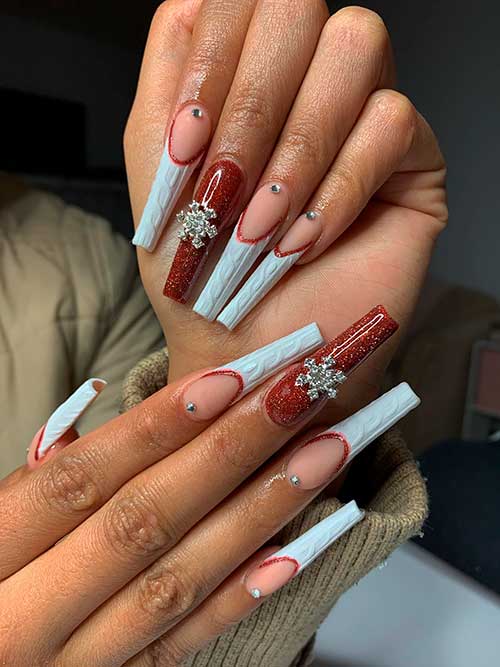 Using festive holiday nail colors can be a fun way to spread holiday cheer. So, this coffin red and white sweater Christmas nail design will add some holiday flair to your manicure.
5. Nude and White Christmas Nail Design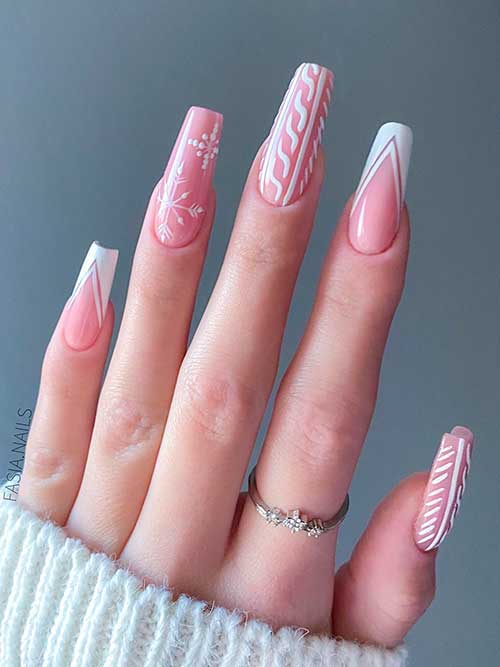 Whether you're looking for a subtle, subdued Christmas look or an in-your-face one, there are lots of ways to incorporate nude and white into your holiday nails. Of course, these easy-to-wear colors can add a festive touch to any holiday outfit, and they are easy to create. So, it's time to recreate this cute nail design that features French, sweater, and snowflake nail art.
6. Short White Snowflake Nails with Gold Glitter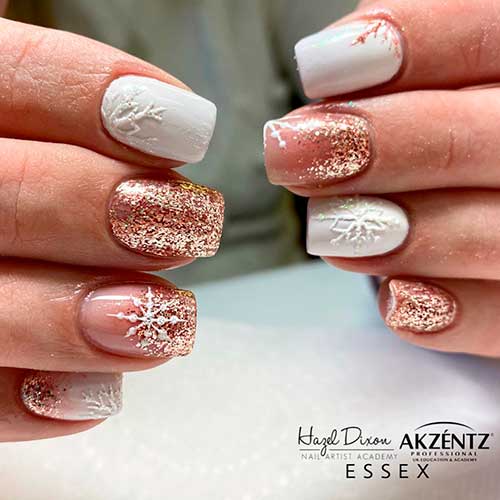 Creating short white snowflake nails is a simple and fun way to accentuate your winter wardrobe. Besides, the snowflake is a symbol of winter and Christ's birth. Additionally, its small size and unique texture make it a perfect complement to your manicure. Also, you can add gold glitter to get a classy and festive look.
7. Candy Cane Blue White Christmas Nails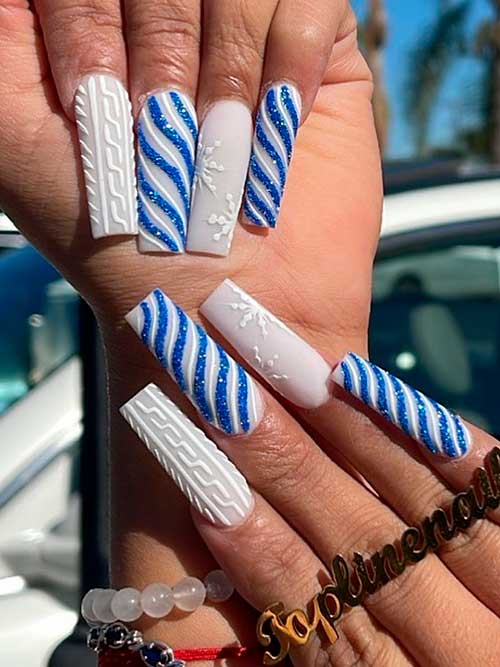 Candy cane nail art is a fun, simple design that requires a few simple steps. Besides, you can incorporate snowflake and sweater nail art to get a cute and festive manicure for the holiday.
8. Christmas White Acrylic Nails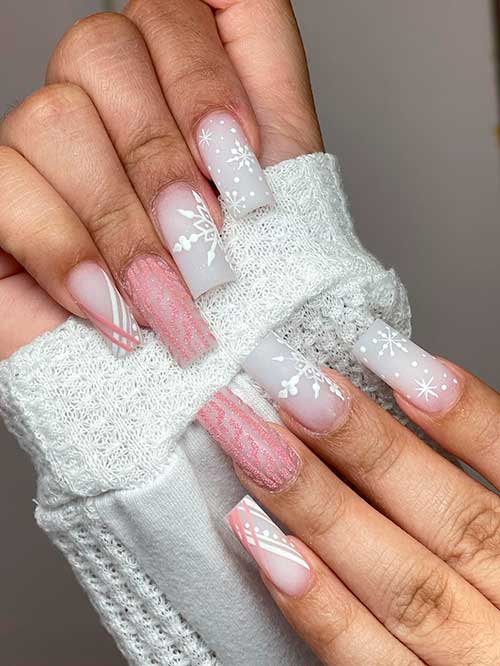 Of course, white is a classic color scheme that will never go out of style. However, there are some women who prefer to go for a different color. But, these Christmas white acrylic nails with snowflakes you will love to try this year.
9. White Christmas Nails with Silver Glitter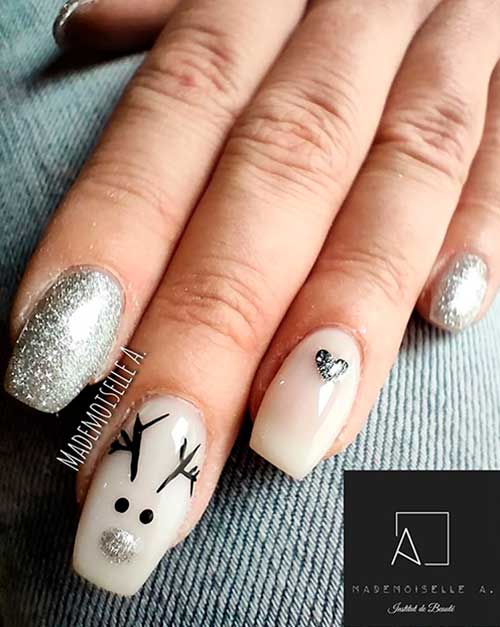 Try to add a little sparkle to your manicure to get into the Christmas spirit. Whether you're looking for something to wear to a party or just want to add some sparkle to your nails, white Christmas nails with silver glitter are a great option.
10. White and Gold V French Christmas Nails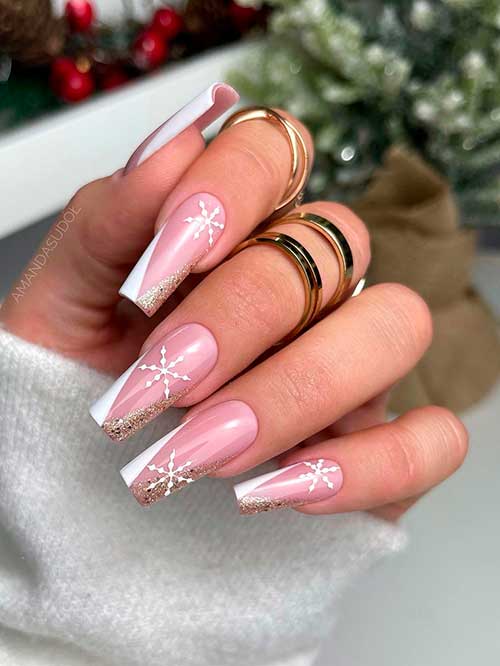 Fortunately, whether you are a beginner or an experienced nail artist, you can get creative and do Christmas nail art yourself. So, you can try these Christmas V French tip nails using white and gold glitter nail polishes.
11. Stiletto Red and White Christmas Nails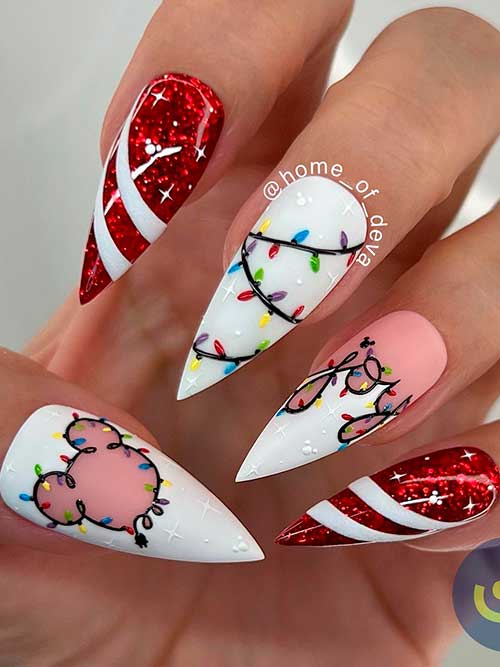 Still, red and white nails are a great way to celebrate the festive holiday. Because these colors are classic and never go out of style. So, you can incorporate Christmas lights, candy cane, and Disney Christmas nail art by recreating such a cute design above!