Are you interested in knowing or discovering the new nail trend for this year? If you do, then you will be very happy because you landed in this article. Generally, nude coffin nails are the favorite of many women today.
The share is just perfect for everyday wear. Whether they need to go rugged, or they need to be in their ball gown, the coffin nails would totally be perfect. If you want to have the coffin nails in your hand, but you don't have long natural nails, don't worry because there are acrylic nails that you can take advantage of today. You can just purchase it, the glue as well as the other needed supplies to ensure that they are properly locked into your nails.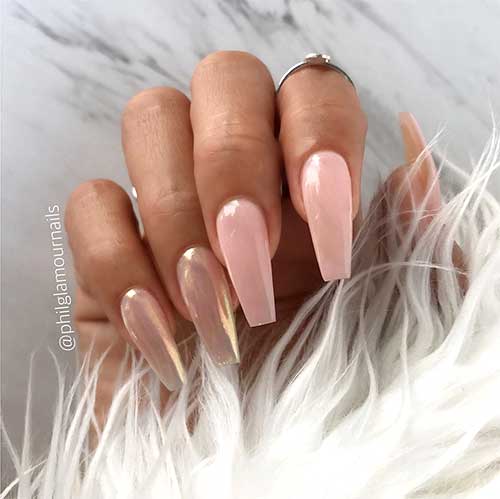 After you have the acrylic nails ready, make sure that you know the best designs and nail ideas. Check out these coffin nude nails below so that you can make your final choice:
1. Nude Coffin Nails With Rhinestones
Nude nail color is still on-trend. Indeed, with the nude color plus the coffin nail design, your nails would be totally perfect and nice to look at. When you also pick a nude color, you will not worry about the mix and match of clothing because it will surely look nice with everything.
You will never go wrong with nude coffin nails with rhinestones, especially the design when paired with a holographic chrome touch on the accent nail tip.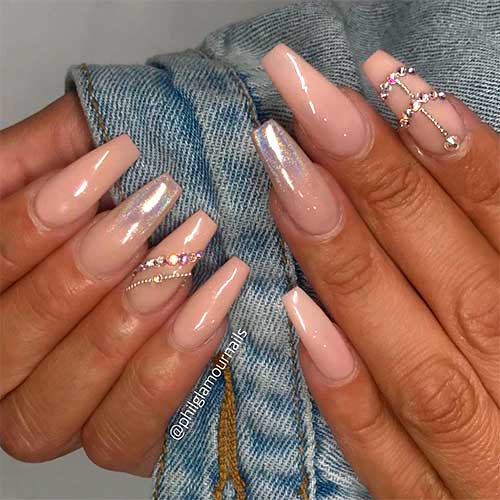 Simple nude nail design in coffin-shaped style with some rhinestones on the accent nail, and you can do this nail art design at home with the nude color polish that you prefer then glue the rhinestones on the accent nail.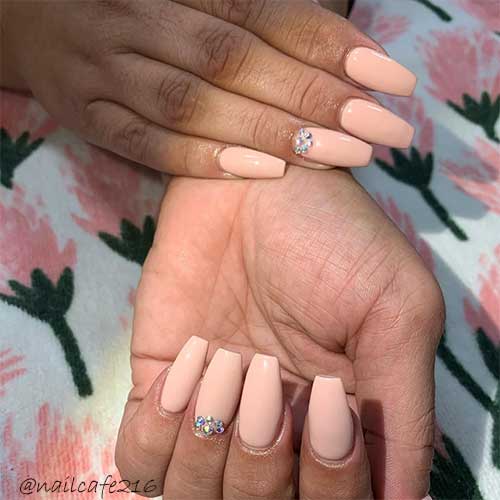 Cute nude nails are coffin-shaped with gold rhinestones that accentuate the nail art design's beauty, you can wear this design with your favorite outfits whatever its color, and you can use any other rhinestones color like silver, and it will work well!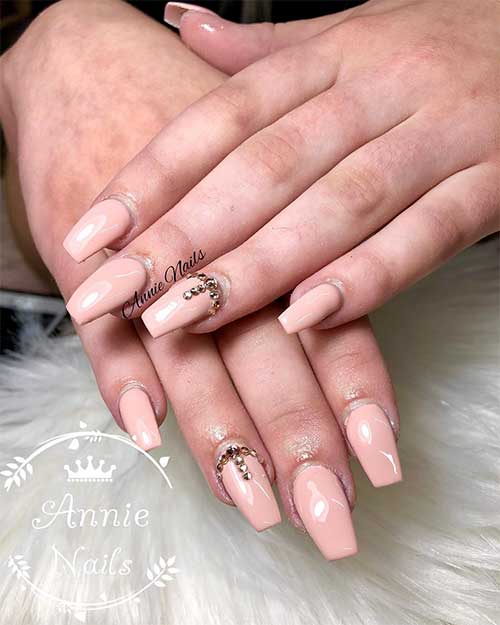 2. Nude Pink Coffin Nails With Glitter
Pink can make you glow, and that's really good if it's also in nude share. To achieve a feminine and clean look, you should go for these nude pink coffin nails. The shape of the acrylic nails will also add to the feminine look that you want to achieve. The nails will look finer, longer, and more delicate.
If you're going to bother with gold glitter then those two accent-crossed gold glitter lines will take your attention and the whole nail art design will be amazing over your hands.
Wearing nude pink coffin nails will make you shine on any occasion, and to increase the beauty of the design, you can use silver glitter and rhinestones on two accent nails.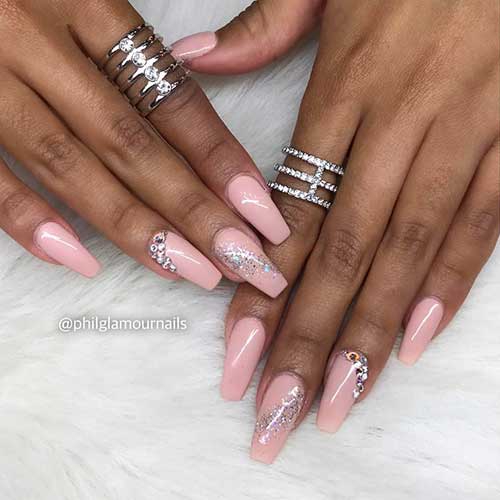 This time you can use golden glitter and you will never regret it, you will find the design as beautiful as you see it! You deserve to wear the best manicure, which is nude coffin nails with glitter on special occasions like going to a party.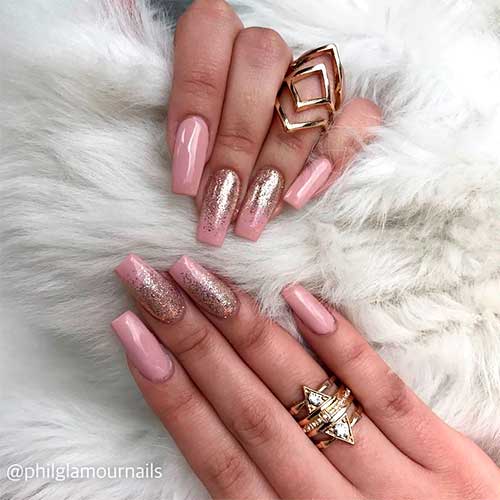 3. Matte Coffin Nude Nails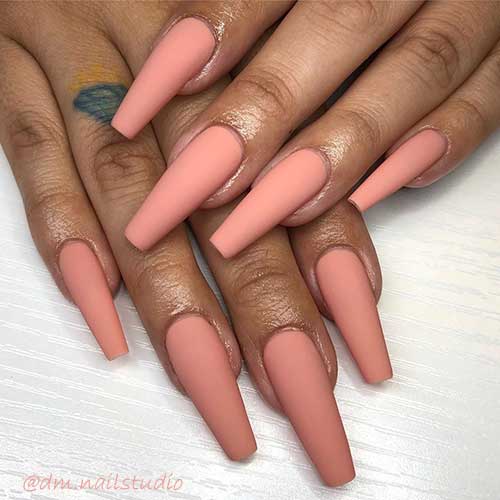 Matte is still in trend. From the previous year, a lot of people are in matte colors. This is very true in lipstick, make-up, and nails. This year, the craze about matte coffin nude nails is still the same. So, you can still opt for this if you are already used to it and comfortable with the shade.
4. Spring Coffin Nails Nude Ideas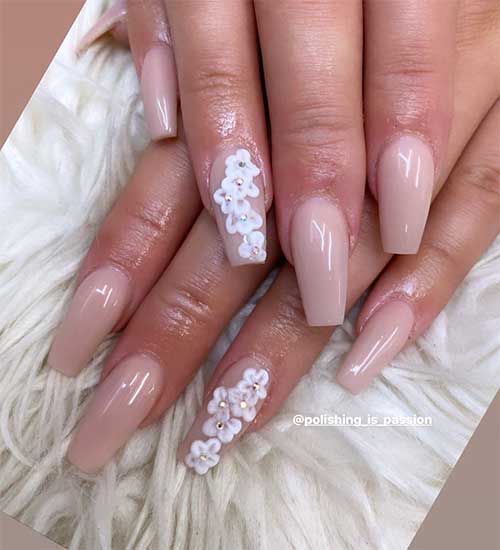 Even in the spring season, you have a lot of nude coffin nail ideas choices to wear, between shiny and matte floral coffin nails that uses colorful painted flowers or 3d flower on accent nail that gives you an eye-catching nail art design. For more nude spring nails and many more spring nail art images, visit my previous post about spring nails!
5. Valentine Nails Ideas That Use Nude Shades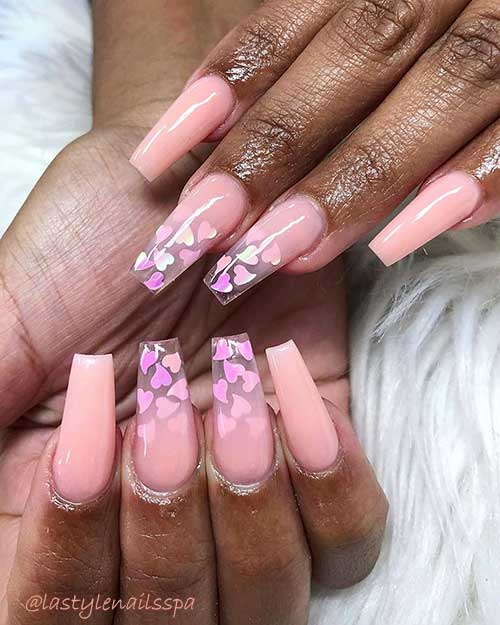 Nude nail shades can suit every occasion, even valentine's day nails. Also, if you need a stunning nail art design that shows your feelings on your date. so, if you choose nude coffin nails mixed with red hearts or even heart-shaped glitter flakes, you will never regret it.
6. Halloween-Themed Nude Coffin Nails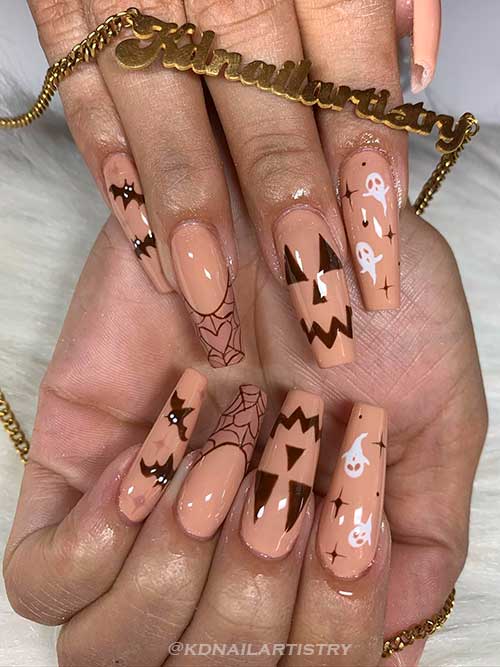 A Halloween-themed manicure can be completed by decorating nude nails with ghosts, bats, and spider web nail art. Indeed, the two brown and white colors go great together and will stand out against the nude base.
7. Glossy Nude Nails Coffin Shaped Design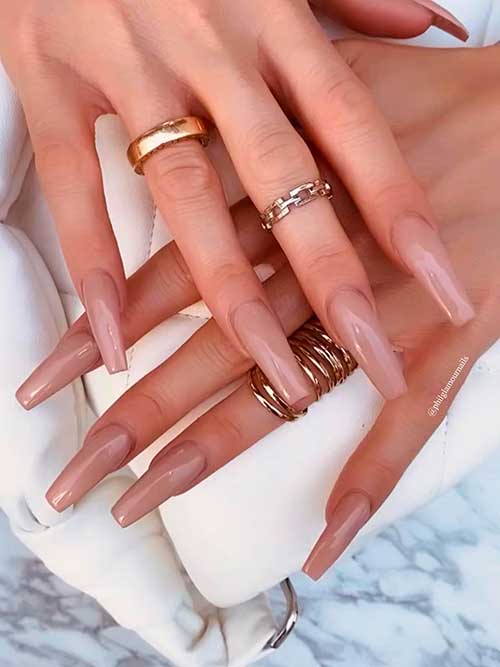 If you've been thinking about giving your nails a nude makeover, there are lots of ways to do it. One popular option is to add gold glitter or rhinestones. But, also you can choose a simple glossy nail style and you will never regret it. Besides, this is great for a more casual look, but also for more formal events.
Inspiring Nude Coffin Nails
Coffin nails ideas are embraced by many, so you should also try them now. Experience the modern trend, and you will be very happy and satisfied with your decision. There's nothing wrong with going with the trend, especially if it makes you into a better version of yourself. Try something new, be different, and be your desired self. But now keep scrolling for more inspiration!