Adding Christmas nail ideas to your nails can be a simple way to add a festive touch to your look. The festive feeling of Christmas is captured in designs that feature a snowy night sky, Christmas snowflakes, and Christmas tree art. Christmas nail ideas can be fun or classy.
For a more subtle look, sticking on candy cane nail art stickers will add a playful touch to your nails. Candy canes are traditional Christmas candies. Pink candy cane nails are flirty and dainty. These simple nail art designs are easy to do at home, but if you're looking for more elaborate Christmas nail designs, there are plenty of ideas out there. So, it's time to check out these festive Christmas nail ideas below!
1. Gray Christmas Nails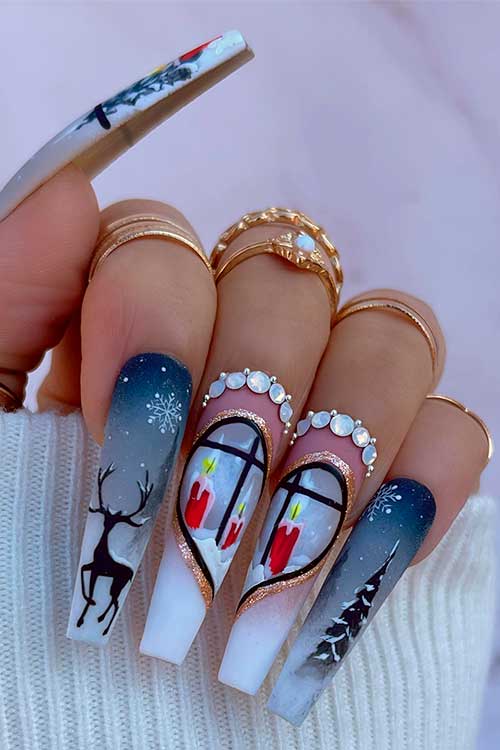 During the winter, many people choose to wear matte nails. Because they look chic and feminine. Also, they have a flat, frosted finish and last a lot shorter than gloss. So, can try these gray Christmas nails that feature snowflakes, rhinestones, reindeer, a Christmas tree, and winter's night candles into a cute glitter heart shape.
2. Pink Christmas Nail Ideas
Adding a little pink into the mix makes Christmas nails a lot more fun. Besides, you can use the pink color to create any nail look you wish. You can choose to add a little white or glitter to your nail design to make it stand out.
Glittery pink Christmas nails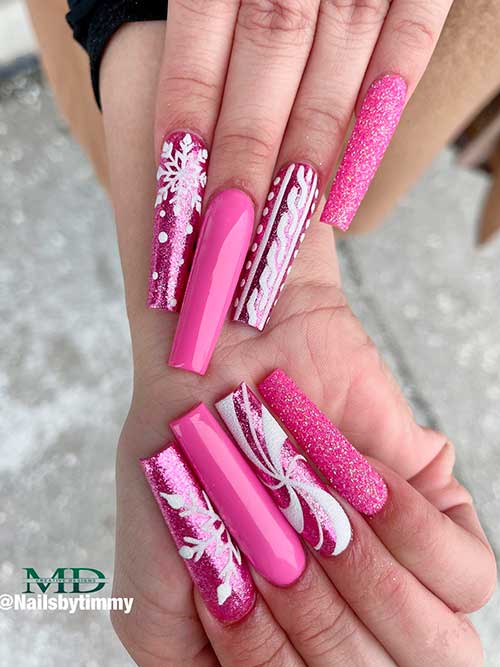 Whether you're a festive nail fanatic or a simple nail art enthusiast, glittery pink Christmas nails are a great option. So, it's a good idea to recreate this cute Christmas nail design. The design features long Coffin Glitter pink Christmas nails with snowflakes, candy cane, and sweater accent nails
Matte pink snowflake nails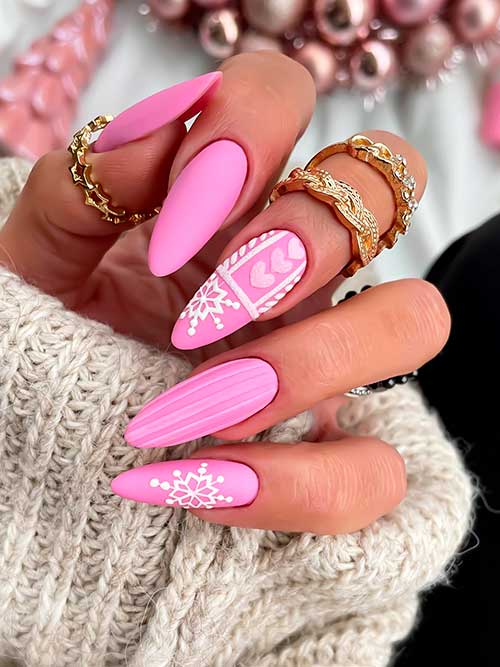 During the winter season, matte pink snowflake nails are a great way to get into the mood. Not only are they a great winter nail color, but they are also a great way to show off your Christmas spirit!
3. Blue Christmas Nail Ideas
During Christmas, there are many different types of nail designs that you can choose from. Some of them are so simple while other designs have great detail. They are all perfect for Christmas. So, you can try a blue Christmas nail design. Also, this color's shades are cute and go with most skin tones. You can also try adding a touch of glitter or Christmas-themed accent nails.
French royal blue Christmas nail Design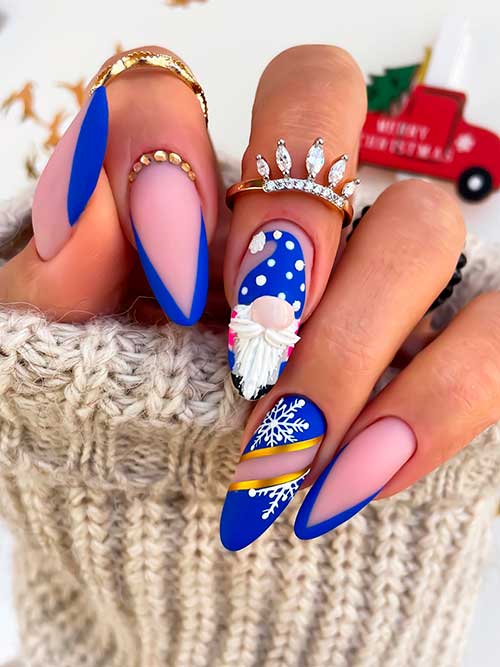 Of course, adding Christmas French tip nails to your manicure is a perfect way to add some festive flair to your nails. So, you can recreate these matte French royal blue Christmas nails with elf and snowflake accent nails.
Blue Christmas gel nails – One of the simplest Christmas nail ideas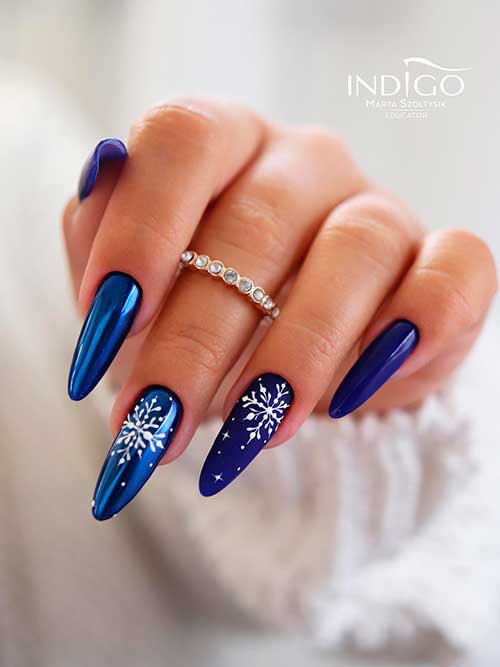 Getting a gel manicure for your Christmas nails can be a luxurious treat. Not only will you get great-looking nails, but you can also be sure that your nails are durable. So, opting for these navy blue Christmas gel nails is a perfect idea.
4. Red Christmas Nail Ideas
Whether you are looking for a festive look or to add some shine, red Christmas nails are a great way to celebrate the season. Besides, there are many different ways to create a Christmas nail design such as Christmas presents on French tip nails. Also, the design can be enhanced with sparkly Christmas accessories.
French red Christmas nails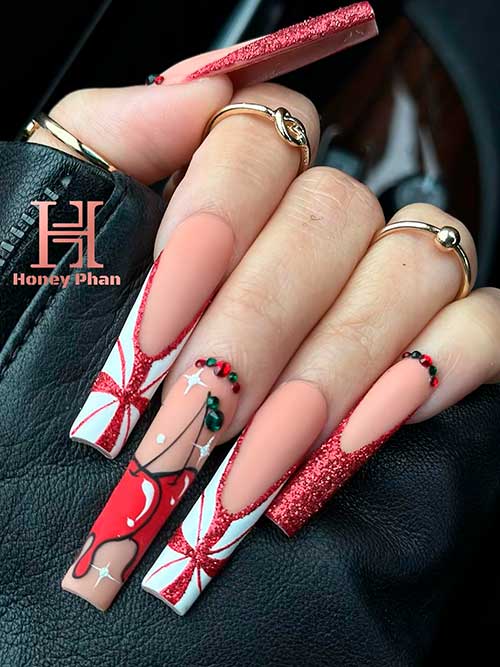 Indeed, adding a touch of holiday glamour to your nails is no harder than a simple coat of red polish. Besides, if you want to add a little extra shine to your French manicure, try adding some sparkling glitter varnish. Also, you can try Christmas present nail art. Further, red and green rhinestones are perfect for a Christmas nail art design.
Cute reindeer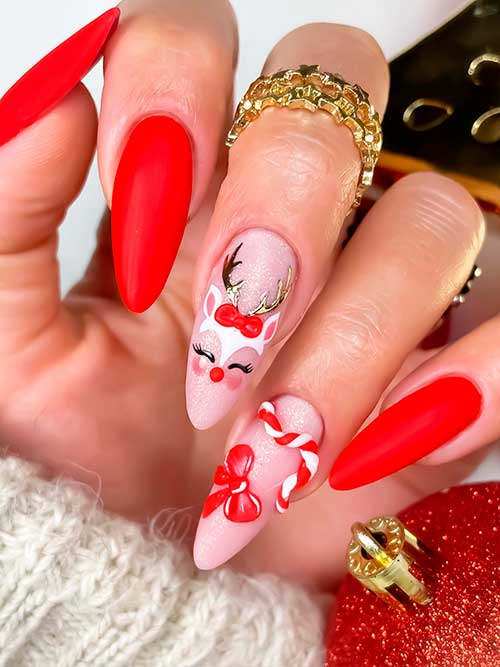 Of course, the colors red and pink are ideal for Christmas nail designs. Using these colors to create a festive look is simple and will add a splash of holiday flavor to your nail design. These unique matte red Christmas nails with reindeer and candy cane into nude pink accent nails are worth giving a try.
5. Red and Green Christmas Nails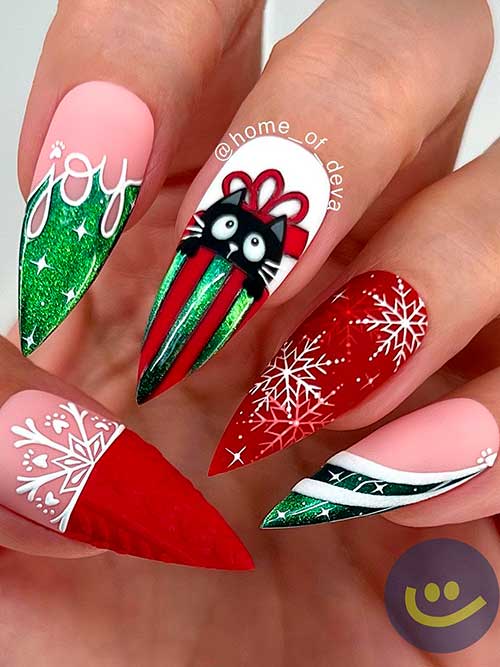 Whether you're looking for a fun holiday accent or a stylish addition to your nail art collection, there are a variety of red and green Christmas nail ideas out there. So, replicating this festive nail design that features a matte red and glitter green combination, will be a big addition for you.
6. Purple Christmas Nails
Having festive nails is a fun and easy way to spruce up your winter ensemble. From candy canes to snowflakes, there's no shortage of purple Christmas nail designs to choose from.
Purple and white Christmas nails
Whether you are looking for Christmas nail designs, or just a fun nail art idea for winter, these purple, and white nails are for you. Of course, these are magnificent and festive nail colors for creating a Christmas nail art design.
Glamorous Art – One of the cutest Christmas nail ideas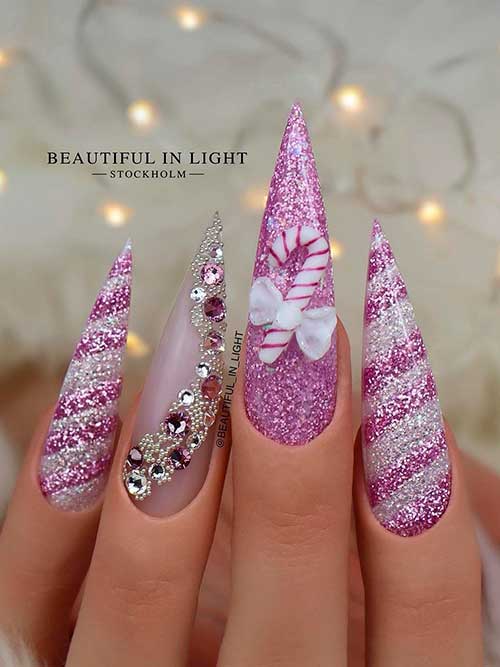 One of the most interesting Christmas nail designs is the glittery candy cane. Also, you can add rhinestones and a 3D candy cane stick into accent nails.