Whether you're looking for a low-key look for winter or something a little more dramatic, you can find classy winter nails that fit your style. So, in this article, we'll showcase the best stunning nail trends for winter 2023.
Indeed, there are a lot of fun winter nail ideas to choose from. Additionally, these easy nail ideas include a variety of different nail styles, colors, and textures. They are great for cold days and nights. We have found some classy winter nails that you'll definitely love to try in winter 2023!
1. Glittery Nude Pink Classy Winter Nails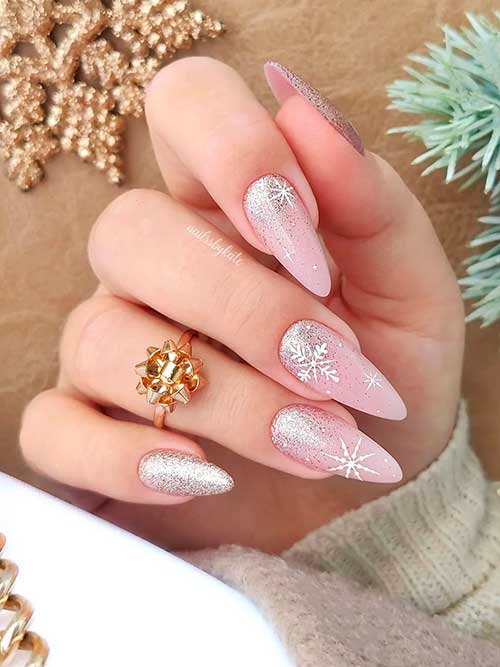 If you simply want to spruce up your nails for the holiday season, you can't go wrong with a cute and elegant snowflake design. Because snowflakes symbolize Christmas, and they are an awesome way for celebrating winter. So, you can recreate your own snowflake nail art with festive glitter into nude pink almond nail-shaped nails.
2. Glitter Black Winter Nails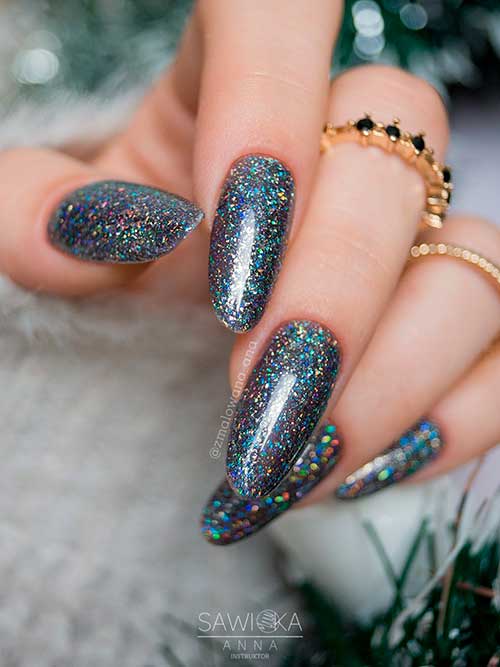 Indeed, euphoria glitter can turn your black nails into festive classy winter nails. Besides, you can use it on an accent nail, or as part of your Christmas or New Year's manicure. Also, it is a fun way to add sparkle to your manicure without looking too over the top.
3. Winter Acrylic Nails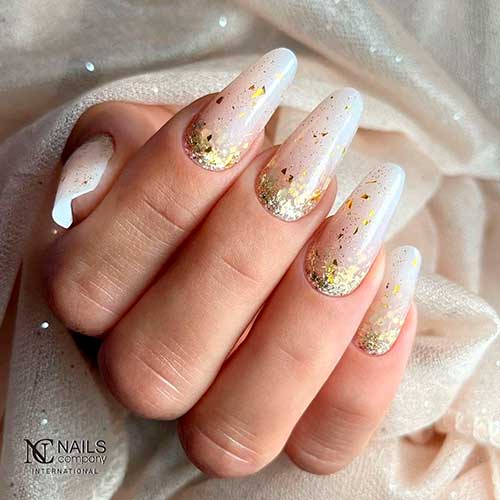 Whether you're looking for a nail design for a wintry special occasion or just to wear on a regular basis, nude acrylic nails with glitter are a fantastic choice. Of course, this beautiful design will make you stand out.
4. Night Sky Winter Nail Design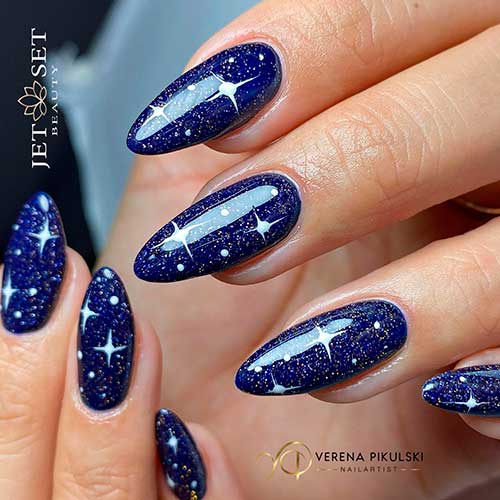 If you like the night sky or the cozy feeling of starlight, these classy winter nails are for you. So, you can simply create the look of your dreams with a night sky nail art design. And this nail design features almond-shaped navy blue nails with glitter and white stars.
5. Pink Winter Nails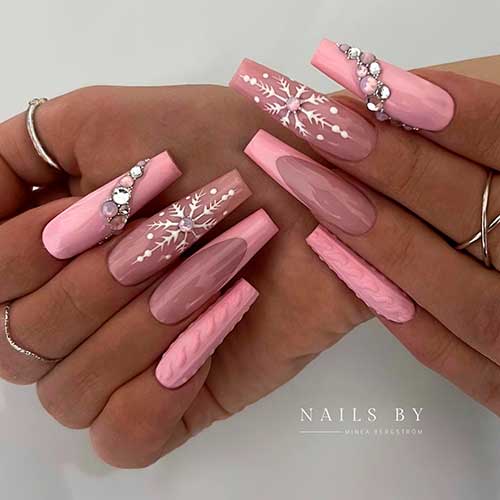 Of course, these pink winter nails will make you feel warm and cozy. Besides, pastel colors are a great way to add some glamour to your winter months. Also, you can add some sparkle to your winter nails using rhinestones which is also a great way to add some bling.
6. Glitter White French Nails with Snowflake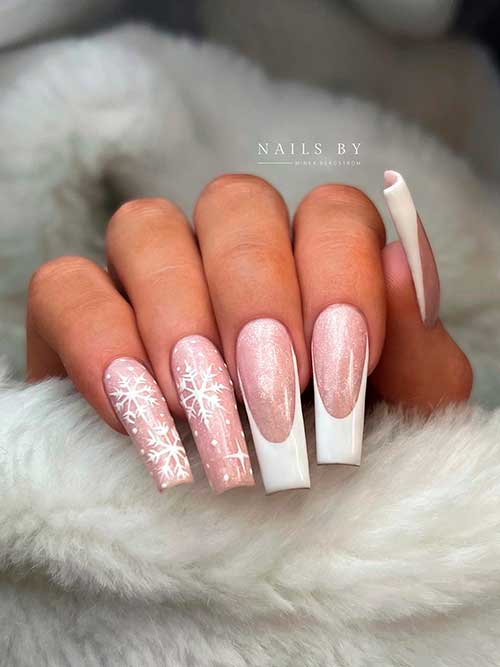 White French nail designs are a classic look that will never go out of style. So, you can easily add glitter to the nude base color to create an elegant look. Also, you can some snowflakes on one or two accent nails to create a winter look that you will love.
7. Black Classy Winter Nails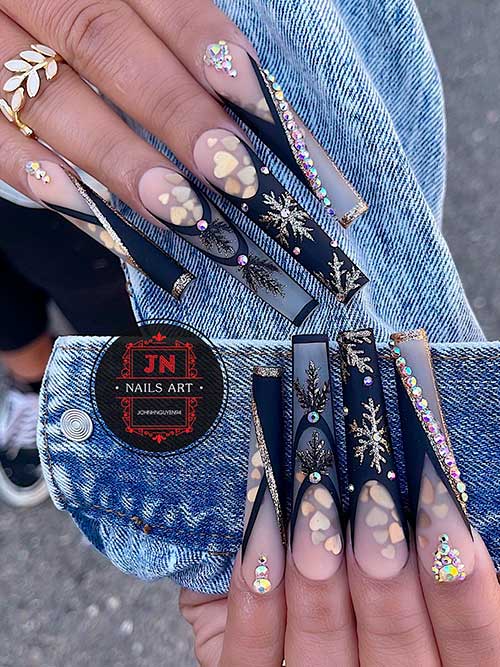 Whether you're looking for a dramatic, bold look or a more subtle and sophisticated look, long coffin black French nails can be your go-to nail style. Besides, they're perfect for adding elegance to your everyday look during winter.
8. Winter Sparkle Nails with Swirls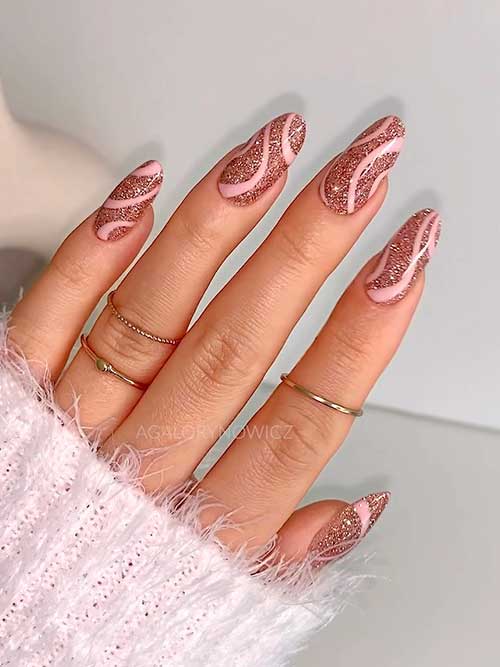 Of course, you can use brown glitter nails to create a fun and festive, and unique look by adding pink swirls. Besides, you can do it yourself or go to your local nail salon for a pro job.
9. Delicate Winter Nails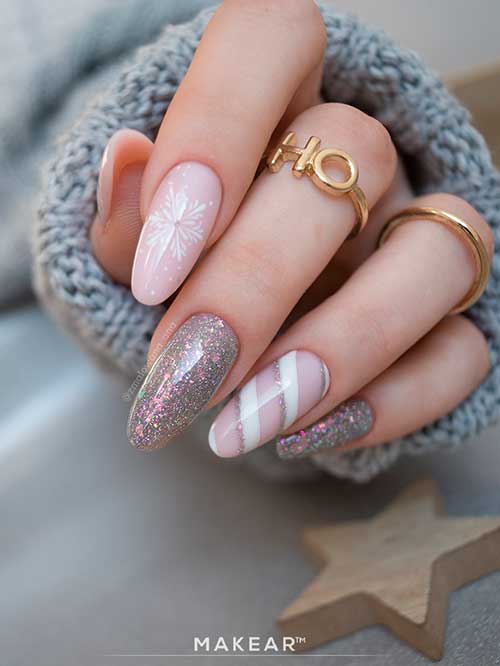 Whether you're a fan of traditional or modern nude nail designs, you will love this glamorous nail design. So, if you're looking to try out a unique new design, consider recreating these classy winter nails with little patience. Besides, adding sparkle to your winter nails is a fun way to add a little whimsy to your nails.
10. Sparkling Red Nails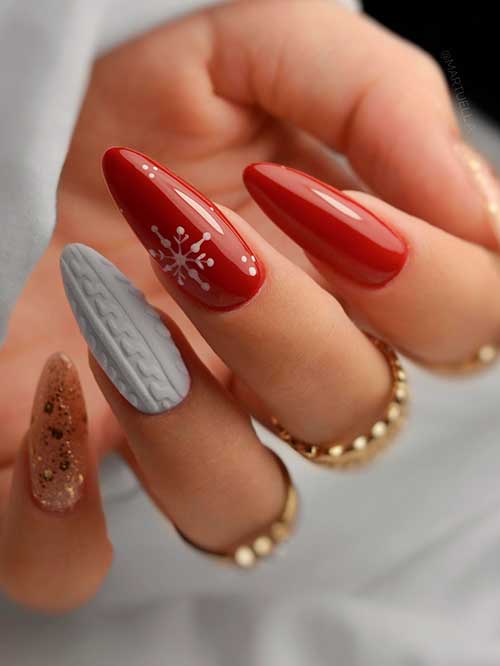 If you're looking for a winter nail look that's glam, red with gold glitter is the way to go. So, this nail design is a perfect winter manicure to copy ASAP.