Easter nail designs offer a variety of options to create and reflect your mood throughout the Easter occasion. So, you can find adorable Easter nails that have creative designs such as egg nail art, bunny nail art, chicks, and colorful pastel nail art.
So, choosing an adorable Easter-themed manicure depends on your preferences. But you can choose a manicure that mixes all Easter themes in one design. And we've picked the most stunning nail designs that you will love to try!
1. Cute Pastel Easter Gel Nails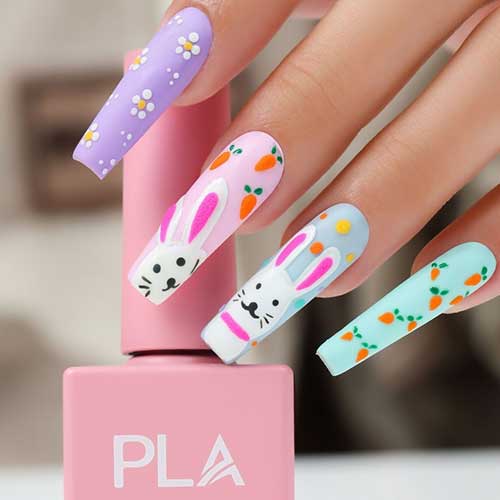 The first trend that you can jump on is pastels. Of course, these bright colors are so pretty, and they'll be awesome for the spring and summer months ahead. Besides, you can use rabbit and carrot nail art as well as floral nail art.
2. Pink Easter Nails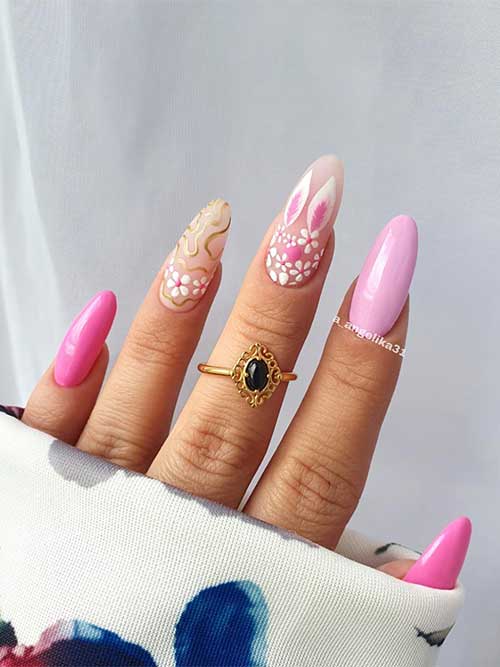 Indeed, pink nail color can suit any occasion. So, you can opt for pink almond nails with floral and bunny nail art on two accent nails. Also, you can add some gold swirls to amp up your easter nail design.
3. Short Easter Egg Nails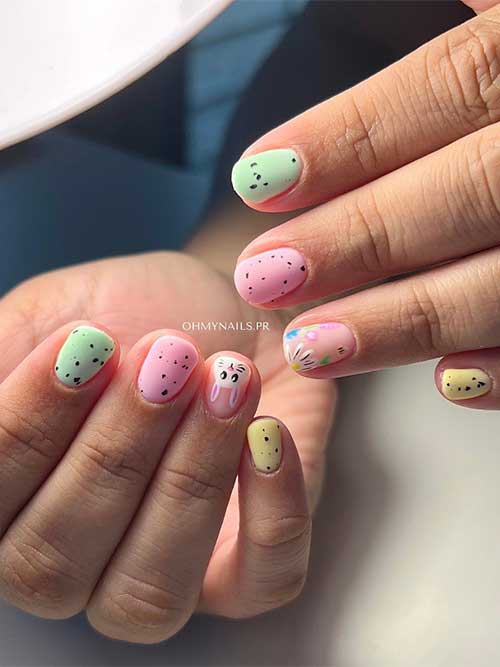 If you are looking for classy short nail designs for easter then these matte colorful mini egg nails are for you. This design features cute pastel multicolored nails with black speckles in addition to bunny and floral nail art on two accent nails.
4. Pastel Speckled Nails
Of course, these long almond-shaped matte pastel blue and green nails with black speckles are perfect for Easter. So, you can use a variety of your favorite pastel polishes to create this look.
5. White and Gray Nails for Easter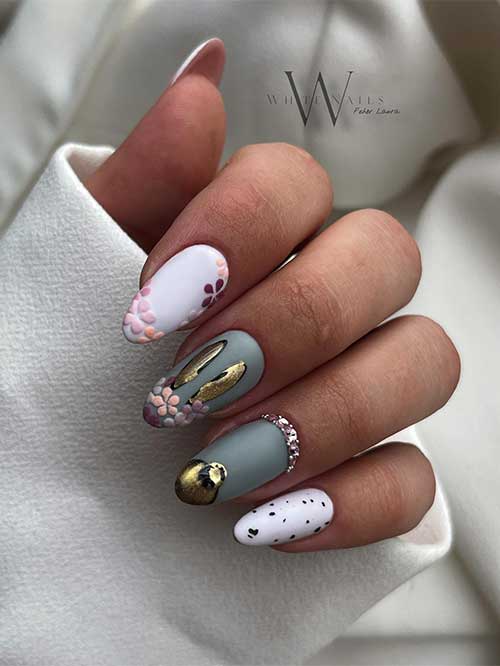 If you're not a fan of pastels but still want to be in the spring spirit, try this white and gray nail design for easter. As you see the design features speckle and floral nail art, a bunny, and rhinestones on an accent nail.
6. Light Blue Bunny Nails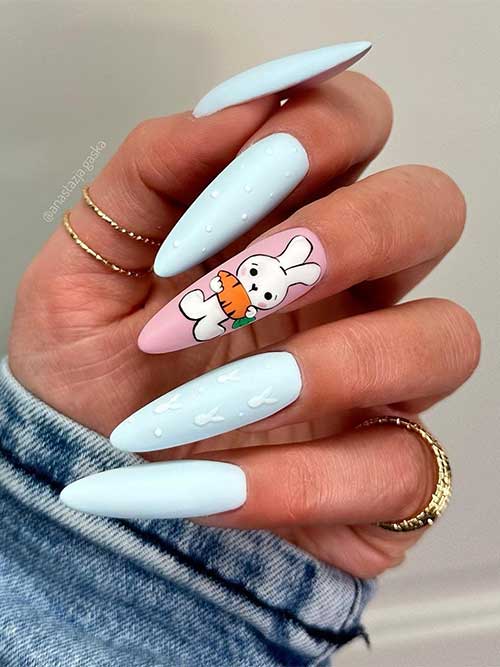 The bunny is a common symbol of Easter, and this look will make any nail art lover feel festive. So, you can use any color of nail polish to create this look, but we recommend using light pastel colors such as sky blue that will match the rest of your spring wardrobe.
7. Hatched Egg Nails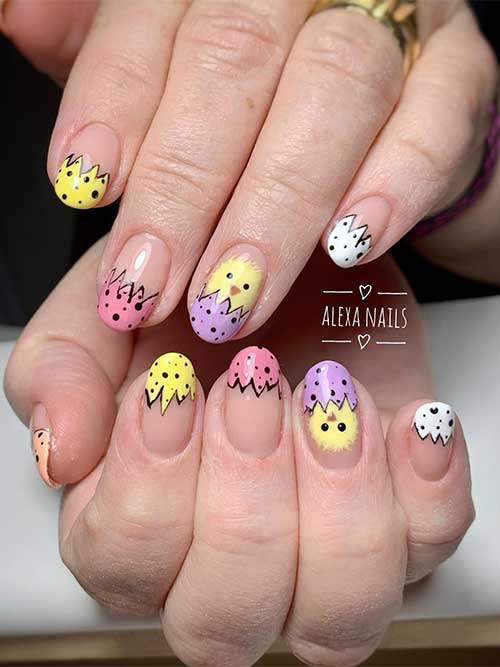 These adorable hatched eggs with little chick nails are a great way to inject a bit of spring into your easter manicure. So, you can recreate this look by using a nude base color and then applying your favorite spring nail colors to the tips of each nail. But first, apply the black borders of the hatched eggs.
8. Dusty Green and Pastel Pink Easter Nails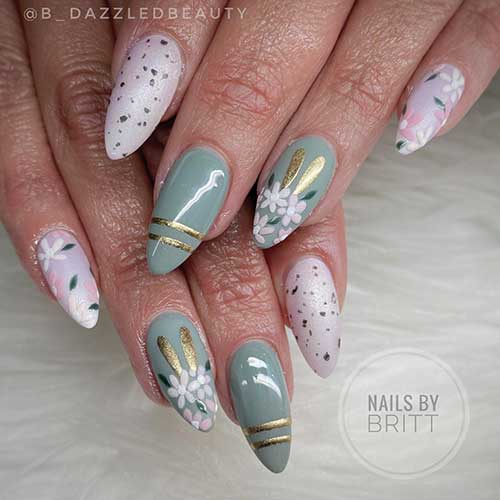 If you're looking for a more subtle Easter nail idea, this dusty green and pink nail design is a perfect choice. Both shades will evoke feelings of spring, while the mix of speckles and bunny flowers will add extra interest.
9. Multicolored Mini Egg Nails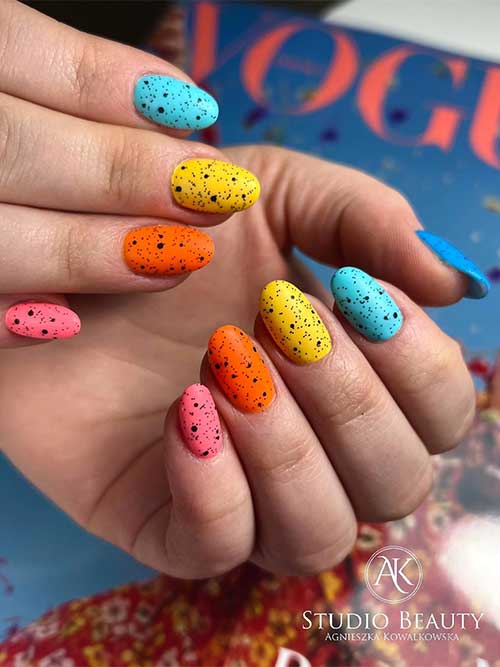 The perfect way to bring festive colors to your nail look is with multicolored mini egg nails. Indeed, it's a fun and simple design that won't take too much commitment. So, simply paint a base coat in your desired shades and then apply a dotting tool to add the black speckle nail art on top.
10. Stunning Green Bunny Nails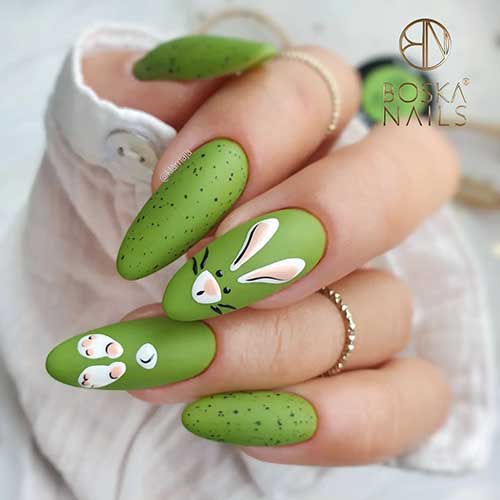 This simple matte look is sure to put a smile on anyone's face, and it's so easy to do! Just paint your nails in your favorite green shade, then apply the speckles and top it off with a matte top coat. Besides, you can use nail stickers to apply the bunny shape!
11. Long Stiletto White Pink Ombre Easter Nails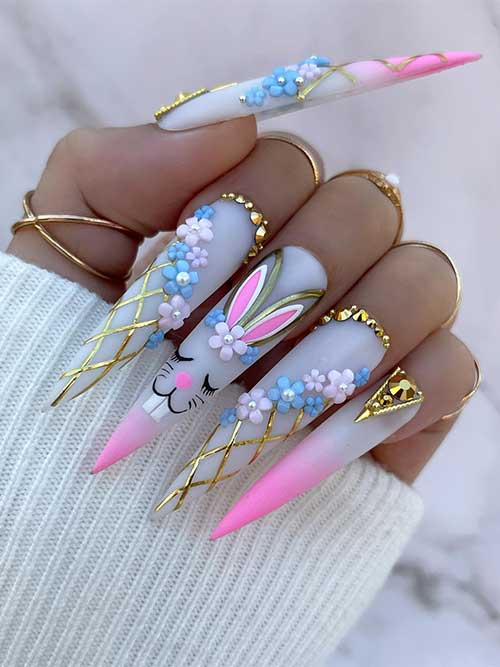 12. Pink Abstract Bunny Nail Art Design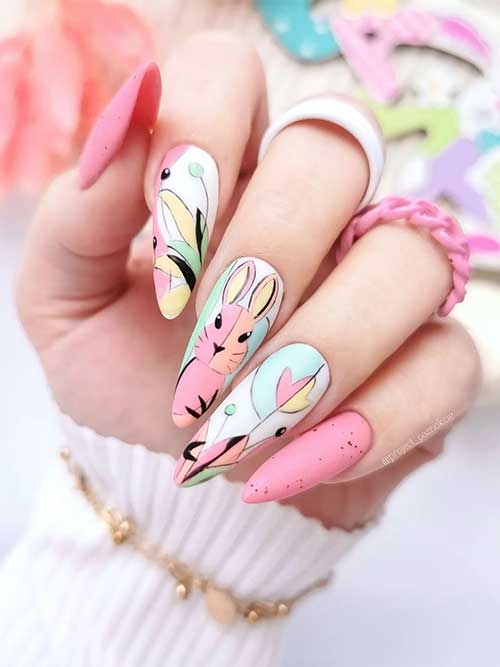 13. Gorgeous Deep Champagne Easter Nail Design