When it comes to fall nail art, there are many nail color options this year. Whether you want a neutral nail color or a dazzling color, there is something for everyone! Here are some of the latest nail designs and colors for fall nails to try.
From classic to unique, these designs are perfect for all occasions. There is no wrong or right way to create these designs, so you can be as creative as you want. Just keep scrolling to inspire your next manicure this fall!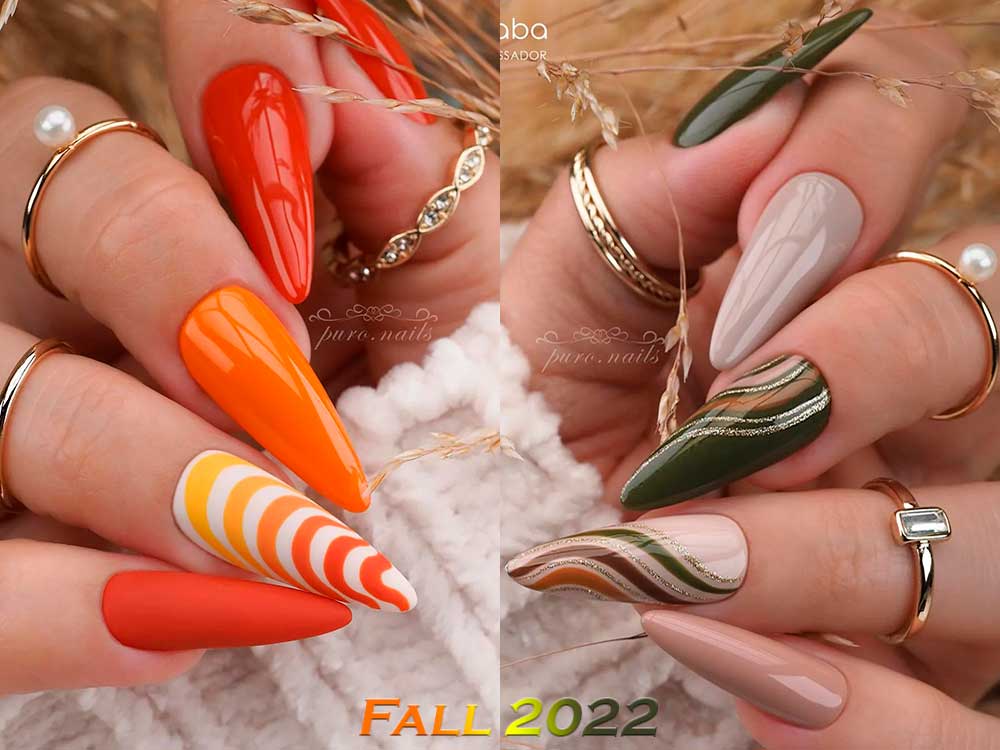 1. Orange Fall Nails Ideas
Indeed, orange is a popular color for fall, and it's an excellent choice for fall nails. Various shades of orange are available, from burnt to vibrant. Try mixing and matching two shades of orange to create a subtle transition. To do this, start by painting your fingernails with the darkest shade, then go to the next fingernail with a lighter shade.
This will create an even transition between your nails, and the darker color will fade away gradually as you move toward the lightest shade. Also, you can matte style on one or two accent nails for more attraction.
Burnt orange nails with striped nail art design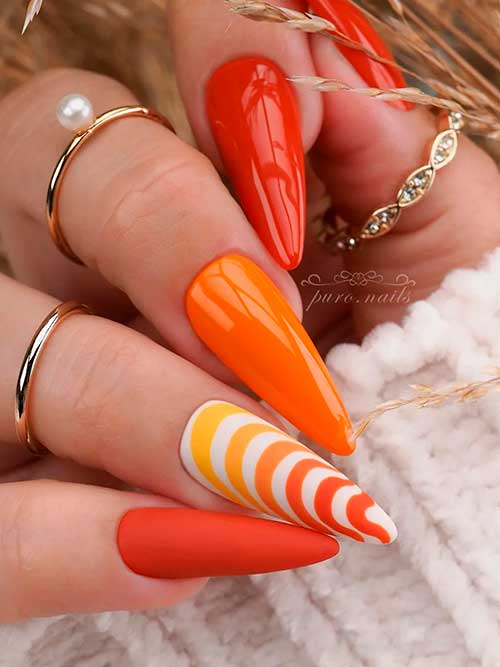 This fall, elevate your look with a sultry, burnt orange manicure. Of course, this dark to medium orange shade is awesome on most skin tones. Wear it with white, black, gray, and gold to match your fall wardrobe. Also, adding rhinestones and other accessories will make the look extra special.
Orange nails with a fall leaf nail art
Try this autumnal nail design that features cute orange nails with two accent nude nails, one of them adorned with fall leaf nail art.
Orange coffin fall nails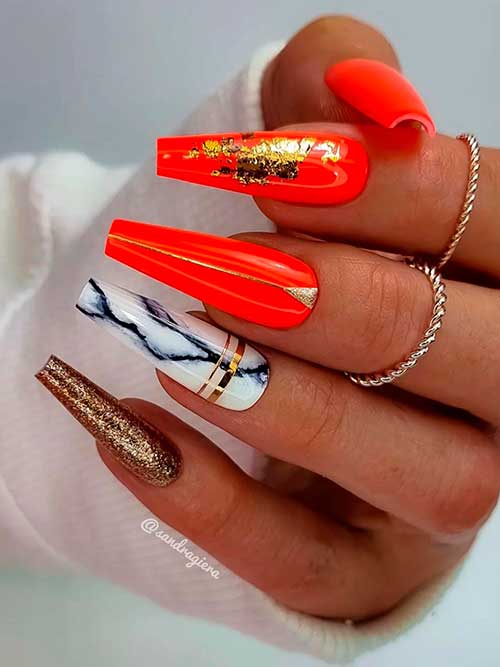 Still, orange coffin fall nails are a fun, cute way to show off your nail art in the fall. This manicure features a base of orange and gold glitter and is the perfect color combination for this time of year. The shape of the coffin nails makes it perfect for rhinestones, which have always looked gorgeous. Also, you can combine marble and glitter accent nails for more elegance.
2. Nudes and Browns Fall Nails Ideas
The fall season is the perfect time to try out some fun nail designs using different shades of nude and brown colors. Of course, these colors look great on any skin tone and complement all nail lengths and shapes. Also, they are worth wearing, and you can style them in many ways.
Matte creme brown nails with fall leaves and gold glitter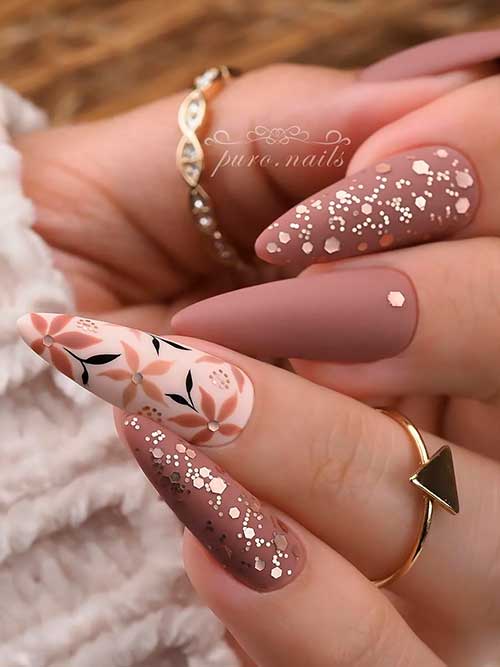 One of the best fall nail designs is a matte crème brown manicure that incorporates fall leaves on your nails. Also, you can choose a simple design, or go for an elegant look with multiple leaves in different shades.
Brown with Nude Nail Design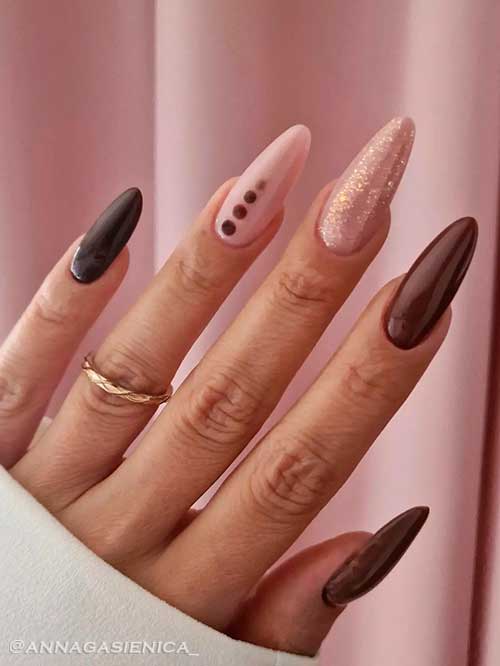 Indeed, brown nails when combined with nude color nails result in a masterpiece like this nail design above. So, this color combination is a great choice for autumn this year.
Nude fall nails with ample leaves, glitter, and rhinestones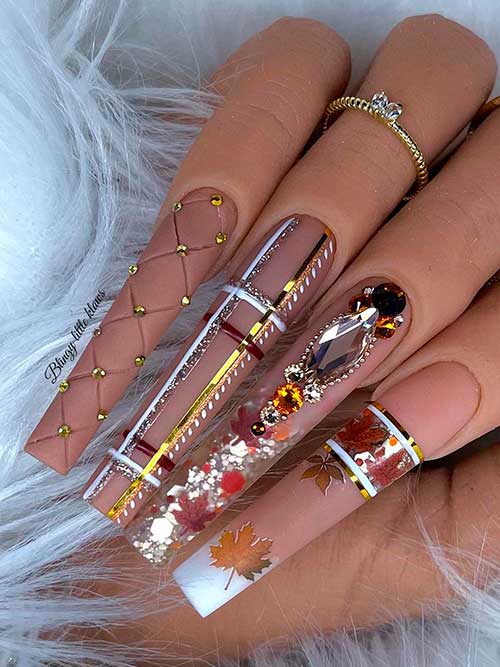 Indeed, a long nude fall nail design with ample leaves, glitter, and rhinestones can still have a big impact. Also, you can choose large or small rhinestones. In addition, the plaid nail art adds more beauty to this autumn nail design.
3. Olive Fall Nail Ideas
Olive green nails are a perfect way to add a splash of color to your fall wardrobe. Of course, this neutral color goes well with many different outfits and can be paired with chevron and swirl nail art, glitter accents, and interesting shapes.
Olive nails with marble effects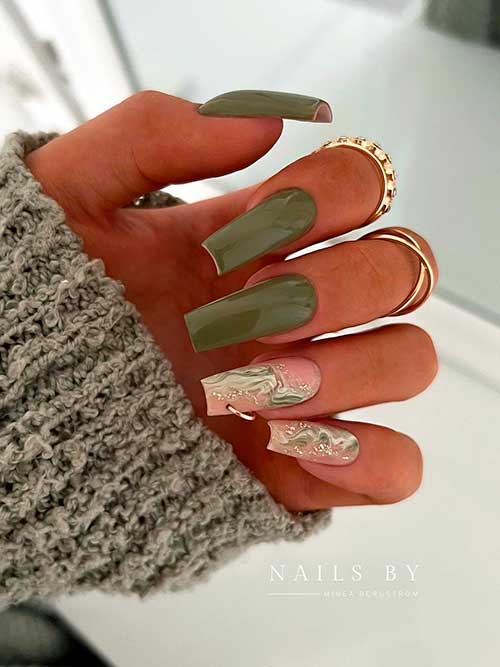 Olive nails with marble effects on nude accents are an easy way to add an elegant touch to your fall manicure. In addition, these designs are a favorite for the fall season and can be done with a variety of fall colors.
Olive and nude nails, with swirl nail art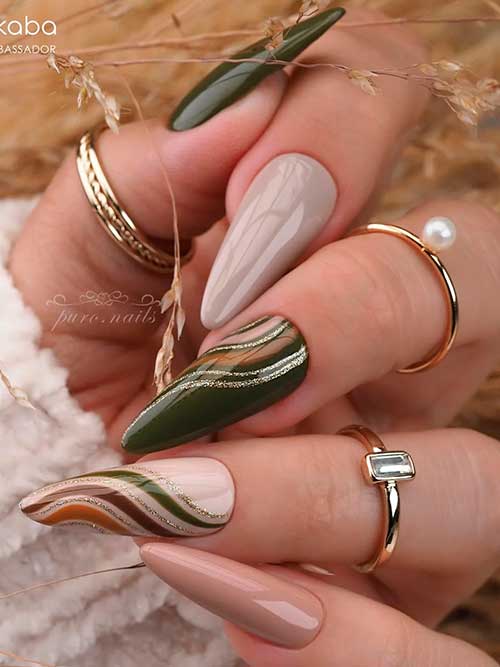 Olive and nude nail polish is an excellent choice for a chic and feminine look. Besides, olive green is a rich and sophisticated shade that is flattering on golden skin. Also, it is not too dark and is professional enough to wear to work.
Matte ombre olive nails with rhinestones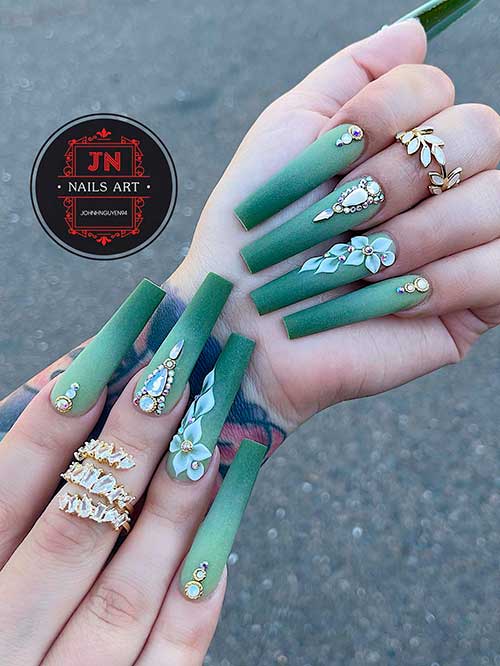 Ombre nails are a trendy trend in nail art, combining two different colors for an ombre effect. So, try olive green which is a very trendy color in any season. Additionally, ombre nails in olive green are a cool and stylish way to make that statement.
Olive fall nails with leaf nail art and nude accents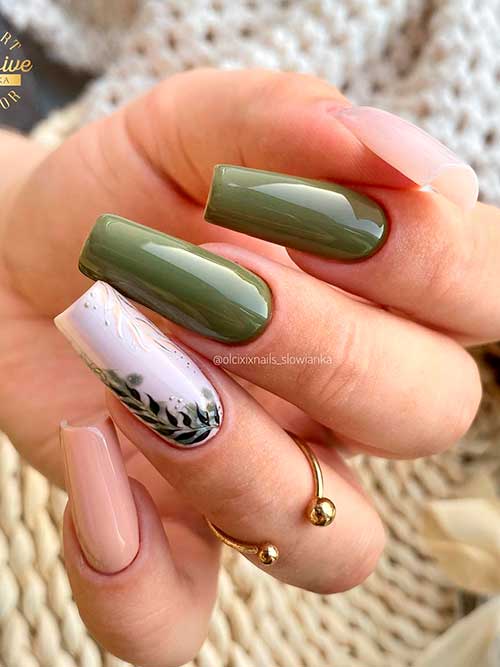 Olive green is a versatile color that can be used to make stunning nail art. In addition, it gives your manicure a nature-friendly vibe already. Also, you can make it even more beautiful by adding details of dried leaves and other autumnal elements on nude color accent nails.
Cute olive fall leaf nails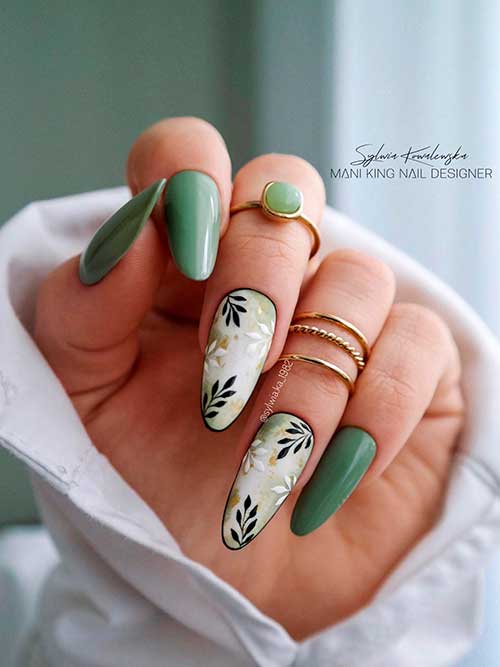 This season, you might be thinking about getting a new pair of olive fall leaf nails. Of course, the leaf nail art on the two accent nails amps up this nail design. Also, you can wear this design in a glossy or matte style.
To Conclude
At last, fall nail designs are a great way to switch up your nail color scheme and add a splash of color to your look. So, you can choose one of these fun fall nail ideas above to try out this season. Besides, the best part is, they don't have to be complicated.