Congratulations, graduates! You've been working hard throughout the day and into the night and got to this point. A mug of coffee and a lot of assignments later, you've finally had time to step onto that stage, receive the diploma and continue to live the best part of your life. Indeed, it's the time to put on your elegant graduation gown and show off your attractive style. If you're looking to commemorate the event with something unique make sure you're ready with these adorable graduation nails!
Everyone at school will be jealous of your elegant graduation manicure and will ask why you were so inspired? Indeed, our photo gallery is strong enough to make you the queen of the Ball on your big day. So, your image should be perfect when you say goodbye to your school and step into the adult world.

If you're looking for simple nail art or something more sophisticated it's likely to be the perfect style for your graduation day. So, put on your gown and cap and get ready to impress anyone with your classy graduation nails!
1. Nude Coffin Graduation Nails Design
What a beautiful nail set for graduation! You will turn heads by selecting this nude coffin nails idea on your big day. Of course, the swirls accent makes the design's perfection.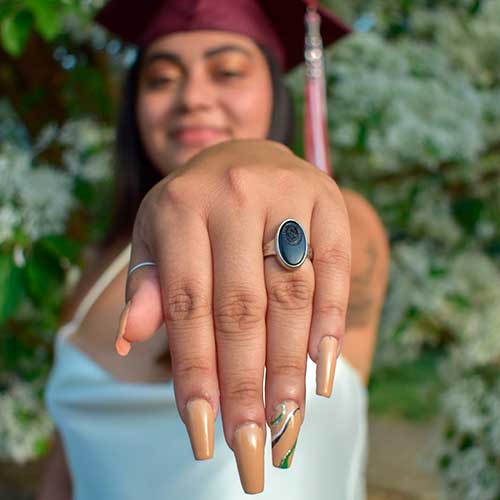 2. Blue and Gold Foil Graduation Manicure
Indeed, the nail color combination of blue, gold and nude colors are perfect. Besides, you can simply try these grad nails at your home. So, try this cute nail design and enjoy the likes and compliments.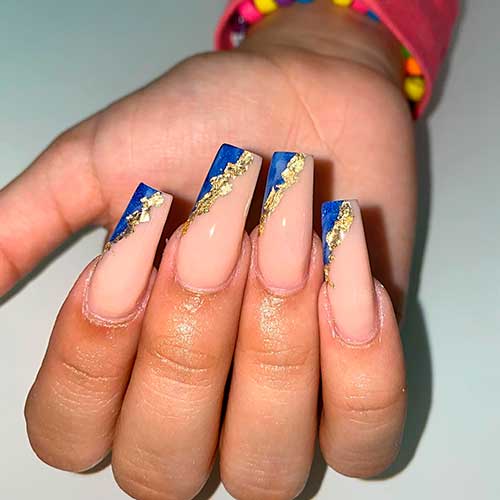 3. Milky White Nails with Design
White nail color is always classy so you will love these white graduation nails below. So, it's time to recreate these milky white nails with gold foil and smoke effect accents.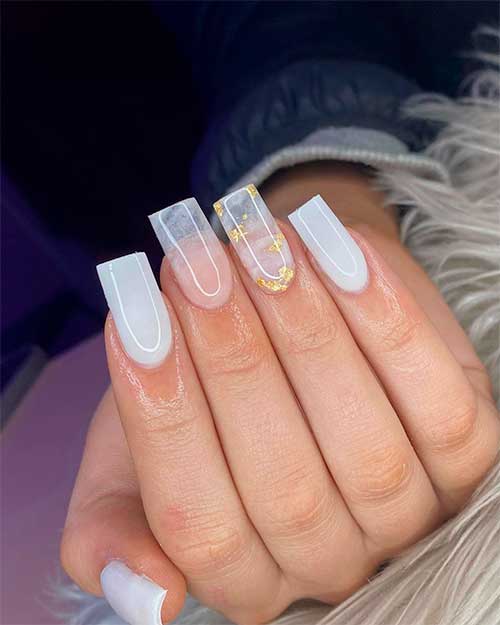 4. Light Blue Graduation Nails Design
Of course, French tip nails with glitter and flowers create a classy nail idea for grad day. Try this nail design and be a princess with your friends.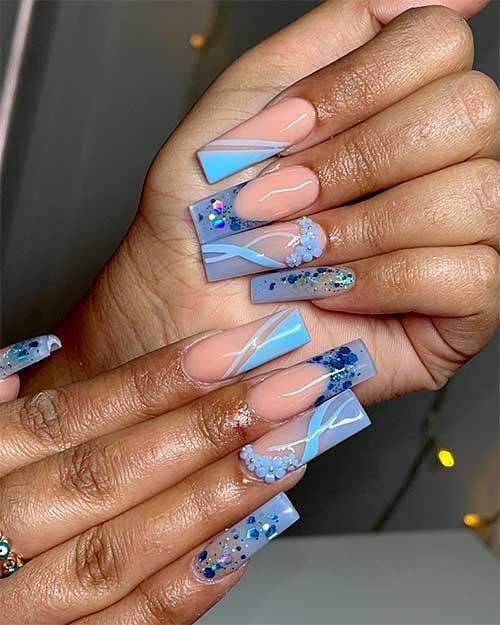 5. Graduation French Tip Nails
Pick these adorable French graduation nails that feature rhinestones, Flowers, and sugar glitter tips. Indeed, we promise this nail design will boost your entire look and mood too!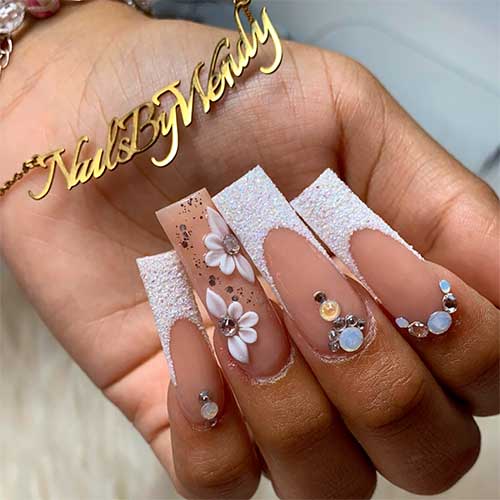 6. Clear Graduation Nails with Rhinestones
Indeed, this is a stunning set of various elements over clear tips. So, check out this gorgeous mixture of rhinestones, sparkling swirls, 3D flowers, and a French manicure over clear tips.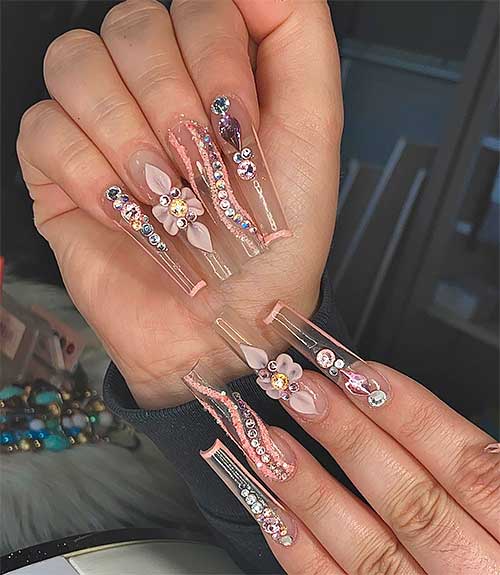 7. Green Marble Graduation Manicure
Do you want to experiment with stylish, elegant graduation nails? What about these green marble nails, with square-shaped nails? Additionally, The green hue can be changed to match the theme of your college or school.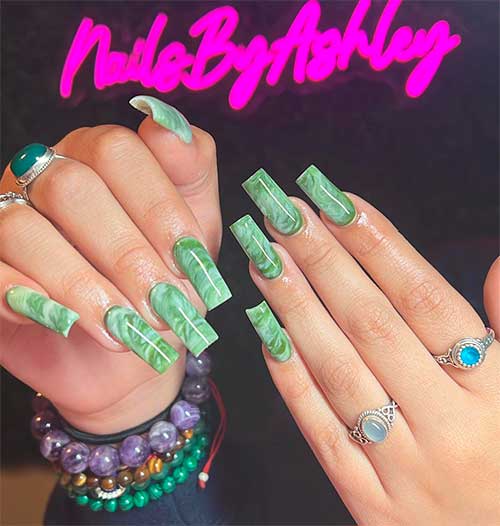 8. Graduation Light Blue and Gold Swirl Nails
Still, swirl nails are in trend, especially when applied over matte nude base color. So, if you are searching for a nail design that turns all heads this design is for you. Also, you can change the light blue and gold nail colors with your favorite ones.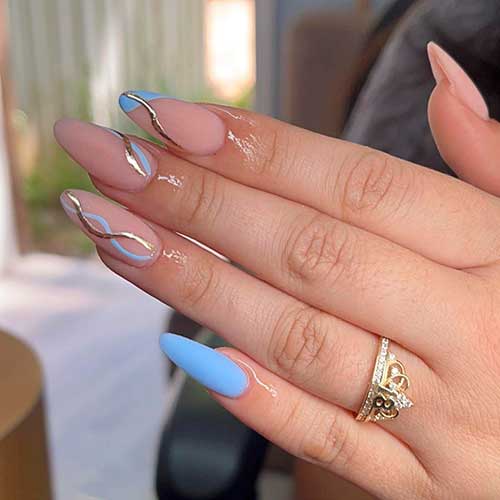 9. White Graduation Nails
Still, white nails are worth admiring on any occasion. They are the perfect nail concept for the perfect baddie. Indeed, that floral nail art is definitely the star of the show in this nail art.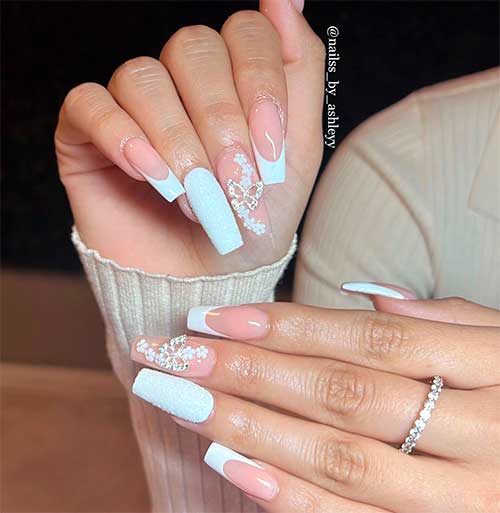 10. Simple White Swirl Graduation Nails
If you are looking for simple graduation nails to recreate yourself at home this design is for you. In addition, this design is ideal for summer and spring too. So, don't hesitate to try this versatile set that you can use to celebrate your graduation.