Christmas is coming! So, it's time for celebration by decorating the tree and wearing cozy pajamas. But what about more fun with a Christmas manicure? Of course, wearing festive Christmas nails can increase your joy while decorating the home or wrapping presents. And I think red and green Christmas nails are one of the best available festive options.
To help you decide the best manicure to wear, we collected some amazing red and green Christmas nail ideas. So, you can copy your favorite one or blend various ideas into one design. Just keep browsing and enjoy!
1. Stiletto Matte Red and Green Christmas Nails
This is a classy and festive nail set. Of course, when dark green nails are blended with dark red nails the result is unique nails. Also, the shimmer candy cane nails add a special festive spirit to this design.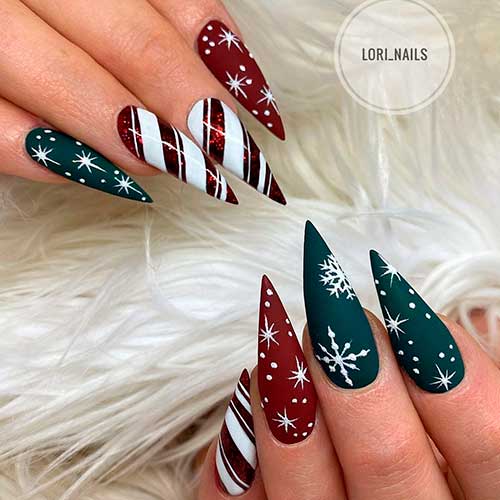 2. Gnome Red and Green Christmas Nails
Another is the Chic Christmas nails idea with red and green nail polish colors. Of course, you can do this nail art design at home but the part of the gnome is really intricate. To avoid this problem you can use a gnome nail sticker over your middle fingernail.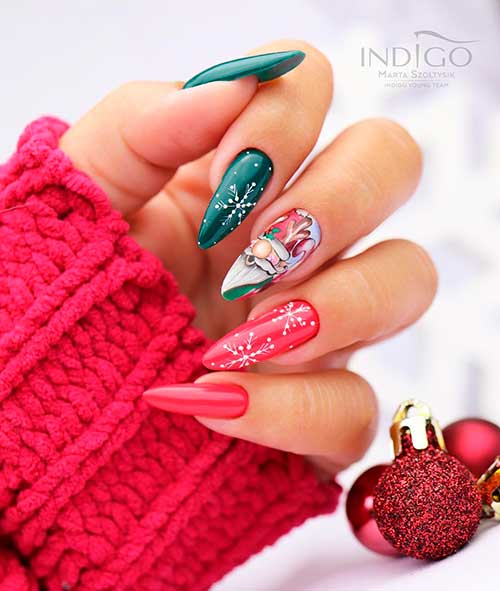 3. Shimmer Red and Green Simple Christmas Nail Design
What about wearing red and Christmas nails separately on each hand? Indeed, it's a simple and gorgeous way to level up your look and have a joyful mood where ever you go.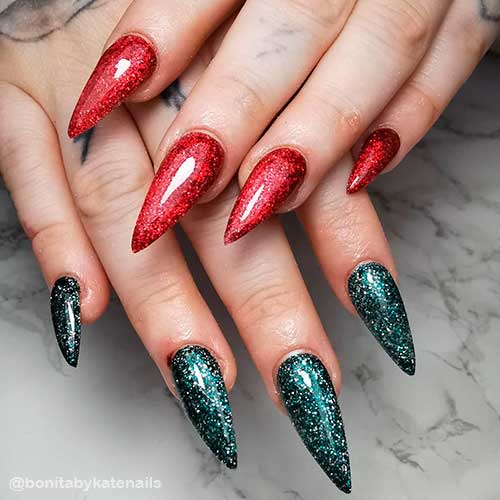 4. Festive Glittery Christmas Nail Art Design
This design is definitely a cute and joyful Christmas set. So, if you looking for a joyful design then these glittering red and green Christmas nails are for you. Also, you can recreate this design at home with little effort.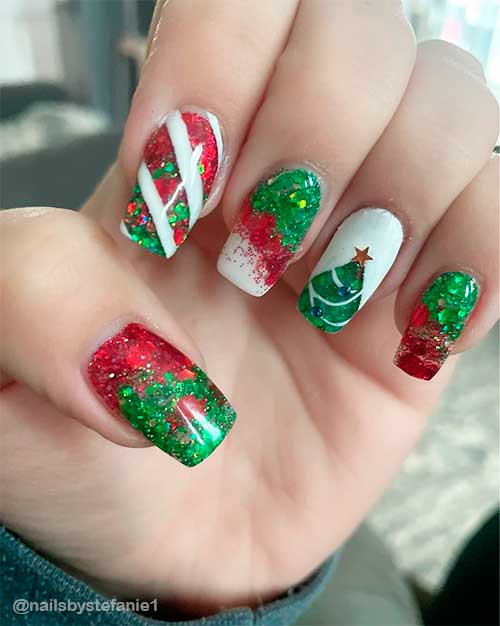 5. Elegant Red and Green Cute Christmas Nails
This Christmas, try these bold red and green nails for celebrating. Of course, red and green colors can make you cheerful, especially the glittery accents.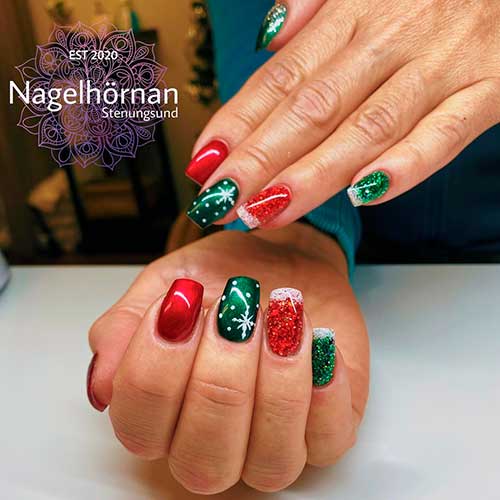 6. Presents Coffin Christmas Nail Design
Indeed, long coffin-shaped nail fans will get inspired! Also, this Christmas-themed combination between presents, Christmas balls, glitter, and Snowflakes is beautiful and festive in everyone's eyes.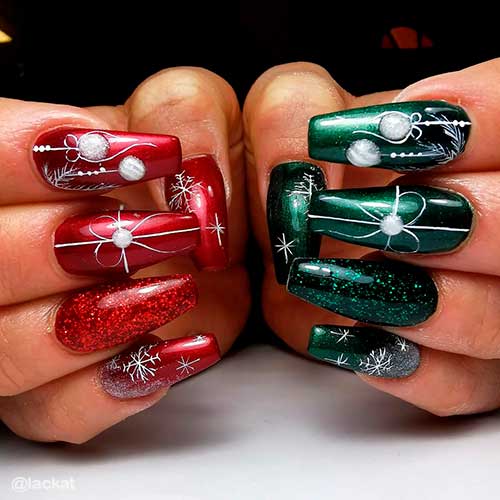 7. Ice, Snowflakes, and Candy Cane Christmas Nails
Of course, you can recreate this fun and pretty nail look easily at home. But for the candy cane, and snowflake accents you can use nail stencils. At last, don't forget that pretty Christmas nails can boost your mood, and make you feel the Christmas spirit once you look at them.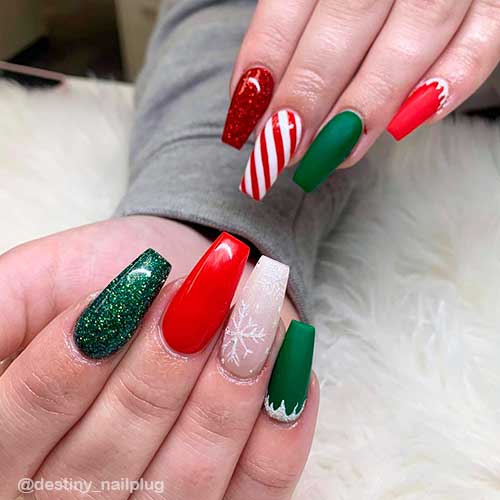 8. Festive Christmas Bling Tips
This glittery red and green Christmas nail design with snowflake rhinestones is really awesome. So, once you try this nail art you will feel the Christmas celebration.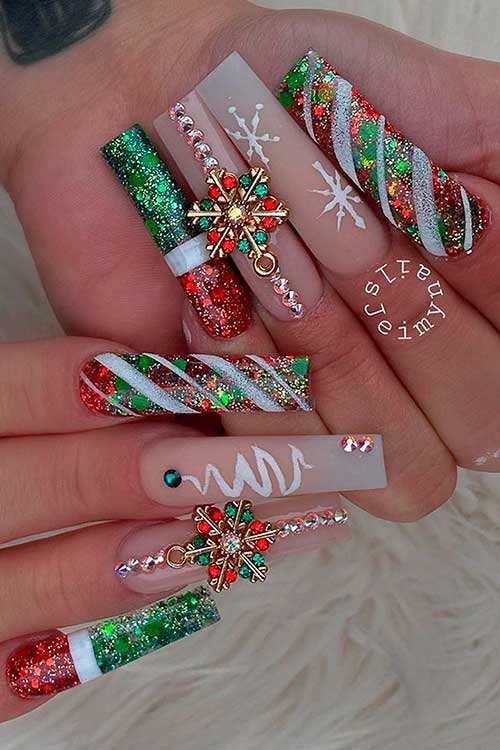 9. Sparkling Red and Green Nails
If you want your Christmas nails to pop and catch everyone's eye. Then, try sparkling red and green with nude base color accent nails. Because these two shades contrast beautifully with a matte finish and contrasting sparkle.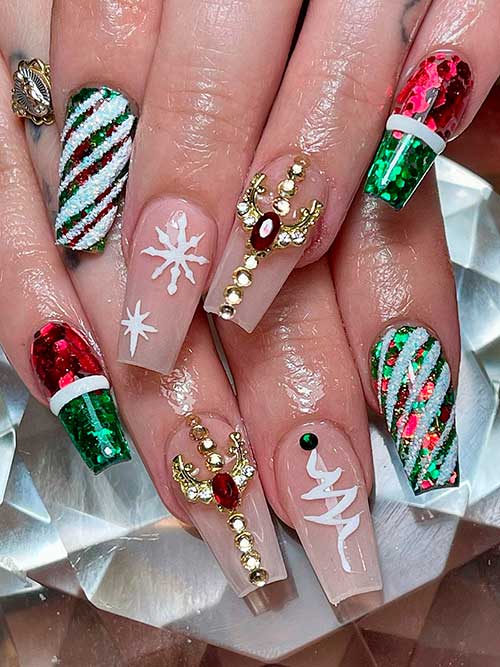 10. Red and Green Plaid Nails for Christmas
Plaid nails are an easy way to add festive holiday cheer to your nails without much effort. So, you can recreate this festive Christmas nail design that features red and green plaid nails. Also, it features sweater and gnome nail art on two accent nails. Of course, this nail design will look great on any finger and go with any outfit.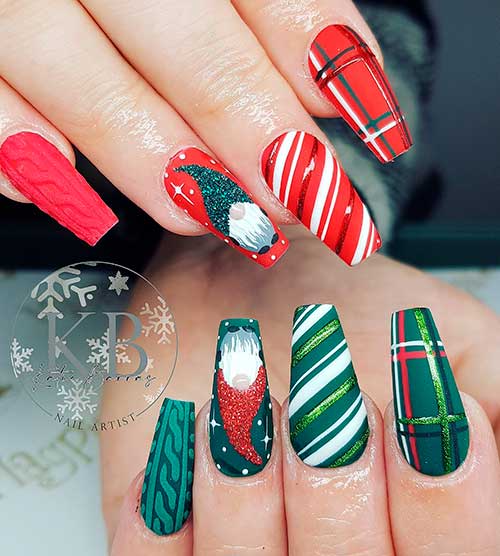 11. Green and Red Christmas Nails
Indeed, using red and green Christmas nails can create a festive and cheerful look. So, you can try these green chrome and white candy canes combined with red French tip nails. Besides, rhinestones can also add sparkle to your nails.