If you've been thinking of trying out yellow nails, you're not alone. The bright yellow color is a favorite among summertime fashionistas. But yellow nails aren't just for summer – you can also wear them in fall and winter as well. While you can always visit your local nail salon for a full manicure, you can also try some yellow nail designs at home. This article will give you some ideas on how to do this.
These simple yellow nail designs are easy to do and are both trendy and meaningful. For example, you can choose to do a yellow-and-black design to symbolize the life of bees. Another great way to wear yellow nails is to go for yellow and black nail art for a night out on the town or a special occasion.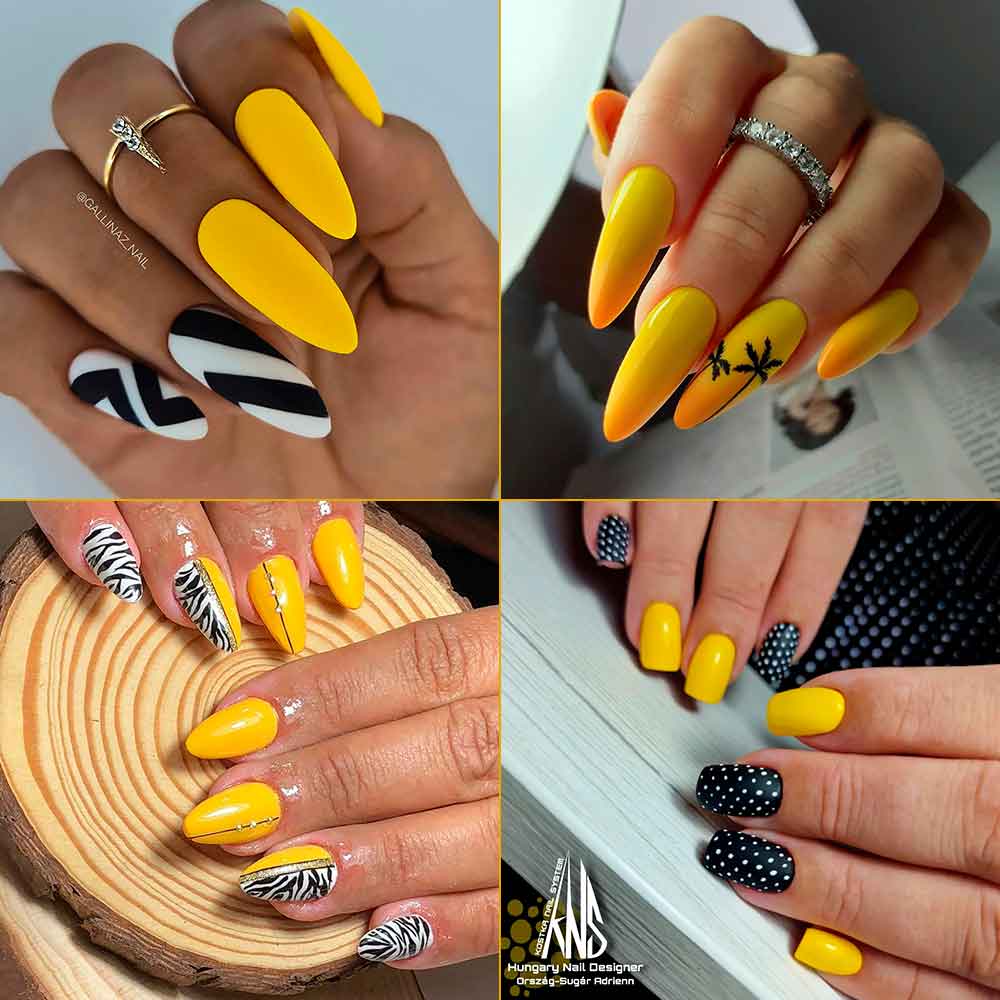 Whether you're getting dressed up or going to a party, you'll have a fun yellow manicure to celebrate your life. Of course, yellow is a vibrant shade that will look awesome on everyone! Here are some fun and great ideas for yellow nails for summertime:
1. Yellow Nails with Animal Print
If you're looking for nail trends for summer, animal print nail art is a great choice. Animal print nail art never goes out of trend and style besides it will add fun to any outfit. From zebra prints to leopard prints, these nail designs will definitely be on trend. Also, you can use animal print press-ons or nail tape to create a funky design. No matter what you choose, these yellow nail designs will be on trend throughout the summer!
Yellow summer nails with zebra prints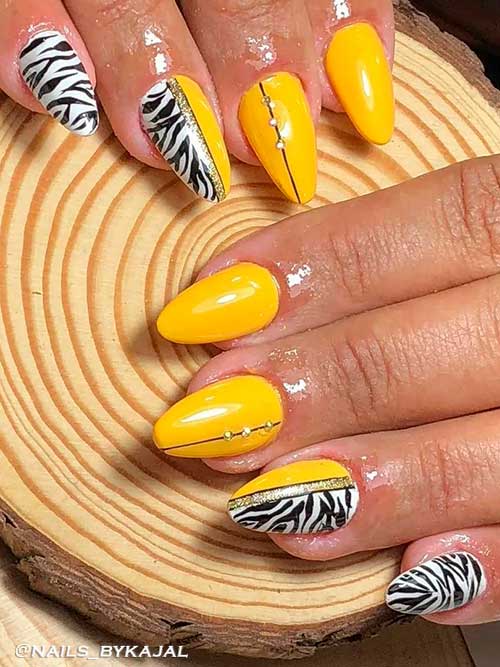 If you're looking for the perfect color to brighten up your summer, a yellow nail design may be just the thing. This summer, the bright, sunny color is a favorite among nail art enthusiasts. And since yellow is such a popular color, you can blend it with zebra prints to create a unique look.
Matte neon yellow nails with leopard prints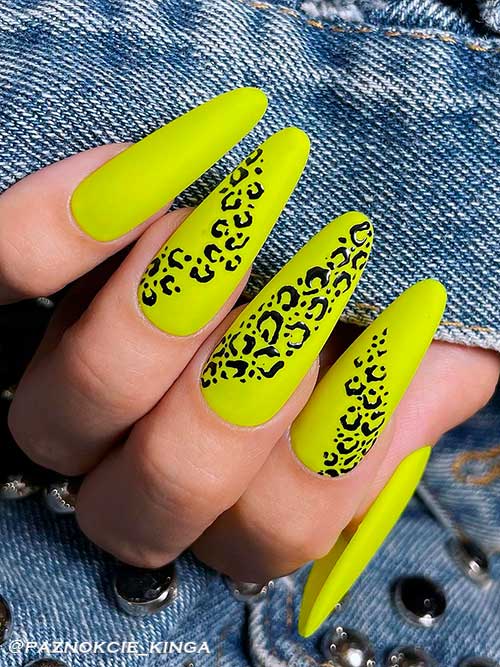 The summer season is in full swing, and one of the best ways to ring in the summer is by showcasing a pair of neon yellow nails. These bold and striking colors are perfect for summertime parties, and you can easily achieve the look on your fingers or toes. Additionally, you can add black leopard prints to get cute and fun neon bright summer nails that are worth wearing.
2. Pink and Yellow Nails Ideas
If you're looking to create a nail design for the summer, consider experimenting with pink and yellow. Because these colors are perfect for the warmer months. Besides, these summer-friendly colors blend together perfectly to give off a sunny aura. Additionally, you can even create designs that depict flora in different shades on your fingers! To get the look, it's important to take a few simple steps first.
Short pink and yellow nail design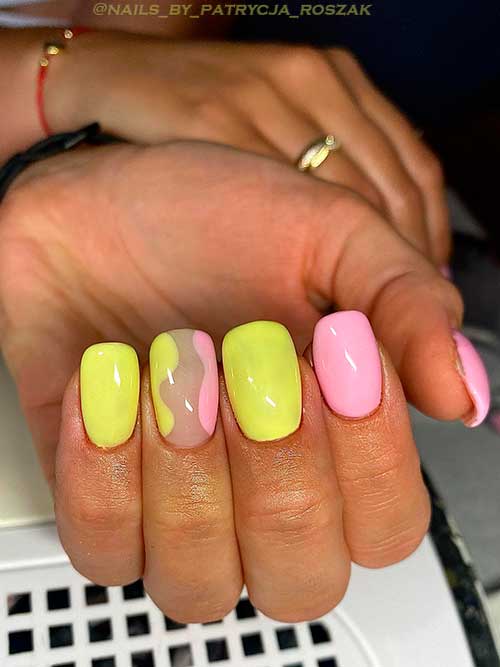 Neon pink and yellow nails with leopard prints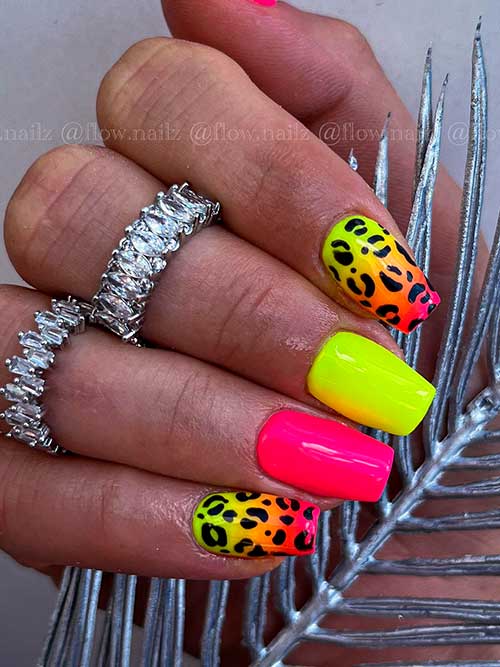 3. Yellow Nails with Polka Dot Nail Art
When it comes to nail art, yellow is the color of choice. It's bright, cheerful, and perfect for warmer seasons. Of course, you can create a wide range of designs with this summery nail color. So, you can combine yellow nails with polka dots to get fascinating summer nail art designs.
Yellow nail design with polka dot and sunflower nail art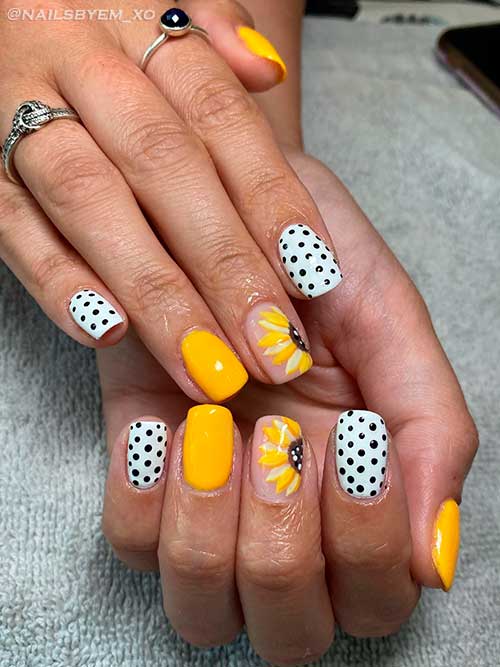 Yellow and black nails with white polka dots
Black and yellow nails with polka dot accents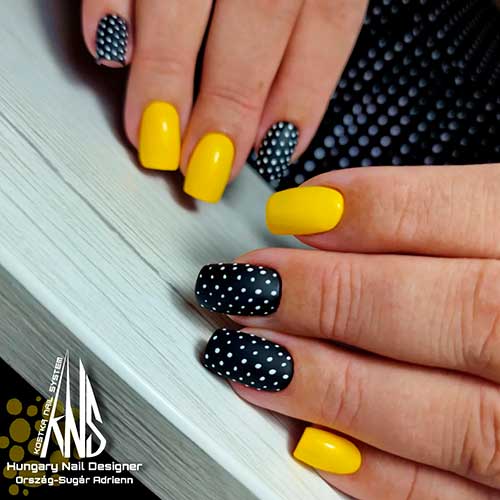 4. Yellow Sunflower Nails
If you're bored with the regular style of your yellow nails, you can add some zest to them with sunflower nails. Indeed, the glossy yellow shade is sure to make your nails pop, and you can also add edgy accents like pointy studs and diamond-like embellishments. Also, you can achieve the look of sunflowers without resorting to expensive nail polish.
If you don't want to spend money, you can opt for a matte finish, which is much more versatile than a glossy one. Also, you can use nail stickers to achieve the sunflower look.
Yellow nails with sunflowers on accents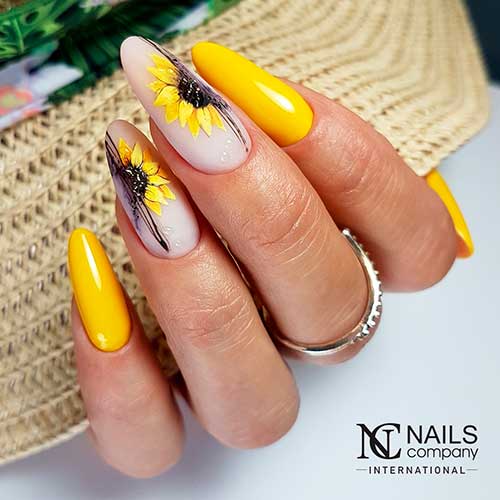 Stiletto yellow nail design with sunflowers and rhinestones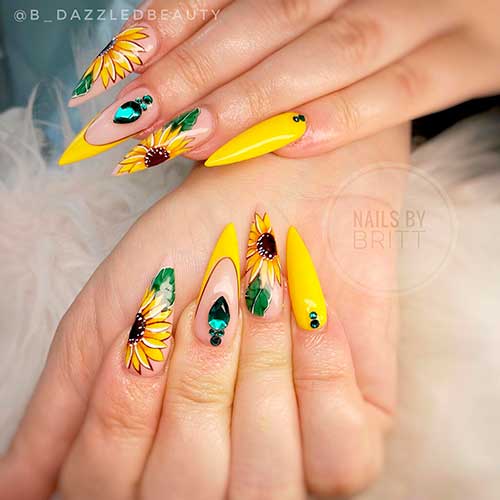 Glossy yellow nails with tiny sunflowers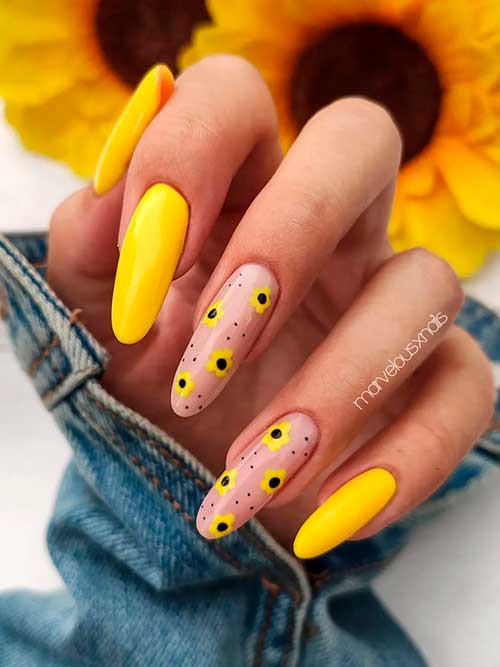 5. Yellow Nail Designs with Striped Nails
Yellow nails are a great way to brighten up the gray days of winter! No matter the season, yellow nail polish is a great choice to make your fingernails stand out. Whether you're a girl who likes to mix and match colors or a woman who wants to make a fashion statement, yellow nail designs with black and white stripes are always a great option. You can get a variety of shades of yellow from your local drugstore or manicurist to suit any mood.
Matte yellow nails with striped accents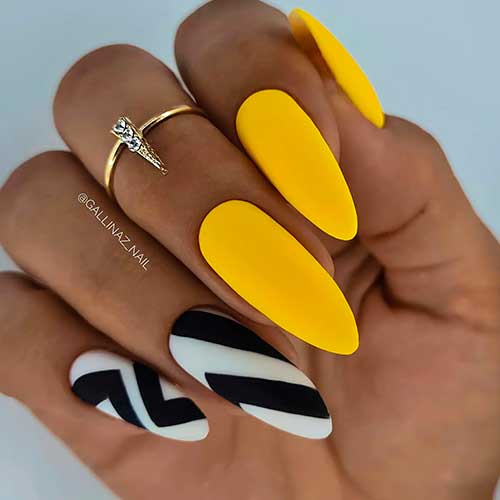 Yellow coffin nails with striped nail art design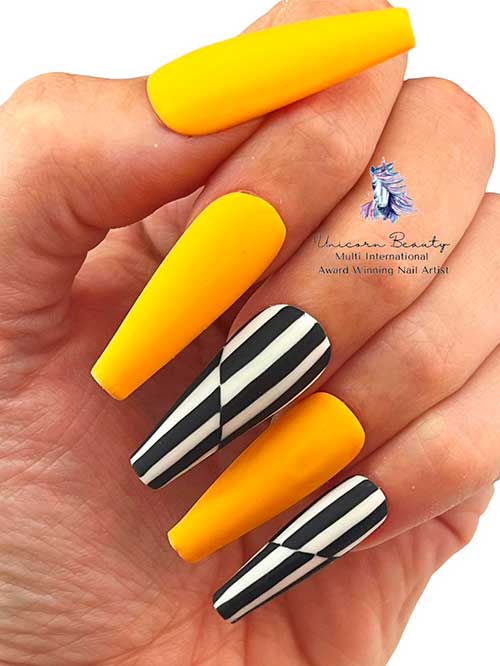 6. Chic Yellow and Black Nail Designs
If you want to get a chic and eye-catching manicure, you can opt for yellow and black nail designs. Indeed, these two colors are complementary and can stand on their own. So, you can add some bright accents or even use yellow nail polish as a base. In any case, you should try to avoid using too much black polish since it will make your nails look dull and lifeless.
Lovely Stiletto black and yellow nails with rhinestones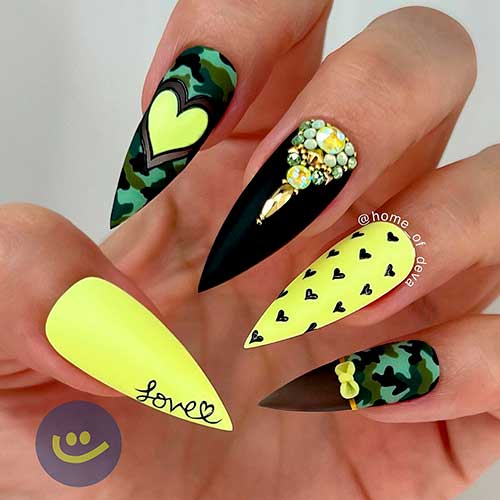 Bright yellow nails with black abstract nail art
7. Tropical Yellow Nail Designs
If you're looking for a simple but bright look, tropical yellow nail designs might be perfect for you. These vibrant designs will help you stand out in a crowd. There are many ways to use tropical yellow nail designs. Also, you can find many nail designers who specialize in creating these colorful designs. But simple nail designs will be your best choice for summertime.
Tropical yellow ombre nails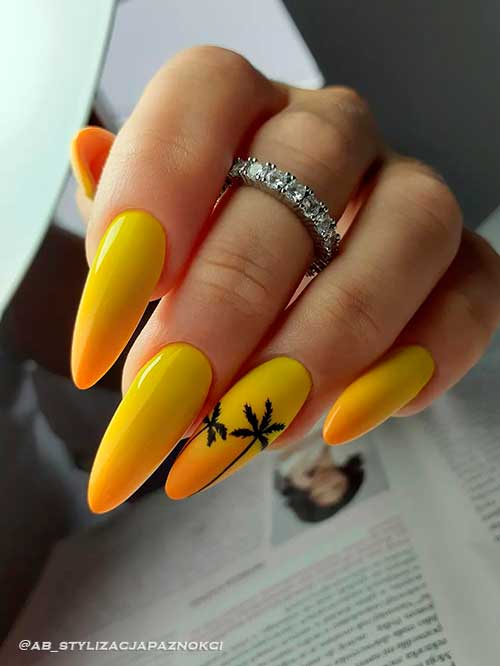 Short yellow nails with palms and glitter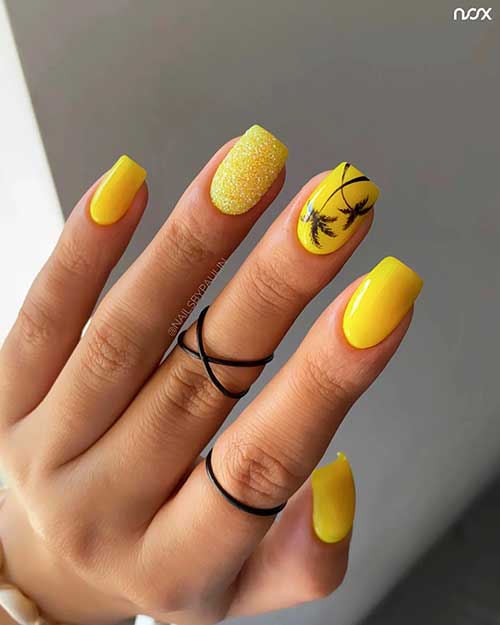 8. Yellow Nail Designs with Glitter
If you love the look of glitter on your nails, you can try yellow nail designs with glitter. Of course, these bright, sparkling designs will give your nails a fun and glitzy look. They can be used to accent other nail designs or to make your nails stand out. In addition, they can be a unique way to show off a fun team mascot. Yellow is a classic color that mimics sunshine, so it's a good choice for any season.
Cute yellow nails with sparkling glitter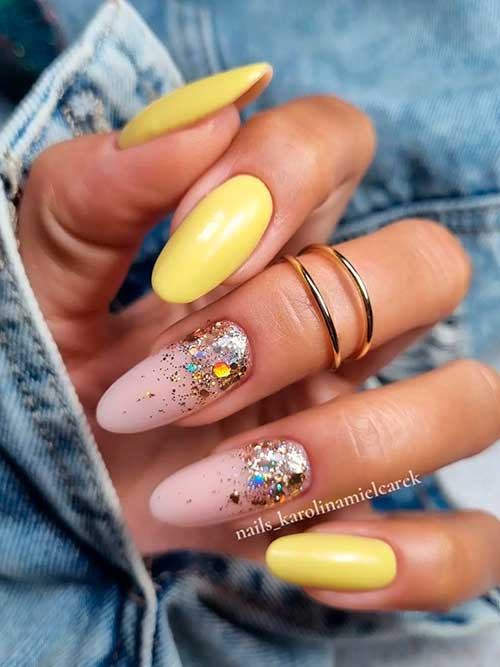 Short yellow nail design with silver accent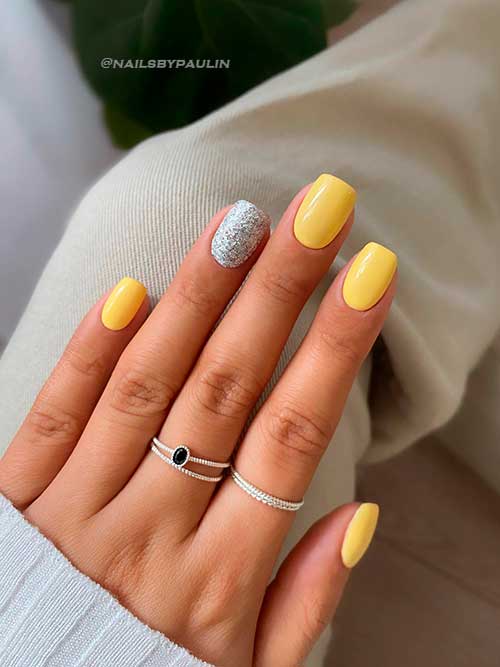 Neon yellow nails with silver glitter on milky white nails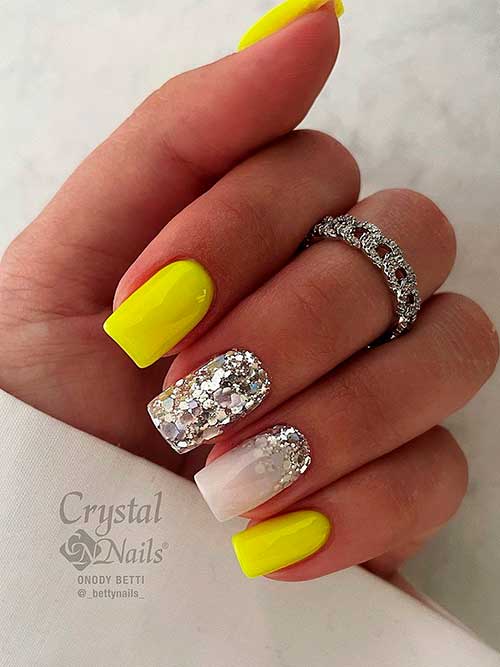 At last, if you want to change your look from drab to fabulous, then try wearing yellow nail designs! This vibrant shade can be a perfect blend of other colors and jewels to give you a perfect tone. In addition to selecting the proper shade of yellow, you should also consider the shape of your nails. Of course, yellow is a great choice, as it can create a fun look while looking chic.