The purple color is so refreshing and reminiscent of ice cream. This summer nail color can easily match a variety of outfits. It's similar to the French manicure, except that instead of using a single shade, the purple is blended with more than one, creating an almost melting effect. Indeed, there are many options for purple nails to try this summer. For even more summery nail designs, try a glitter manicure.
Another popular choice for purple nail designs this summer is pastel shades. Pastel hues are easy to apply, comfortable to wear, and go well with most nail types and thicknesses. Pastel shades also give a feminine appearance, and they can be easily paired with neutrals like beige, which look perfect with any purple nail design. And if you'd like to make your manicure stand out, try using white blossoms to make it look even more stunning. Here are some cute purple nail designs that will act as an inspiration for you to try this summer!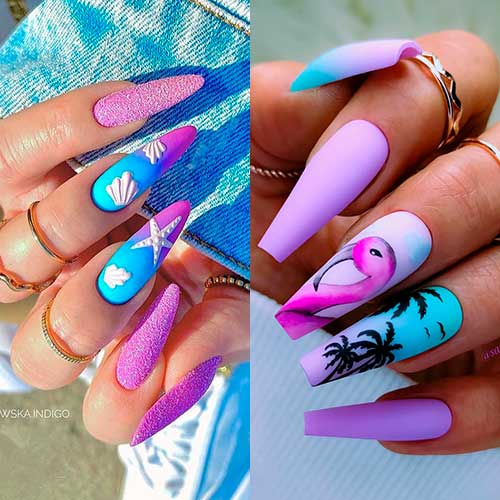 1. Under The Sea Glitter Purple Nails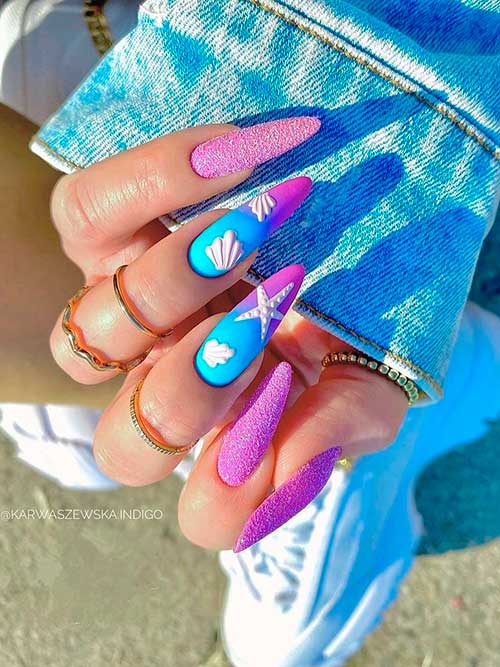 If you're looking for a glamorous nail design, try a glitzy shade of purple. Glittery purple nails can come in various shades, with some having a bright shade of purple while others are soft pink with sparkling kisses of glitter. Also, you can choose blue and purple ombre accent nails with sea pearl shells and sea stars for a little extra wow factor.
2. Purple Flame Nails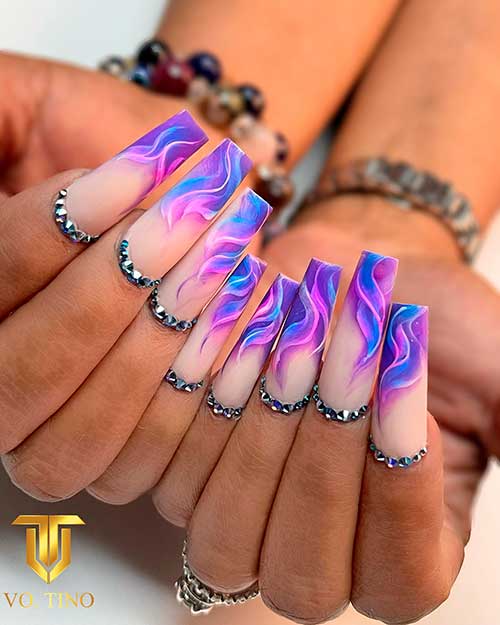 The next big thing in nail art is the flames. And this new nail trend is coming in many shapes and shades! You can choose from simple flame shapes or go all out with a fiery look! Flame nails are an excellent choice for a special occasion, but you can also rock these for everyday errands. So, choosing purple flames with blue and pink touches on a nude color base is an attractive choice for summer.
3. Purple and White Nails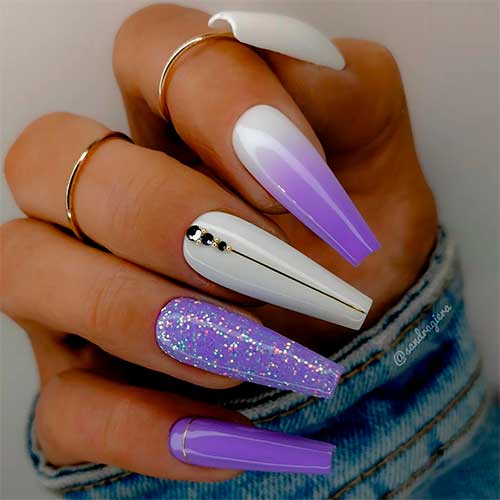 You can quickly get away with having a nail design with a mixture of purple and white. These two colors are so elegant, chic, and warm! Plus they will suit several occasions. Whether going to a wedding, a date, or to impress your coworkers, these two nail colors combination will look perfect on you!
4. Lovely Violet Nails with Pink Foil Transfers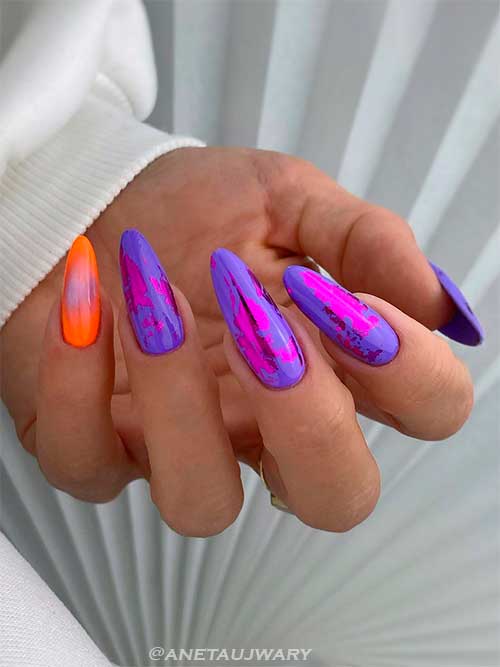 If you've been avoiding wearing orange and violet nails, this is a great time to try this bold color combination. Indeed, you can achieve trendy summer nails by using these colors together. They look great with almost any outfit and can be done in various ways, from thick blocks to groovy lines and checkered. But, in this design, you can use pink transfer foil on the purple violet nails. Pair this look with chunky jewelry, and you'll be on your way to looking groovy and aesthetic!
5. Purple Summer Themed Nails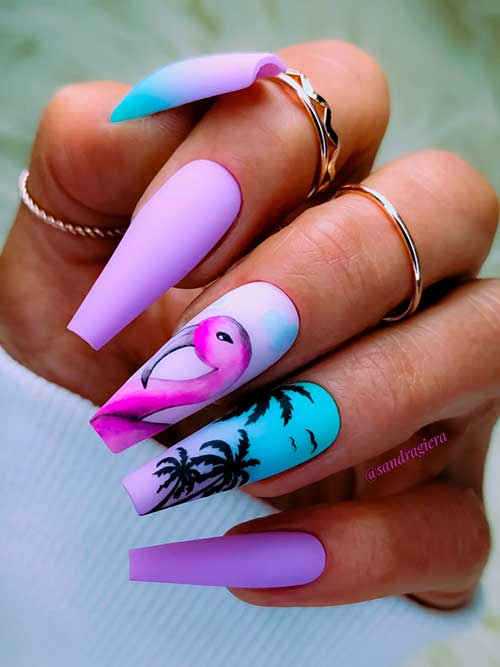 If you love summer colors, why not go for purple summer-themed nails? So, try to recreate this lovely look with the aid of nail stickers for the palms and swan accents. But, you will need some patience to apply the blue-purple ombre nails. Don't forget the matte top coat that will add lots of muliebrity to your look.
6. Purple Nails with Geometric Blocks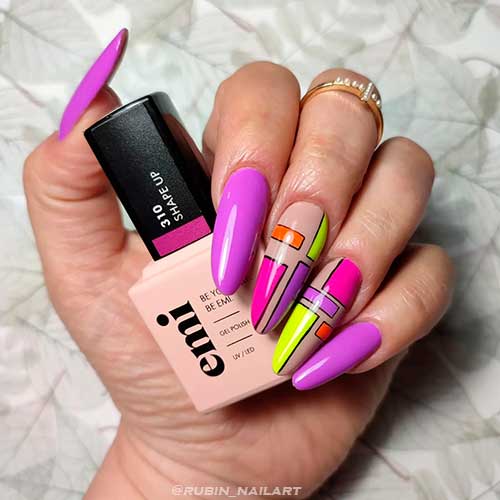 A stylish way to make your nail art pop is to wear purple nails with geometric colored blocks. Purple nail art looks great on women of any age, and it can be an elegant night-out look or a fun, playful look for a formal occasion. Choose coral slacks, a salmon shirt and shoes, and a few pumpkin-colored accessories to complete the look.
For this look, you can choose an abstract design for your nails, such as a side-by-side pattern or a zigzag line. Regardless of the style you choose, be sure to apply a protective clear coat to keep it looking beautiful.
7. Purple Nails with Silver Glitter Design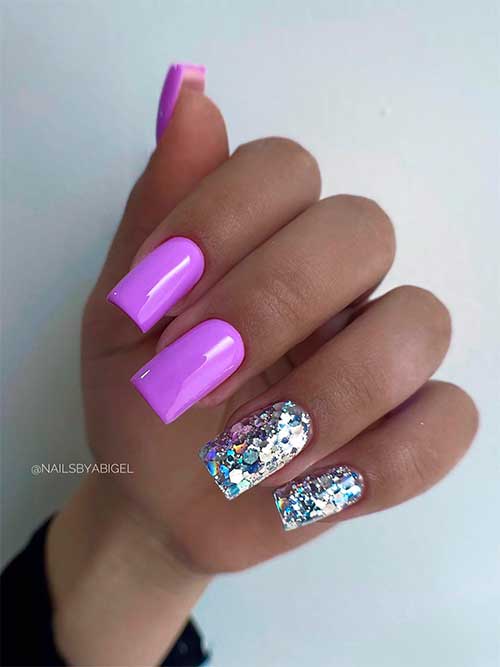 To create an elegant look for your nails, you can try purple nails with silver glitter. This nail design features square-shaped light purple nails with two silver glitter accents. Before painting your nails, make sure you have a solid-based coat first. Then, enjoy this sparkling simple nail design.
8. Light to Dark Purple Ombre Nails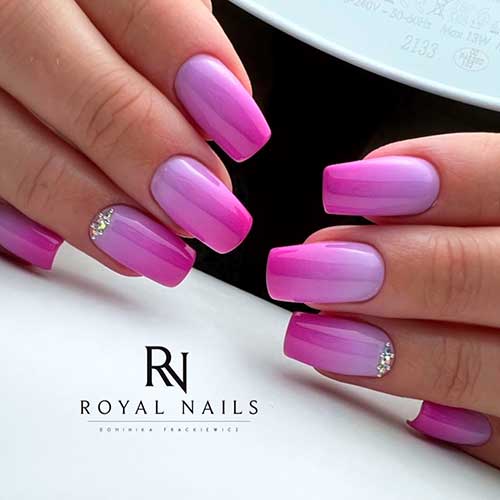 If you want a feminine look and make your nails stand out, try ombre nail designs in a light to dark purple hue. These colors have various applications, from accent nails to long manicures, so make sure to find the right one for you. Also, depending on your skin tone, hair color, and outfit, different shades of purple may appear differently on your hands and feet. Further, light purple nails can look great on pale or cool skin tones and pair well with Y2K outfits.
9. Light Purple French Nails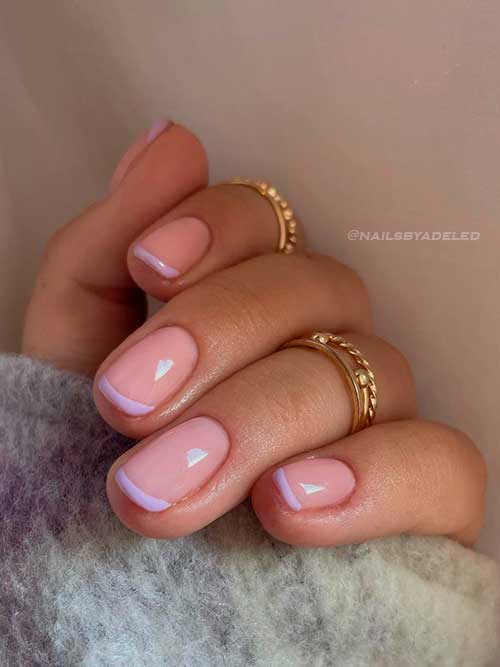 Light Purple French nails can look fabulous on anyone. Also, light purple complements almost every skin tone and is the perfect choice for nail art. Of course, it's a great way to wear simple and unique nails that suit all year round.
10. Matte Pink and Purple Nails with Animal Prints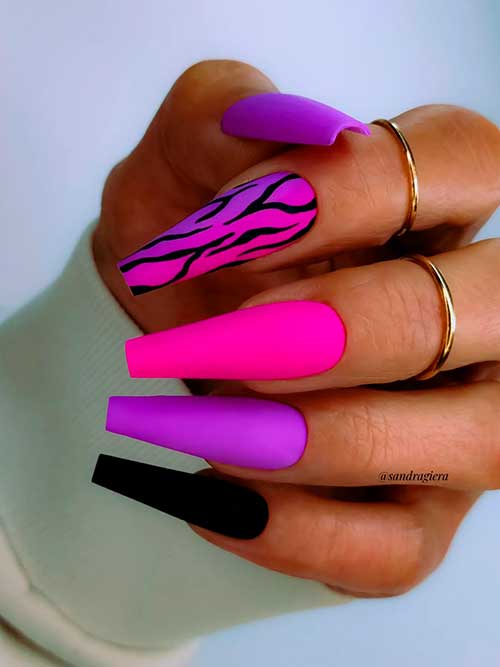 If you're bored with the usual pink manicure, consider changing it to a new color palette. Purple and pink nails are both feminine and fun, and they look stunning on all types of nails, from long to short. These colors will make a statement whether you're an office goer or a homebody. Also, you can add black animal prints and accent nails that are sure to turn heads.