BBQs and beach days are on the way so it's the best time to think and imagine your summer nail designs. It's a great season to try new nail designs and shades. Pretty summer nails that are vibrant, fun, and enjoyable to copy. Of course, these summer nail ideas will be suitable for any place you're thinking of going for a vacation or other summer celebrations. We've put together some nail art designs using bright, neon, and other nail designs that are trendy.
Whether you're going to the salon or developed a DIY manicure during the last year. So, it's time to take a look at this range of gentle gradients from checkered nails to seasonal-appropriate neon nail ideas. Now find your suitable style of these top summer nails to copy.
1. Underwater Summer Nails
Have you ever dreamed of having Underwater Summer Nails? This summer, you can get your nails to look like they're underwater with some easy tips. These summer nail designs are elegant, bright and colorful. So, you can get nautical-inspired designs from seashells and seahorses.
Light Blue Underwater Summer Nails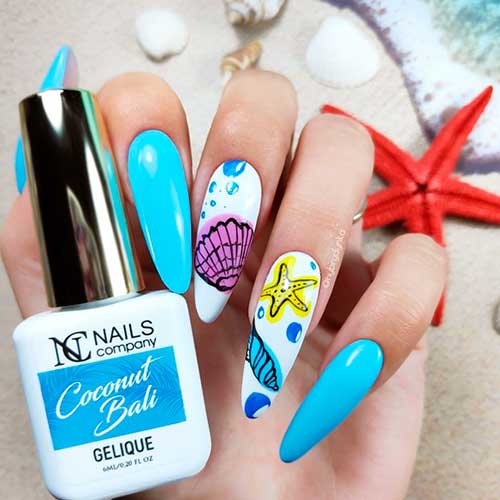 Simple and plain light blue nails would be sufficient to make you stand out this summer. Besides, the snails and sea stars on white accents can feel the summer vibes once you wear them.
Glittery Purple Underwater Nails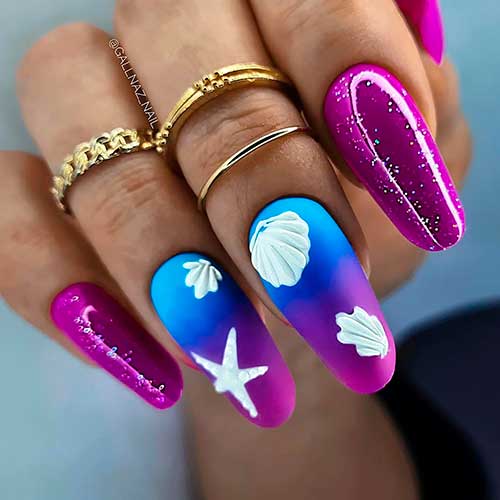 If you're tired of your old blue, yellow, and green nail polish, consider purple summer nails. Indeed, this fun and flirty shade can be worn in a variety of ways. From a simple square to a cute round, you're sure to find a style that fits your personality. Also, you can wear purple glitter nail polish to add a little sparkle and shine. Furthermore, you can add an underwater theme to two matte purple ombre nails and enjoy this lovely summer look.
2. Simple Neon Orange Nails
Indeed, neon bright summer nails can turn heads wherever you go this season. So, opting for these chic and cute neon orange nails is definitely a perfect choice.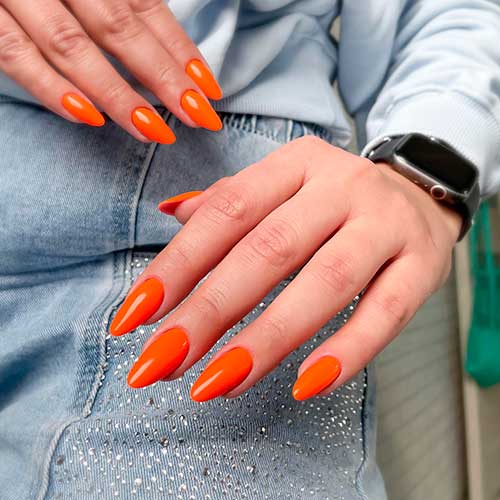 3. Colorful Vibrant Summer Nails
This vibrant colorful nail art design features outstanding patterns in the shape of flowers, leaves, and water droplets. Additionally, the matte black base color accentuates the colors the most. Also, the French accents with a shimmer nude base increase this design's elegance.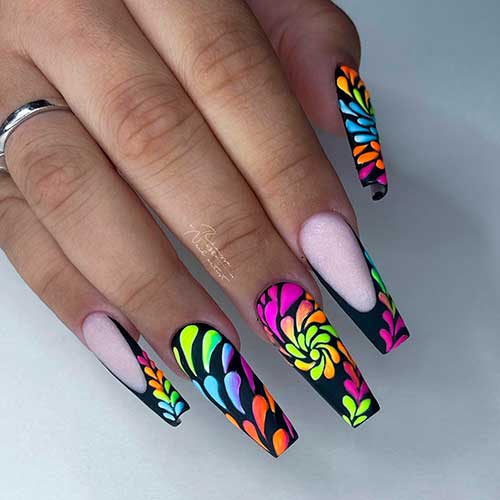 4. Multicolored Twisted Wild French Tips
Of course, the animal print nails are another amazing summer option to try. So, try this bright multicolored with twisted French tips combined with some black leopard prints. Besides, these nail art design colors will suit your entire summer wardrobe. Also, it's a simple nail art that you can do yourself at home.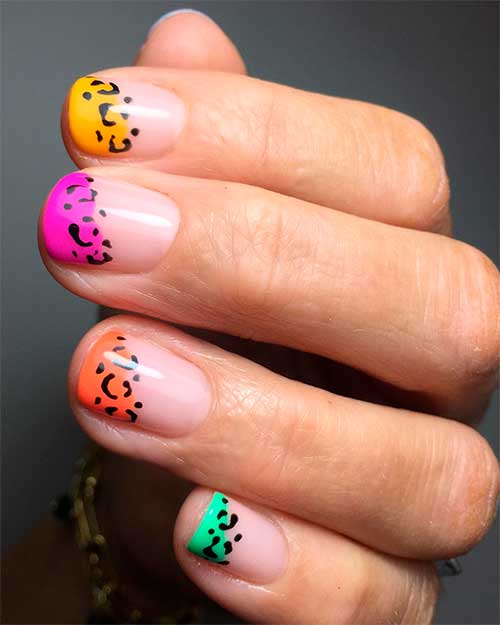 5. Honey Bee's Summer Nail Design
When it comes to summer nail designs no doubt that yellow nails come to our mind first. So, this fun honey bee's summer yellow nail design is a cute choice for warm summer days.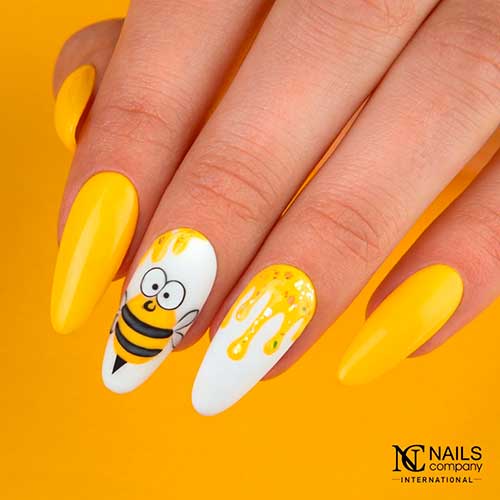 6. Simple Checkered Nails
If you are looking for simple and trendy nails then these mint green and orange checkerboard nails are for you. Try these short lovely nails and you'll never go wrong.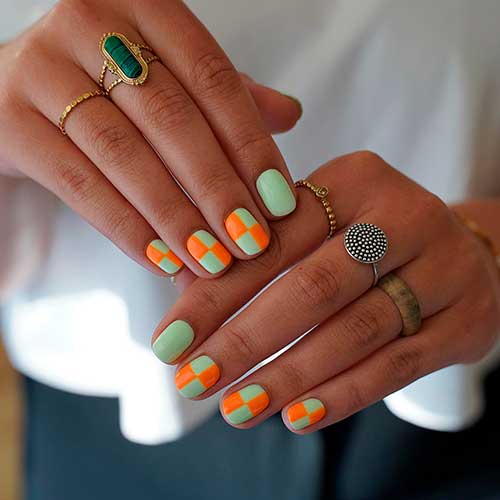 7. Hawaii Summer Nails
This matte summer nail design with shimmer effects features outstanding ombre nails in yellow, blue, and pink nail colors. Additionally, the cocktail and the palm tree-inspired accents are so cute. Also, the rhinestones add a touch of beauty to this summer nail design.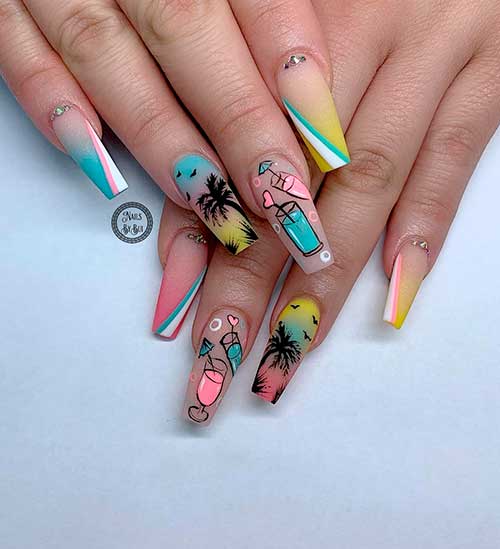 8. Neon Bright Summer Nails
Abstract swirl nail art and lime neon create an incredible combination that it can't ignore. Indeed, this cute summer nail idea is easy to recreate. These unique nails will take the entire look up a notch.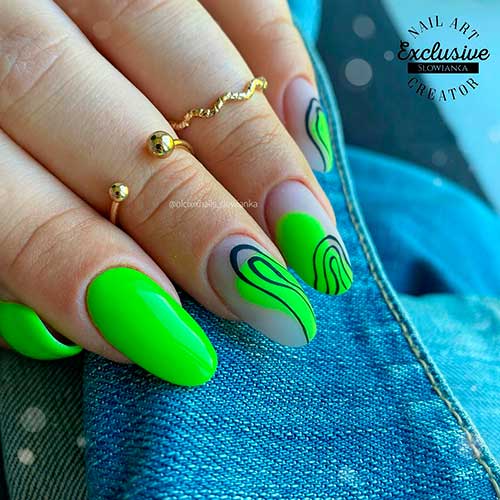 9. Blue Flower Summer Nails
Indeed, flower nails are always in trend and these simple and cute blue floral nails are perfect for any summer outfit. Furthermore, you can recreate this nail art over milky white nude base color on your natural nails.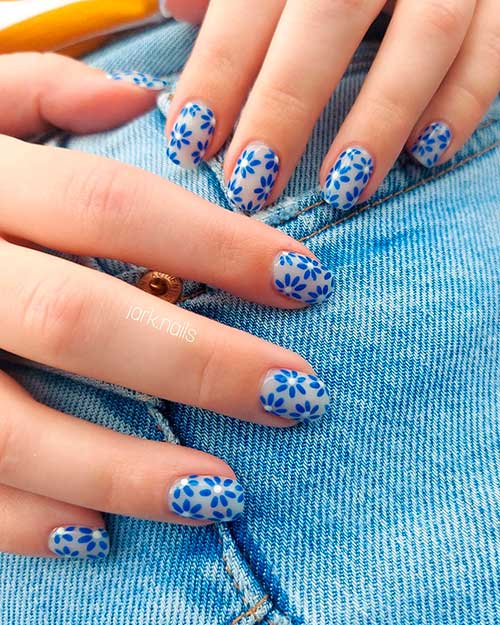 10. Long Beach Themed Nails
These beach-themed nails can instantly take you back to your beautiful beach memories of past years once you look at them. So, it's time to go for these long tips and enjoy your time and your beautiful look this summer.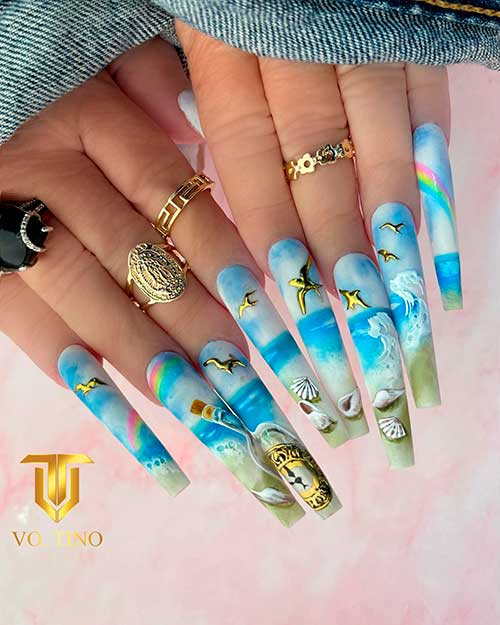 11. Neon V French Tip Nail Design
If you love French nail art and neon nail colors this stunning design is for you. As you can see the design below features a cute set of neon nail colors in V French tip style on a nude base color. Besides, this stunning themed accent ombre summer nail with palm trees and birds in the sunset.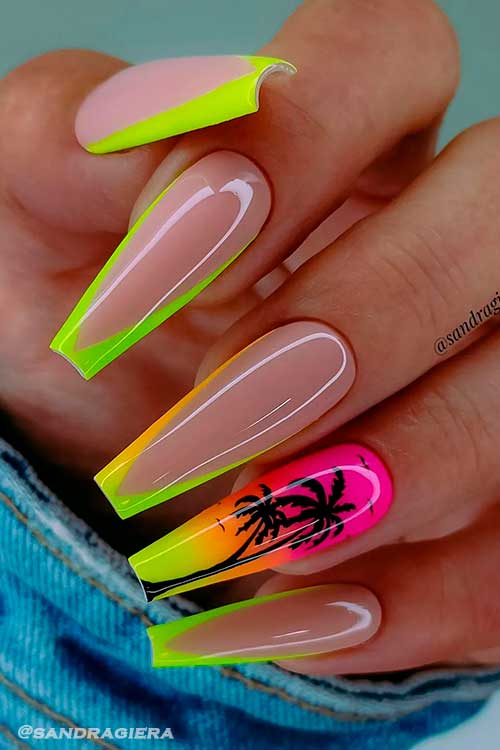 12. Matte Yellow Summer Nails Design
Indeed, the yellow nail color is one of the basic colors of summer that is worth a try. So, this matte bright yellow nail design with black leaf nail art on two accents is a perfect summer nail design.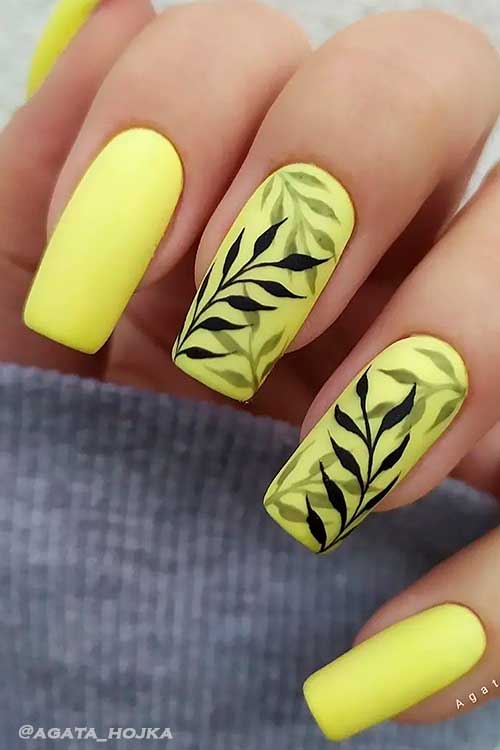 13. Matte Purple and Pink Ombre Summer Nails
Of course, the purple and pink nail color combination is fabulous as you see below. Furthermore, the matte finish adds a stylish and elegant touch to the design. Also, this nail design features an ombre style on two accents with white butterflies and black and white dots. Don't hesitate to try this summery color combination.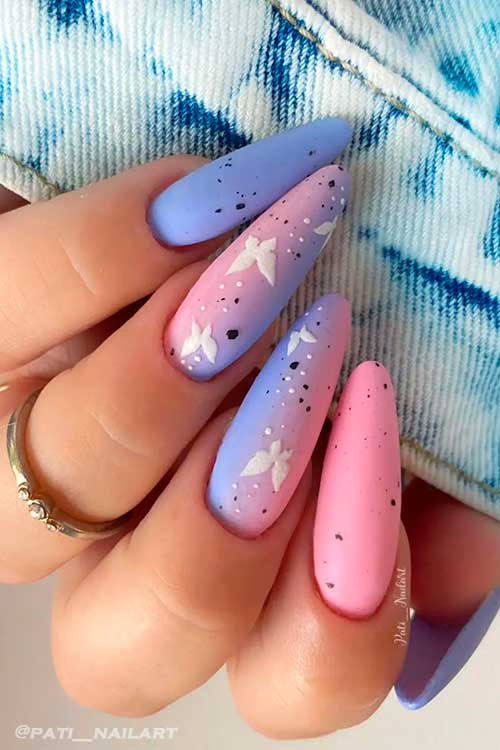 14. Short Bright Summer Nails Design
There's never enough hue! Particularly, neon colors! They're often associated with holidays, summer, and tanning, so what else can you ask for? So, copy this cute summer nail design and enjoy your vacation.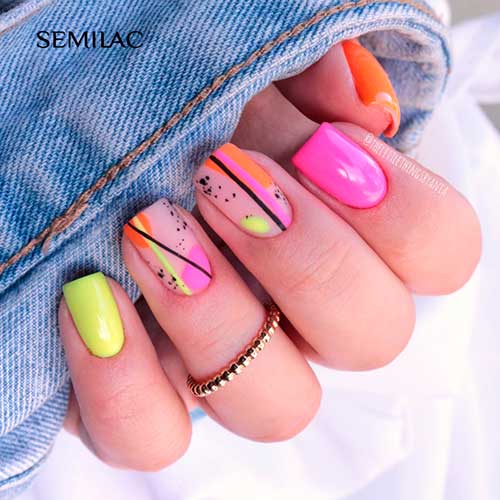 15. Yellow Neon Nails with V French Black Tips
If you love neon yellow nails in summer and want to wear them in a different way, this design is for you. So, it's a cool idea to try this simple design that features long square neon yellow nails with V French Black Tips.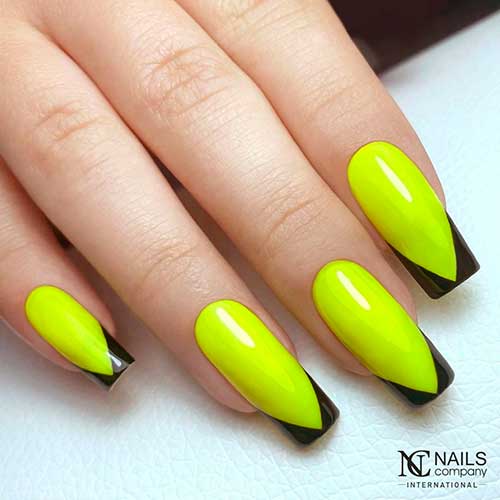 16. Bright Cute Summer Nails
Still, yellow nail designs are perfect for summer vacations. So, opting for these bright yellow nails will turn all heads, especially when combined with swirl accents.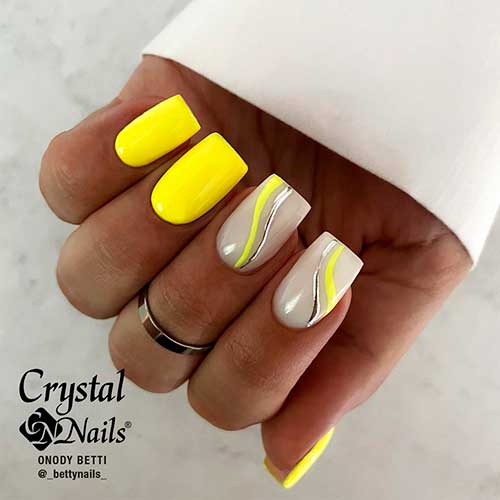 17. Elegant Matte Vivid Red Nails
Indeed, there is no girl who does not like the color of the red manicure. But, if we assume that there is someone who does not like it, this design will change her mind.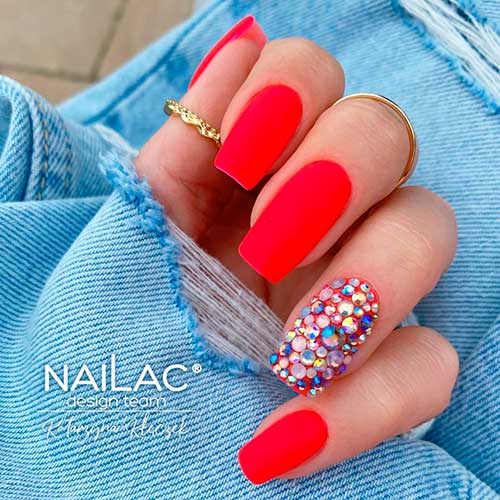 18. Colorful Abstract Summer Nails Design
With the colors of this design, you will appear with an eye-catching look. Besides, these design colors match most of the colors of summer clothes that you prefer. Also, it will be a good option for springtime.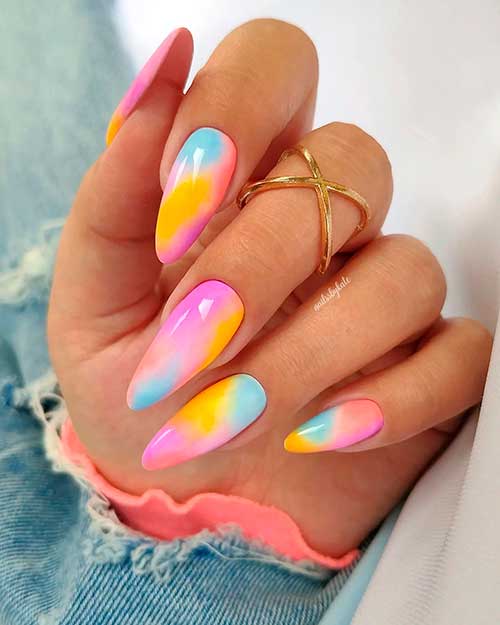 19. Ocean Blue Nails
Do you want to give yourself some oceanic-inspired nail art? Ocean Blue Nails are the perfect option. Also, this summer nail design features footprints on the beach and a sea star shape on two accents. Of course, these summer nails can be a plus for your elegance while summer vacation.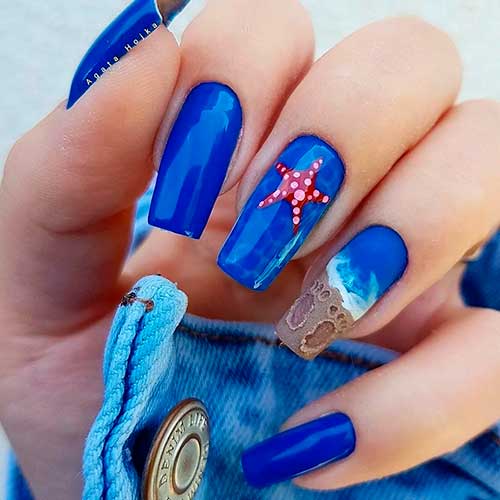 20. Matte Peachy Pink and Light Blue Nail Art Design
If you have light blue and peachy pink nails, you will love this combination. The color combination is so beautiful, and it looks so beautiful on any skin tone. Of course, this nail design will enhance the beauty of your nails and give you a unique look. Further, these pastel colors are also very complimentary, so this color combination will make you stand out from the crowd. Opting for such a nail design is a plus for your elegance while summer vacation.
21. Hot Pink and Green Bright Summer Nails
If you're looking for a bold and beautiful look this summer, why not try a manicure in hot pink and green? You'll instantly get attention from your peers and a summertime glow. These colors go great with any type of summer dress, so there's no reason why you can't pull off this look. Also, this hot summer nail design is easy to create and can be done in just a couple of hours.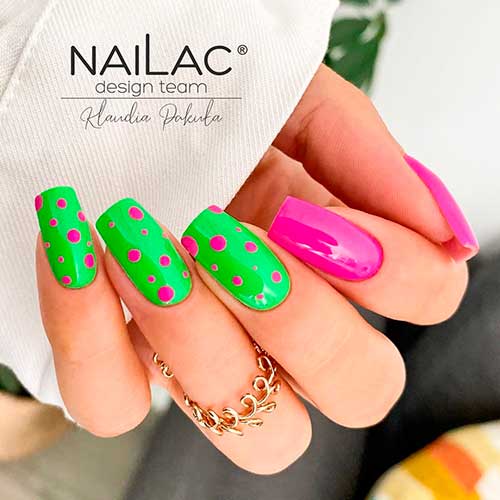 22. Matte Nude Color Nails with Black Leaves
A great way to dress up nude nails is with simple nail art. So, black leaves look great against a nude base, and you can play up the design by using a matte top coat to get a unique finish. Of course, the options for this design are endless, and it will look amazing with any outfit.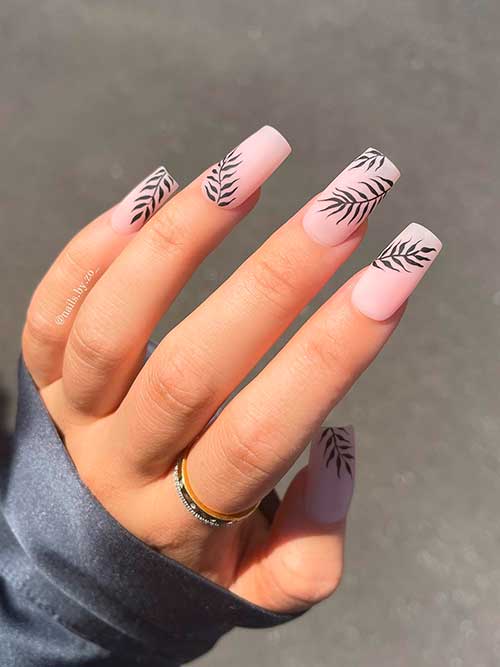 23. Multicolor Swirl Summer Nails
Colorful Swirl Nails are an adorable trend that involves creating curved lines on your nails. Further, you can find a color that suits your style, whether you like pastels or bright summer nails. Also, adding a touch of gold glitter as swirls on different nails will give you outstanding results as you see below.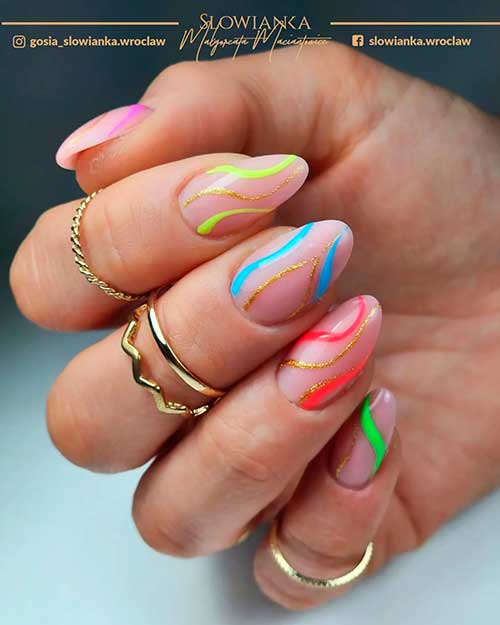 24. Baby Pink Nails with Leopard Prints
If you are considering the baby pink with leopard prints trend, of course, I support your idea. These leopard prints with gold glitter touches will surely turn heads when worn with a pink dress. You can even make a statement by wearing a leopard-print clutch. It's that easy! Just make sure to choose the right colors for the occasion.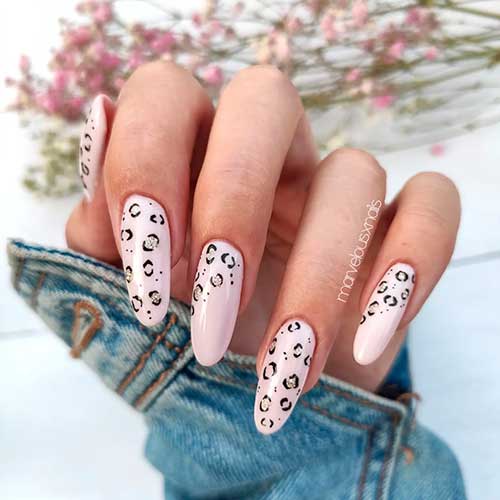 25. Neon Pink Summer Nails with Palms
A nail design that is bright and edgy can bring your whole look to life. Then, if you're looking for a pop-art nail design to go with a summer denim outfit, neon pink nails with palms are for you.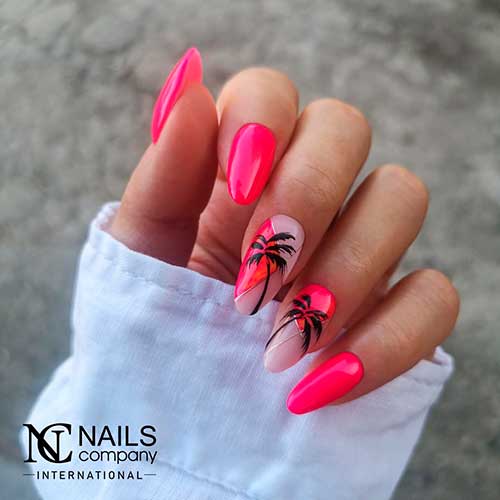 26. Orange Obsession Summer Nail Design
For summery nail art, matte orange color can be a fun choice. Whether you want a fun and festive color or a simple design, this matte orange manicure will not disappoint. Also, you can add a few black dots and lines to adorn your nail design.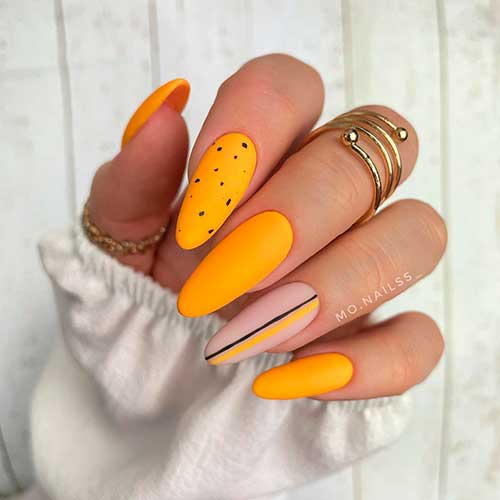 27. Colorful Stars on Nude Color Nails
A nude manicure looks stunning with colorful star shapes. Besides, this design can be replicated easily and is suitable for any summer event. The stars are placed randomly across the nail tips to create a beautiful shape. But, don't forget the top coat that seals the color and protects the nail art. Also, you can opt for star stickers to recreate the design easily.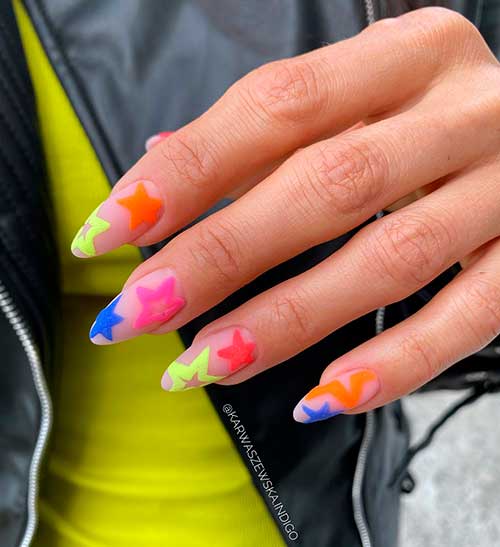 28. Rural Life Yellow Summer Nails
For a fun summer look, try this rural life yellow manicure. Yellow is the perfect shade to brighten your day and brighten your mood. You can find yellow nail polish at any drugstore or manicurist. Also, you can use nail stickers on white nail base color to avoid hand painting to recreate this nail design easily.
29. Blue and Black Wild Nail Art Design
If you have glossy black nails with light blue accent nails, you are ready for a dramatic design. Indeed, two-tone nails with a cool light blue accent are easy to create and will look chic and edgy. Also, you can create this design in any style, but jet black nails with a cool light blue accent nail will create a striking contrast. In addition, adding animal prints on nude accent nails will turn the design into a chic and wild one.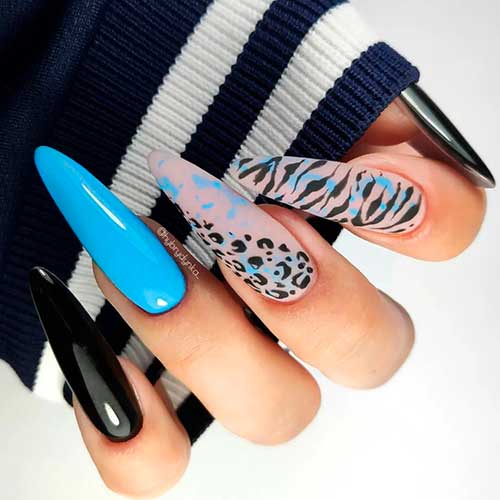 30. Yellow Neon French Nails
When it comes to neon nails, the classic color of choice is lemon yellow. This striking shade is attention-grabbing but can also appear too garish. To avoid this, use subtle nude shades to balance out the yellow. Of course, this neon style looks amazing in French nail tips. Also, you can add more beauty with black speckles and leaf nail art. At last, if you want a bright, eye-catching manicure, you'll want to choose a shade that matches your overall skin tone.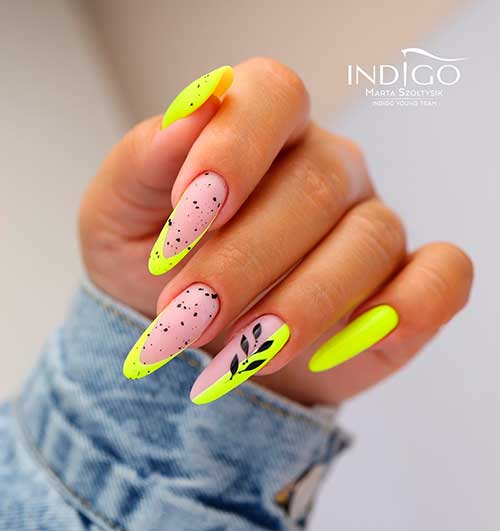 31. Summer Ombre Nails with Leaves
If you are an ombre nail art lover, you will love to recreate this colorful ombre manicure. Just use the proper nail shades with leaves and a matte top coat. Indeed, these lovely colors incorporated in the design have strong summer vibes. Also, this nail design can match most summer outfits.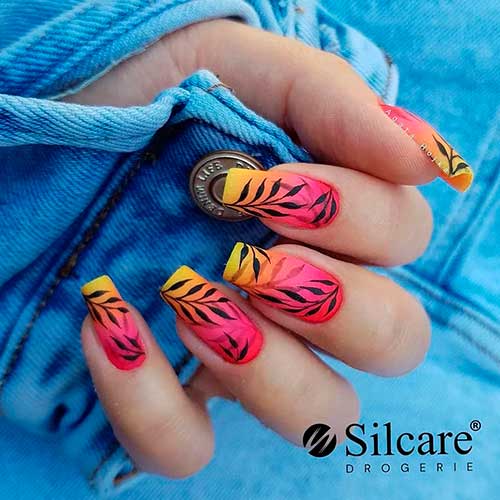 32. Summer White Manicure
If you're tired of the same old yellow and orange nail polish look, then a white manicure might be for you. Summer white nails are perfect for warm weather and look great with all kinds of outfits. You can create a short white design with any other color to fit any style. So, these cute summer nails with green and bronze leaves are a great choice for summer vacation.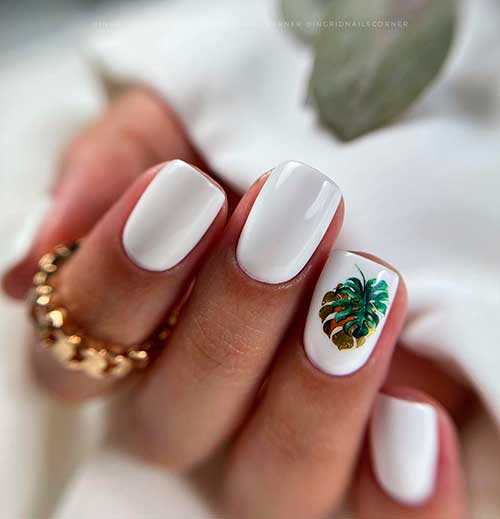 33. Blue Summer Nails with Watermelon
If you've ever wished you could have a manicure that is both gender-neutral and stylish, you'll love Blue Summer Nails. Blue is a popular nail color choice among both men and women. In fact, women have long preferred this shade of nail polish because of its easy-going, cool appeal. It can be easily worn on both fingers and toes and works well with any wardrobe.
Besides, this design was done using blue Surfer hybrid base nail polish. Don't forget that you can recreate watermelon and almost any nail shape using nail stickers.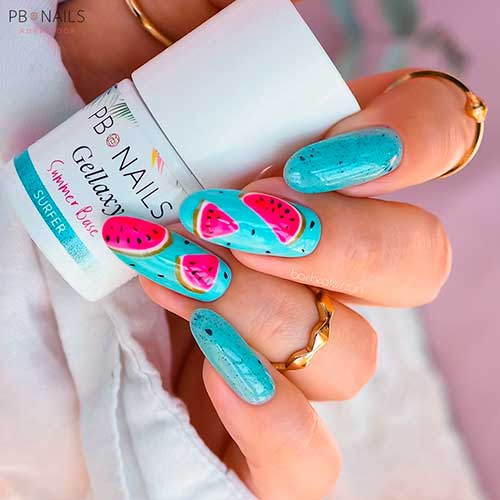 34. Bright Yellow Nails for Summer
Wearing a glossy pair of Bright Yellow Nails is a great way to brighten a hot day. They're a bold and fun look, and you can find your favorite yellow polish shade at any drugstore or online. Also, the white flowers on the nude base accent nails give the design an outstanding look.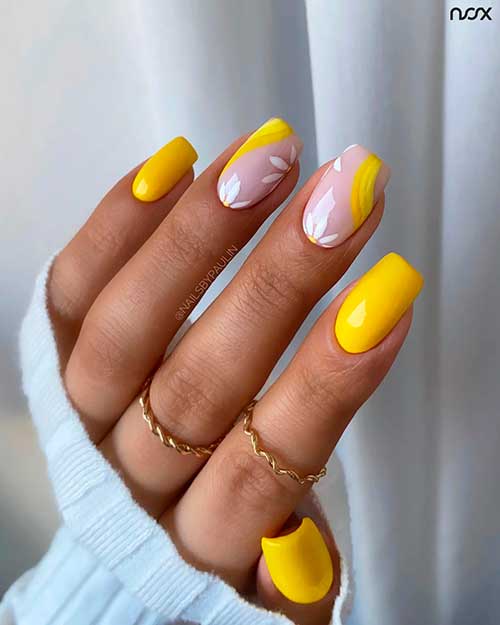 35. Turquoise and Teal Summer Swirl Nails
One of the most popular summer nail trends this year is summer swirl nails! You can paint your nails with these turquoise and teal swirls strategically or randomly, and they add drama to any nail set. Swirls are a versatile nail design, and there are different approaches to do them. However, if you want to be perfect, use a fine detail brush for an even more perfect result.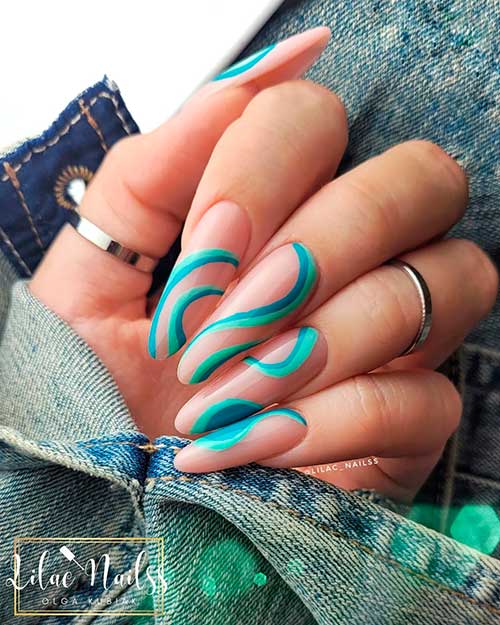 36. Yellow and Pink Neon Summer Nails
These funky neons create a pop of color on the summer nail. So, you can apply neon-colored polish to your fingernails to turn them into a stunning look. Also, you can try these pink and yellow swirls on two nude base-colored nails. Of course, this summer nail design will make your fingers attractive where ever you go! Just make sure you choose a color that goes well together – pink and yellow look great together!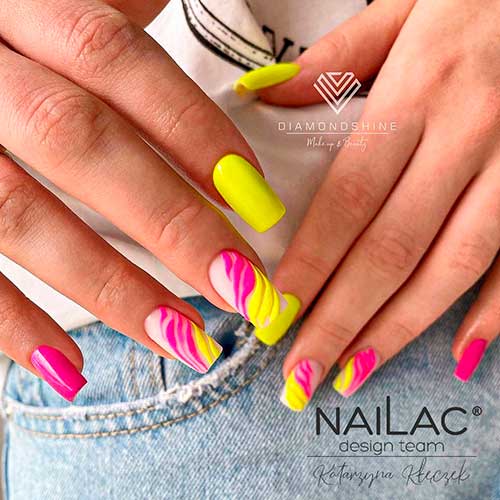 37. Sand and Sea Ombre Nails
Indeed, this nail design is a great way to add a pop of color to your summer wardrobe. Besides, you can try a yellow ombre on your toenails to create a more subdued look or use the same technique for a bold, neon yellow effect. Whatever you decide, this yellow and blue ombre design is sure to be a hit!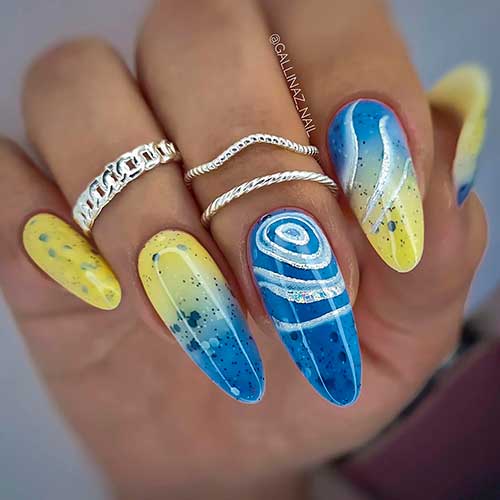 38. More Inspirational Summer Nails
If you are looking for some creative ideas for your summer nail designs, consider pastels. Of course, pale colors such as pink, lilac, yellow, and baby blue can add a touch of warmth to your hands and nails. Additionally, with some patience, you can even DIY your summer nail designs. Also, you can opt for a simple and neutral shade for your manicure or even bold colors. In fact, there are many varieties for each woman's taste, just keep scrolling and enjoy!
Long Ombre Beach Nails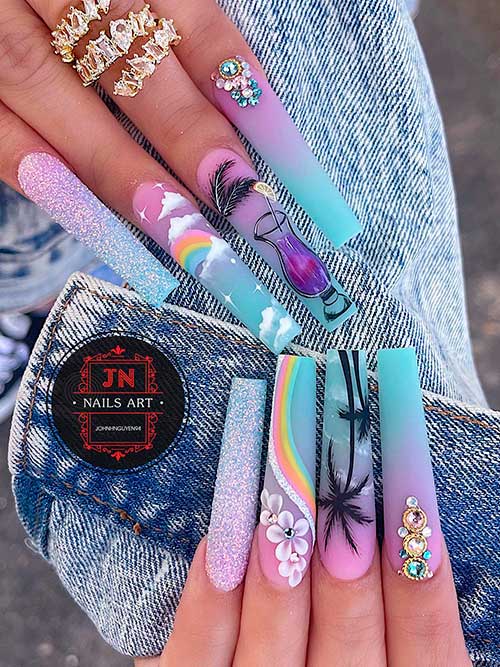 Crab Light Blue Ombre Summer Nails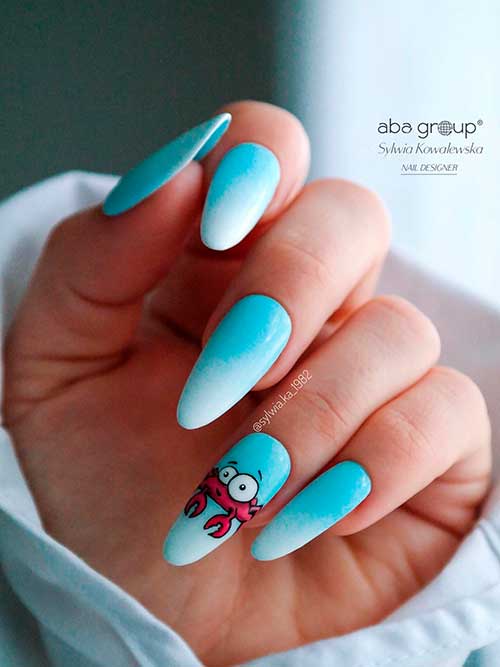 Light Blue and Orange Marine Nails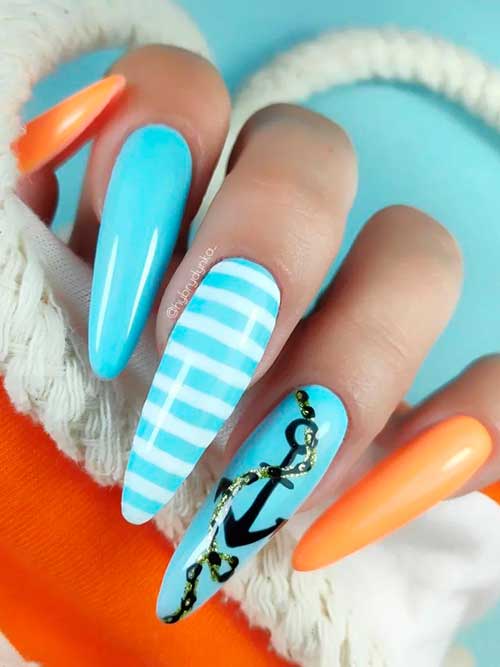 Pink Neon Nails with A Flamingo and Leaf Nail Art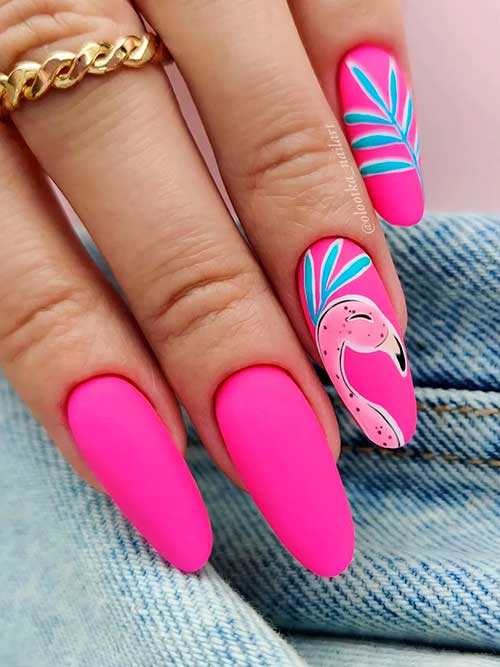 Unique Black Nails with Multicolored Neon Animal Prints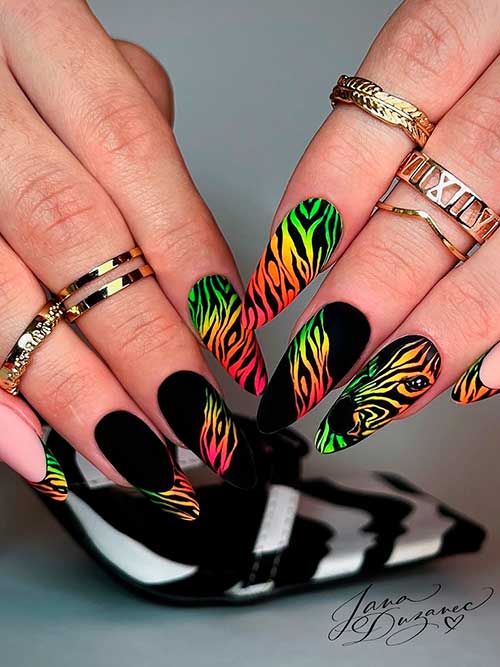 Different Hands Summer Vacation Nails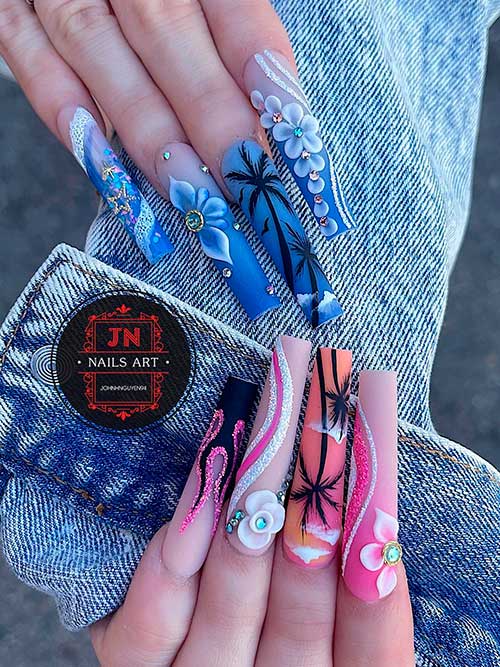 For a fun and festive look this summer, try two hands tropical manicure. Of course, brightly colored nails are the perfect complement to the flora of the beach. Also, you can use striping tape to create clean lines. Whatever summer vacation you're planning; the right manicure is the key to endless fun. Besides, summer vacation nails are perfect for a variety of destinations, from the beach to music festivals.
To Conclude
At last, this summer, opt for bright and playful colors. And because it's so unique, it's sure to turn heads. So, you can wear any of these gorgeous designs above without worrying about maintaining them! Summer nails are an excellent way to show off your creativity.