Halloween makeup looks are a great way to celebrate the spooky season. From makeup inspired by the dark side to cute and sweet looks for kids, Halloween is a season to experiment. You can even try DIY Halloween costumes for kids by adding makeup to your costume. It's also easier than making your own costume.
One of the hottest looks for Halloween this year is the sugar skull, which is surprisingly feminine and glam. It has a rose crown and sparkly black eyeliner – perfect for the Halloween masquerade ball. So, by wearing some ginormous eyelashes and a purple wig you can have this awesome effect. This look is also incredibly easy to recreate and requires only a few items.

Whether you're going as a superhero or a supervillain, there is a Halloween makeup look to suit any taste and budget. This year's trends include sexy, scary, and cute looks. Makeup inspired by the Day of the Dead is also a hit. And if you're not a fan of scarecrows, you can opt for sexy crystal-cat makeup. It's the perfect choice for Halloween because it's easy to apply, has a wide range of colors, and is very versatile. Now, it's time to scroll down for inspiration!
1. Clown Halloween Makeup Looks
If you're looking for a makeup idea for Halloween, you might want to try clown makeup. Indeed, clown makeup is both terrifying and pretty! For this look, you'll need three different colors of face paint and a white fluffy collar. Also, this look can be worn with just about any outfit, too!
Sparkling clown makeup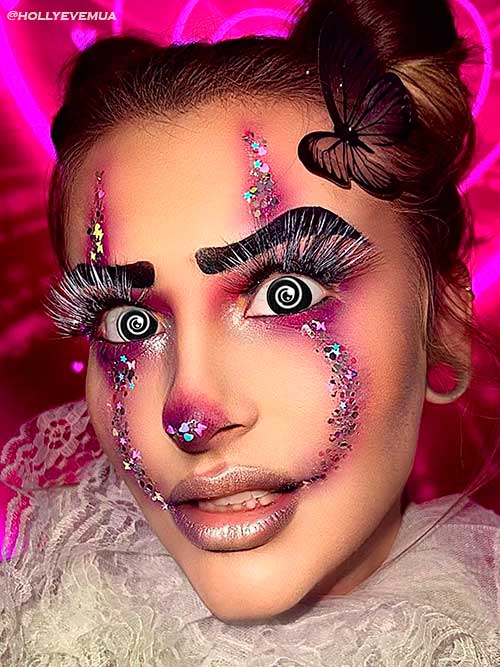 Sparkling purple clown makeup is a great way to create an enchanting clown look. Of course, this look is fun for both children and adults. Also, you can add sparkles to your costume or go for a more serious look.
Pennywise makeup look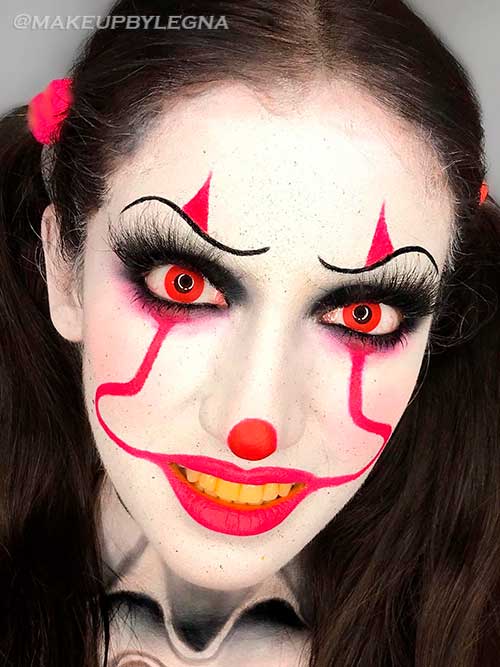 You can achieve Pennywise's makeup look with the right products and techniques. Besides, this makeup look is designed to create the clown look that many people associate with Pennywise. The clown look is typically achieved with red makeup and balloons. However, you can add more scares to your look by using more scary objects like red contact lenses.
2. Sugar Skull Halloween Makeup Looks
Sugar skull makeup has become hugely popular in recent years. In addition, this style of makeup is adorned with rhinestones and bling to create a fun and glamorous look. The most extreme sugar skull Halloween makeup ideas can take an hour to complete.
Green red sugar skull makeup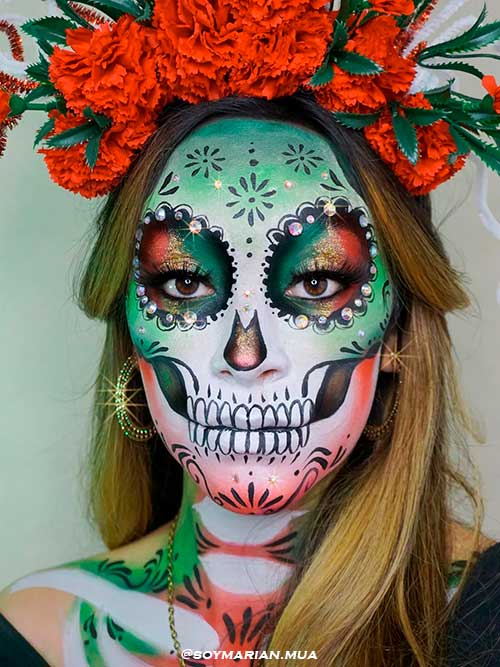 Sugar skull makeup is an extremely popular look for Halloween. Inspired by the decorated sugar skulls given during the Mexican holiday of Dia de Muertos, sugar skull makeup is an extremely dramatic yet effective look that gives you the Halloween spook factor without being too gory.
Sugar skull and skeleton body makeup
For body makeup, you can try creating a sugar skull and skeleton body makeup. So, you can create a skull by applying a long-lasting foundation to your face and then adding white face paint. So, you can use makeup products that you already have to try recreating this makeup look. Just take your time until finishing this art!
3. Scarecrow Halloween Makeup Looks
Scarecrow Halloween makeup looks are a great way to be different this Halloween. While these makeup looks may not be as complex as a witch's or vampire's look, they are still fun and unique. Besides, the key to a successful scarecrow makeup look is to keep your makeup simple and cute.
Easy scarecrow makeup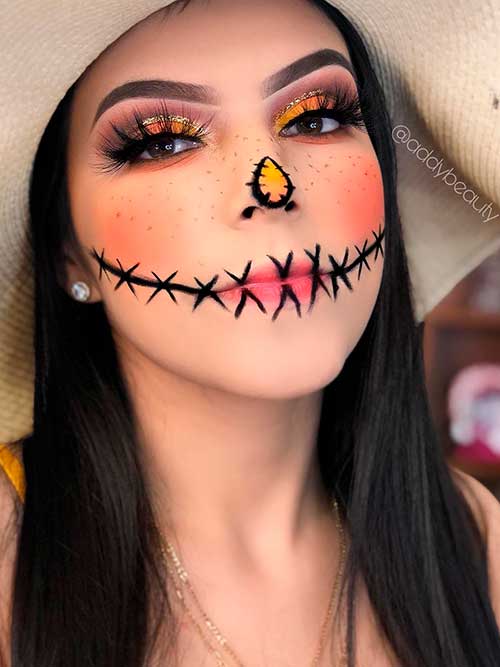 Scarecrow makeup can be applied easily if you follow a few basic steps. First, apply bright orange and yellow shades on the face. Also, you can use a burgundy-red shade to darken the orange and give it depth. You can also apply a touch of makeup to the nose and the creases of your eyes. To complete the look, you can apply liquid liners to your mouth and outline them with a crisscross pattern.
Cute scarecrow makeup look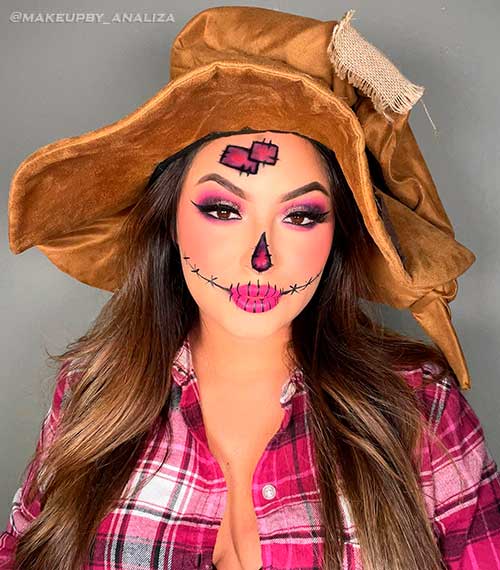 Scarecrow makeup is easy to do and will give you an adorable look. So, you can use black and pink colors, plus traditional patches and stitches to create a classic look.
4. Spider Web Eye Halloween Makeup Ideas
Indeed, this makeup look is glitzy and fun. To achieve this look, use dark gray eye shadow and black eyeliner to create an exaggerated brow above one eye. Also, you can add some mascara to give the eye a bit of volume. Furthermore, you can try a simple colorful makeup look for more fun!
Black and red spider web eye makeup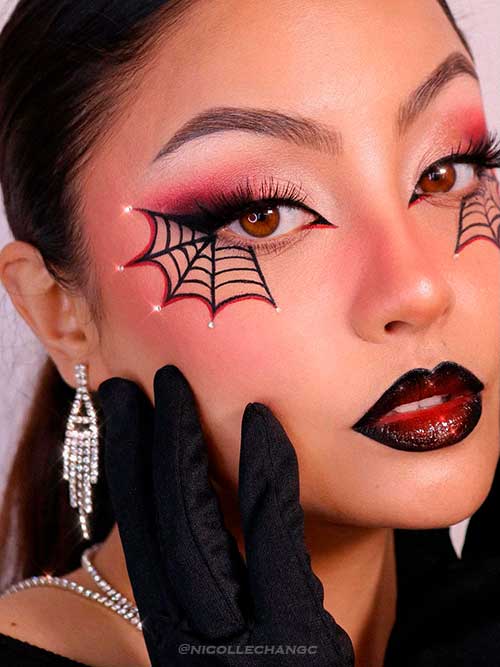 Spider web eye make-up is a fun and easy way to sex up your eyes. Further, this look is simple to create and will impress your friends. Also, you can add rhinestones to amp up this look!
Colorful spider web eyes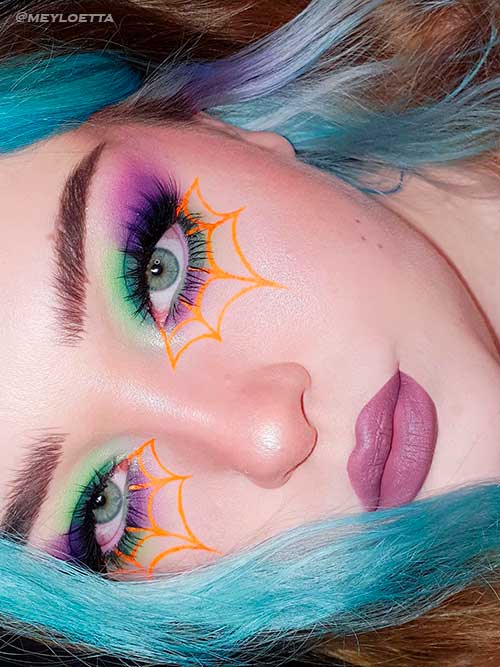 Of course, spider web eye makeup is a fun and creative way to add a little glam to your look. So, you can use orange eyeliner with green and purple eyeshadows to create a stunning colorful look.
5. Halloween Cat Makeup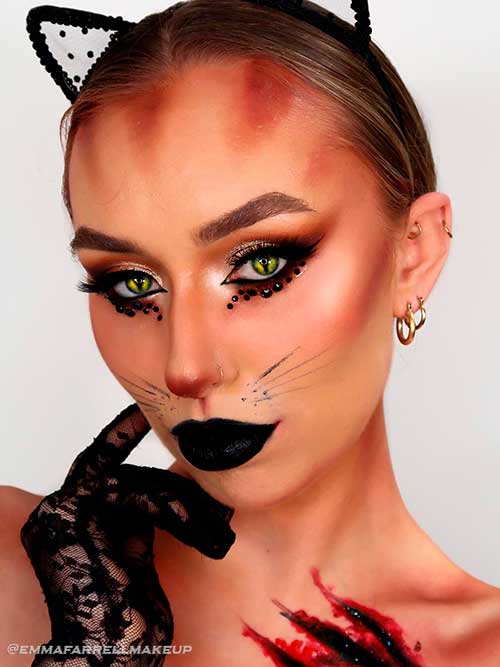 When applying Halloween cat makeup, there are several guidelines to follow. Use black eye shadow on the lids and lashes for creating a dramatic effect. Then, use a small, angled brush to apply dark color on the outer corners of the eyes and on the side of the face. Also, you can use a blending brush for creating a natural eye crease. Make sure to blend the shadows with small circular movements. Also, you can wear green cat eye lenses.
6. Halloween Catrina Makeup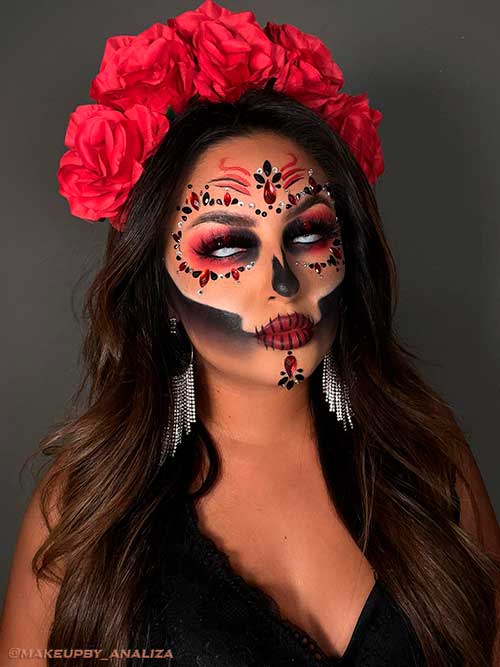 Catrina Makeup is a great way to give yourself a spooky look on Halloween. It's similar to a sugar skull but easier to apply. Whether you're wearing a simple black dress or a complex costume, Catrina's makeup can make you look spooky and sassy.
7. Simple Halloween Makeup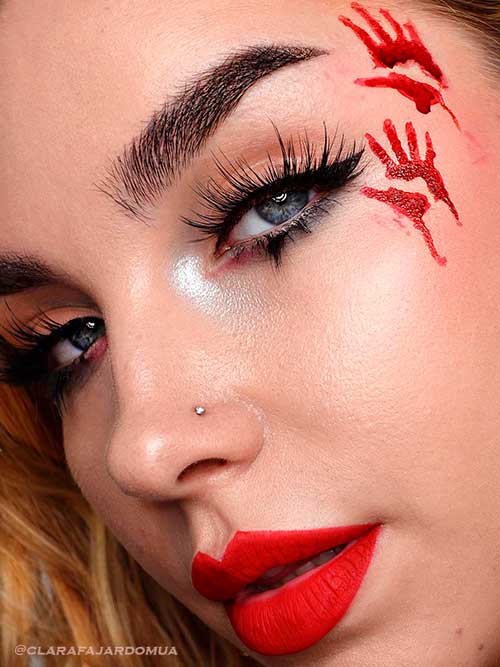 A simple Halloween makeup look can include the use of tiny bloody handprints. So, you can wear a cute makeup look with red lips then add a touch of scary Halloween themes such as bloody handprints, bats, or even spider webs.
To Conclude
At last, Halloween makeup look ideas are endless. So, you can find inexpensive makeup at a drugstore or use makeup you already own. Just decide your favorite makeup look to recreate!