Halloween is one of the most fun times of the year and there are many ways to show your spirit and be creative with your nails. So, you can create a simple design or an elaborate masterpiece. In addition, you can even mix and match your colors for the perfect Halloween nails. A black and orange combination will look spooky and chic, or you can take a modern approach with a French manicure.
If you don't like to wear black, you can opt for a spooky look with a cute pumpkin. Besides, this symbol is not only associated with the Halloween holiday but also with good luck and prosperity. Also, the bright orange color of the pumpkin will catch the eye of others and draw attention to the shape of your nails.
You can also try a creepy or gory nail design. These designs will complete your costume, which will be the most fun part of the night. Whatever you choose, the designs will add a special touch to your Halloween celebration. Just make sure to use a nail polish that goes with your theme and will not be too scary. Fortunately, we have found some cute and spooky Halloween nail designs that suit this creepy night!
1. Vampire Halloween Nails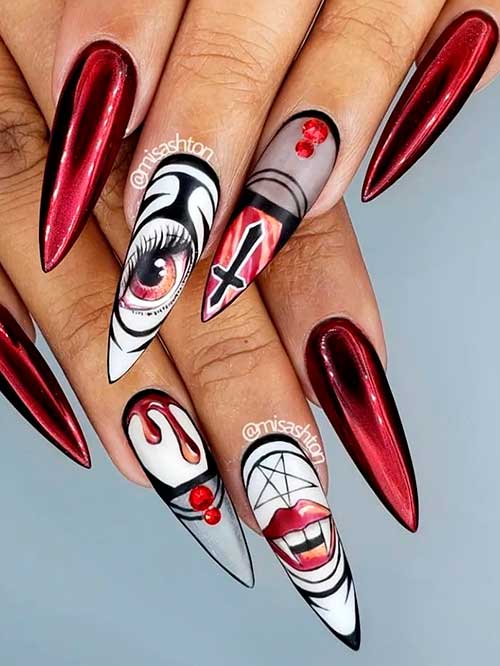 Indeed, Vampire's teeth nail art is a fun way to add spooky flair to your Halloween-inspired nails. Additionally, if you have a favorite vampire movie, you can add a fang to one of your nails to make it appear more real.
2. Matte Halloween French Tip Nails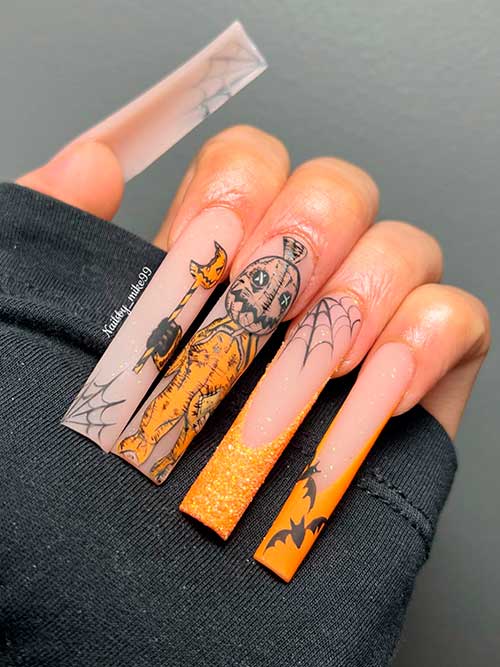 Matte spooky Halloween French tip nails are a fun way to add a spooky flair to your manicure. This fun nail polish design can be applied in a variety of ways. Some people choose to paint their nails to look like corpses, bats, or spider web nail art while others choose to combine them into one design.
3. Glow in The Dark Cemetery Halloween Nails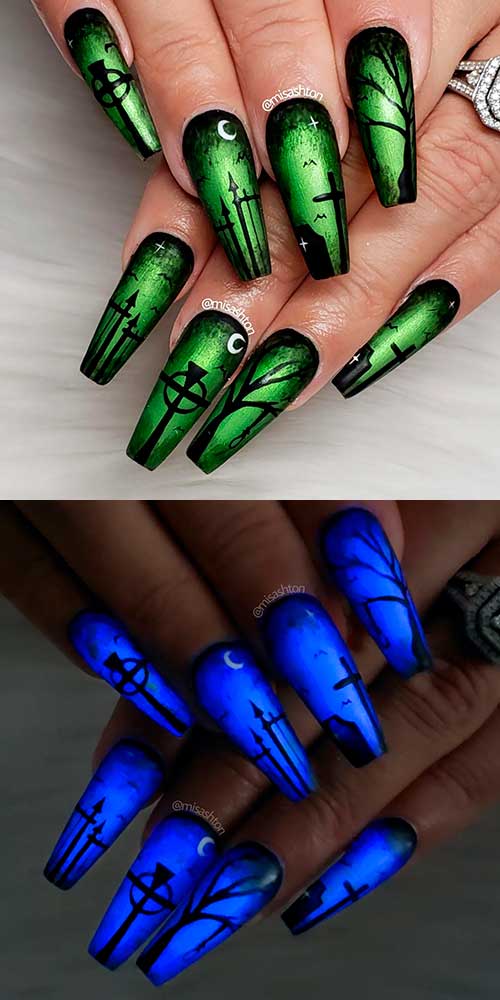 Cemetery Nails can be done in several ways using glow-in-the-dark nail polish. So, you can create the look of a tombstone or a mummy, or you can use a bloody vampire's mouth and eye. Additionally, you can even make a cross tombstone. Regardless of how you do it, you'll be sure to have a creepy and fun Halloween manicure!
4. Halloween Alien Nails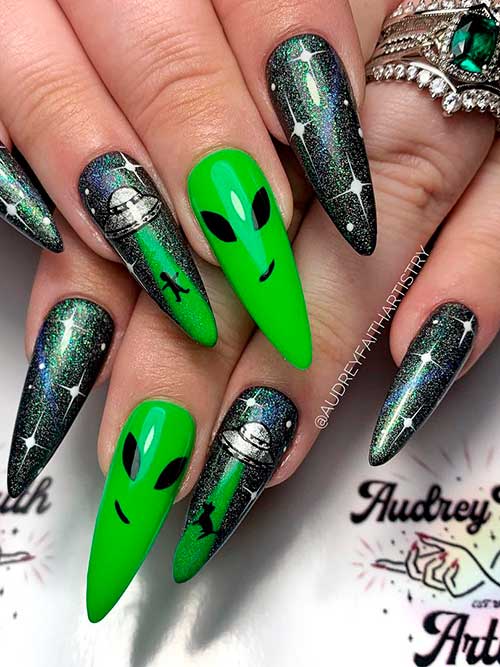 If you're looking for a unique way to show off your nails, consider alien nail art. A popular trend among celebrities, alien nails have caught on in a big way. So, you can recreate this design that features glitter black nails with white stars and green nails with an alien face!
5. Pumpkin Drip and Spider Web Nail Art Design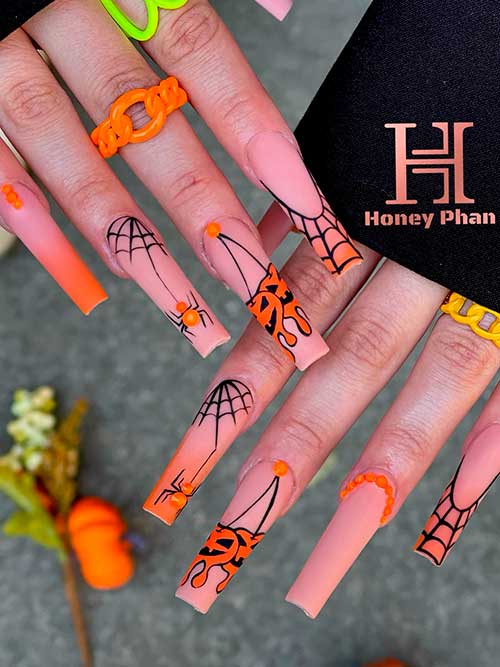 If you are looking to add some spider web nail art to your manicure, you should know that they are easy to create. It's all it takes is the ability to hold a steady hand, and a little bit of practice. Also, you can try to create pumpkin drip nail art to add more elegance and spookiness together.
6. Bloody Halloween Nails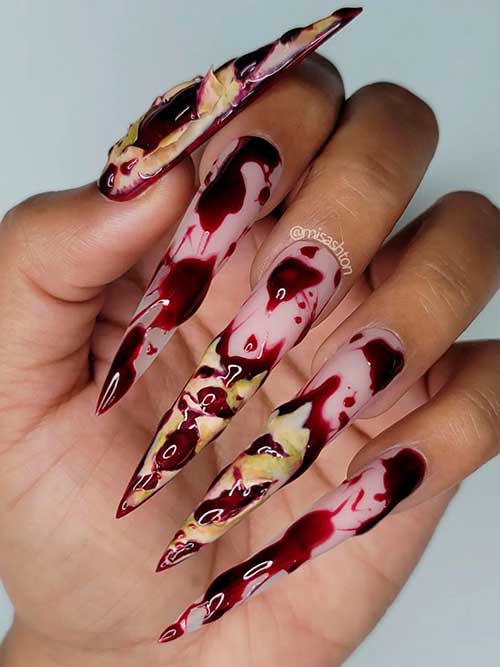 If you're ready to create your own creepy Halloween nails, consider wearing a blood-red polish. Besides, it will require a thicker coat of nail polish than regular color and will take longer to dry. Whether you're going as a creepy monster or zombie, bloody Halloween nails will definitely add a bit of extra spookiness to your Halloween style!
7. Fun Ghost Nails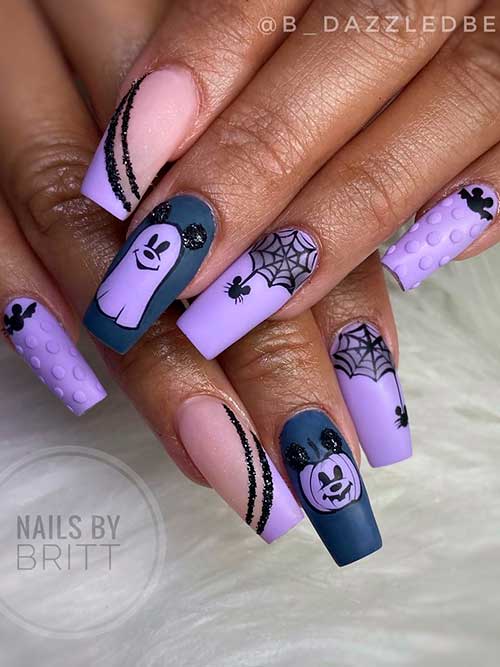 If you're thinking of wearing ghost nails this Halloween, you've come to the right place. Of course, these purple nails with various Halloween themes: ghosts, spider webs, bats, and pumpkins are really worth trying this Halloween.
8. Cute Monsters Nails for Halloween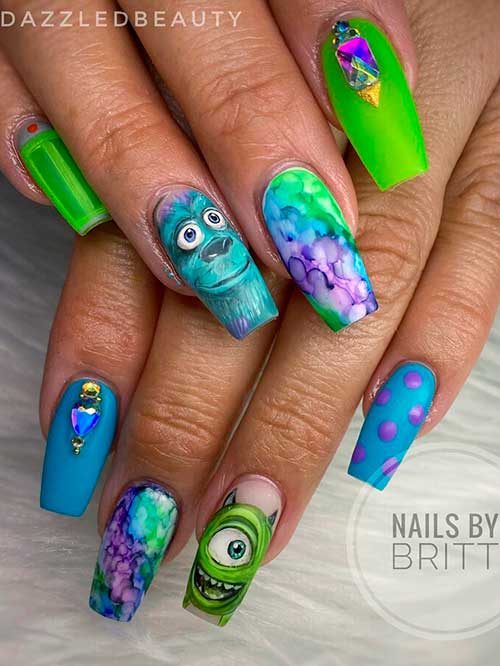 This Halloween, give your nails a Halloween makeover with cute monster nails. Of course, these designs are perfect for subtle celebrations of the season. So, try using a clear top and base coat, light green and blue lacquers, and rhinestones. Also, you can nail stickers for easy recreating instead of free-hand painting.
9. Miscellaneous Fun Halloween Nails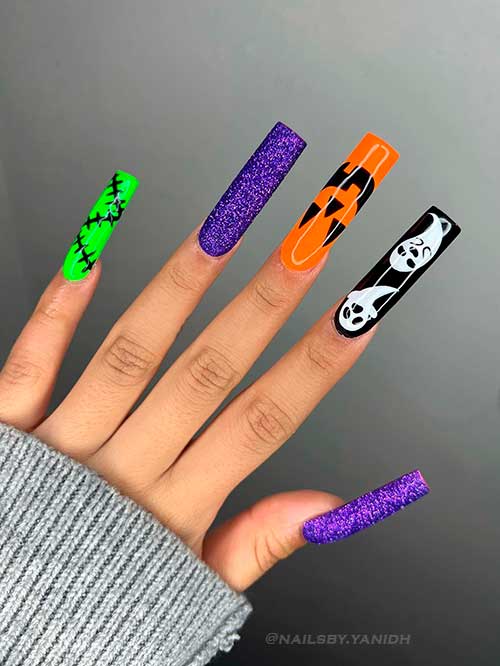 For a spooky look, try incorporating different spooky nail art. So, you can ghost, pumpkin, Frankenstein nail art, and purple glitter in one design. Indeed, these nails have a spooky vibe but can also be cute and playful if done correctly.
10. Spider Web Halloween Nails with Skull Scoops Accent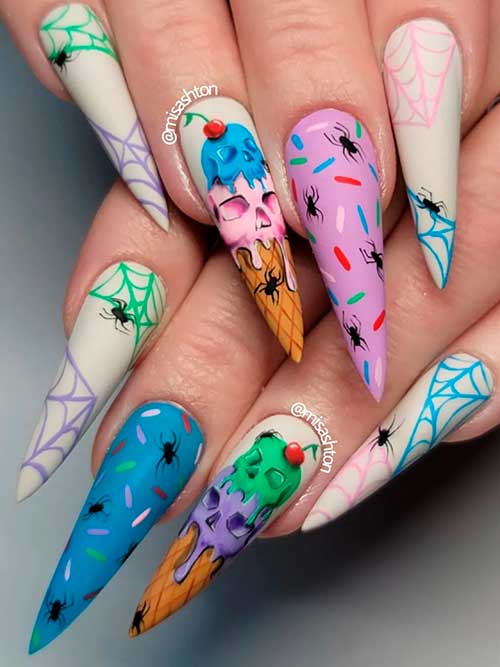 Halloween is just around the corner, and nail art is a fun way to get into the spirit. So, you can try these stiletto pastel Halloween nails that feature spider web nails, and skull scoops!
11. Black Halloween Nails with Glowing Ghosts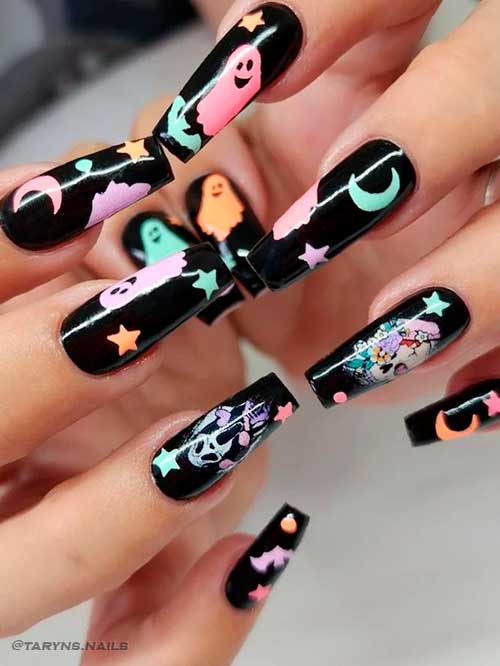 When it comes to black Halloween nails, you have a lot of options. The designs you can choose from are fun and cute. Also, you can even opt for something pretentious. So, you can try a ghost-themed design if you like.
12. Cute Halloween-Themed Nails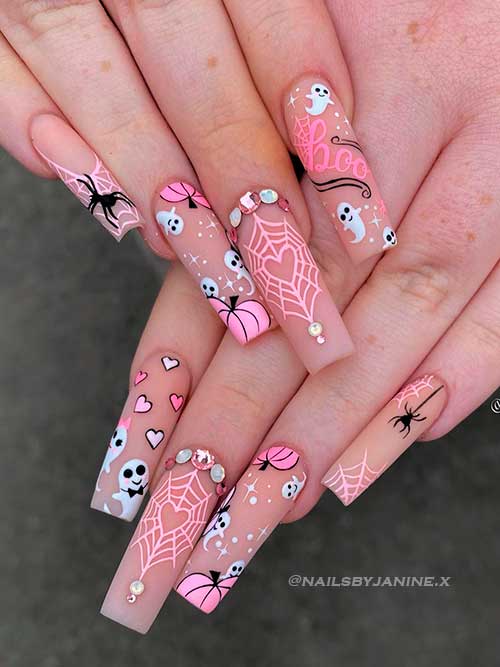 If you're looking for a cute design for Halloween, you can try a Halloween-themed nail design. Indeed, there are many different designs you can choose from, including ghosts, bats, pumpkins, and spiders. Also, you can combine various Halloween themes in one design using pink, white, and black nail polishes on the nude base color.
13. Cute Pumpkin Nails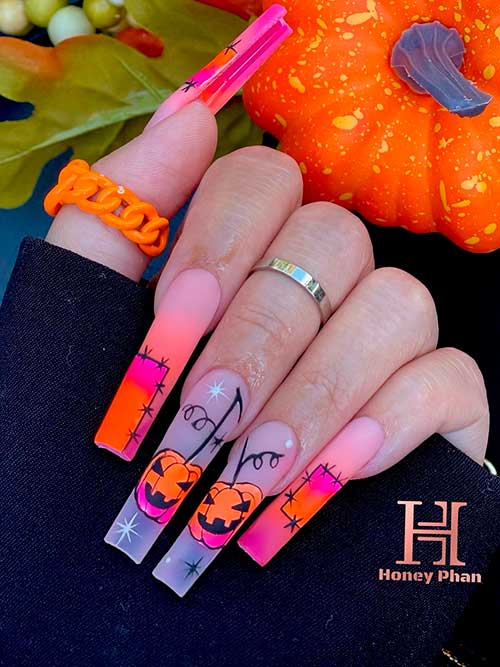 Still, pumpkin nails are a fun way to add a little festive flair to your look. Furthermore to that, this design is simple to make and will be ideal for the Season of Halloween. Also, you can choose from a traditional orange pumpkin and leaves or a more modern pumpkin spice latte design.
14. Black and Pink Halloween Nails
If you want to make your nails look scary, you can use a combination of black and pink drawing spider web nail art, scary ghost face, and bats. Because, scary nails can look very creepy, especially with a combination of black and pink.
15. Black and Burnt Orange Halloween Nails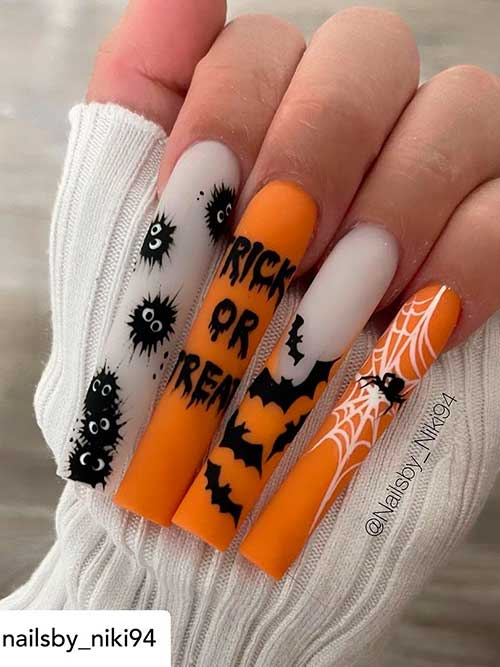 If you're not sure where to begin, with your Halloween nail art, you can't go wrong with burnt orange. Indeed, this color is often associated with the season, which is appropriate given that Halloween is a time of darkness. However, it can be fun to take a different approach by adding black and white to your orange by drawing bats and spider web nail art.
16. Halloween Skeleton Nails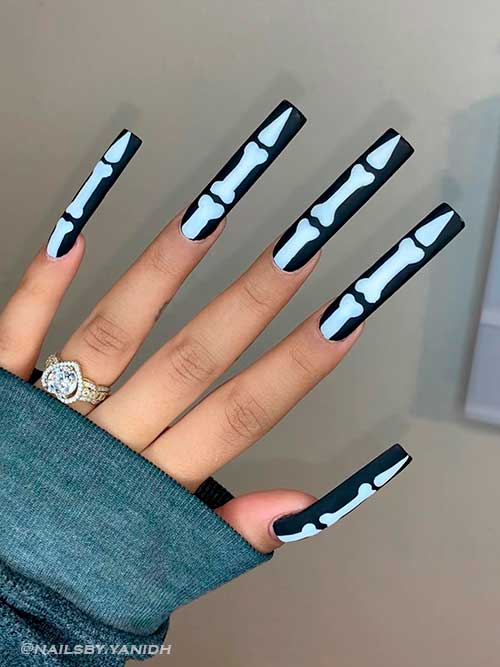 Black and white is a hot color combination this season, and Halloween skeleton nails are a perfect way to sport them. Besides, these eerie and spooky nail designs are quick and easy to apply.
17. Halloween Candy Corn Nails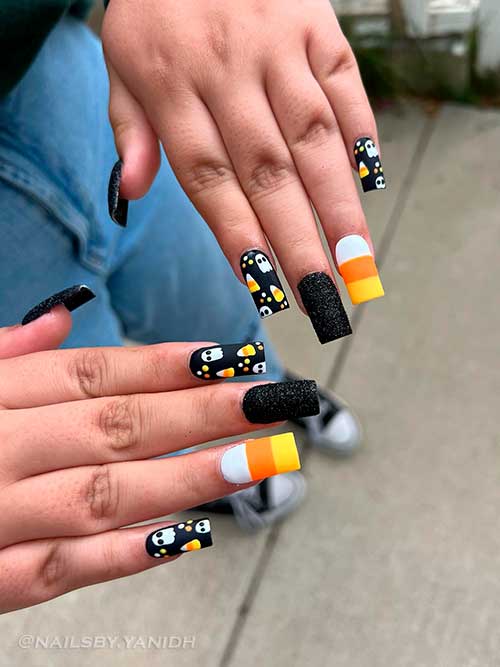 This simple Halloween nail art is super cute and easy to do. Furthermore, these nails feature black nails adorned with candy corn and ghosts and are finished with a matte topcoat.
18. Day of the Dead Halloween Nails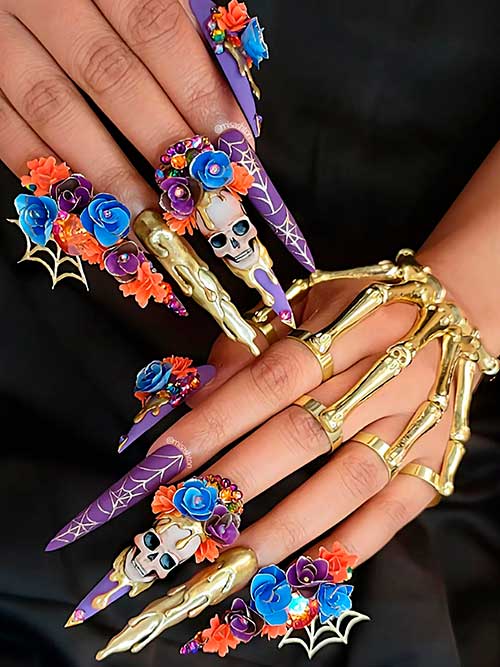 For Halloween, why not try out a creepy spider web nail design on your long stiletto nails? Indeed, this creepy design looks great on nails with a matte finish. Besides, not only is it Halloween-inspired, but it's also Gothic and glam. Also, you can add the web as a design to your nail art or combine it with other details, like glitter, rhinestones, cemetery flowers, or an acrylic sculpted skull.
19. Halloween Evil Eyes Nails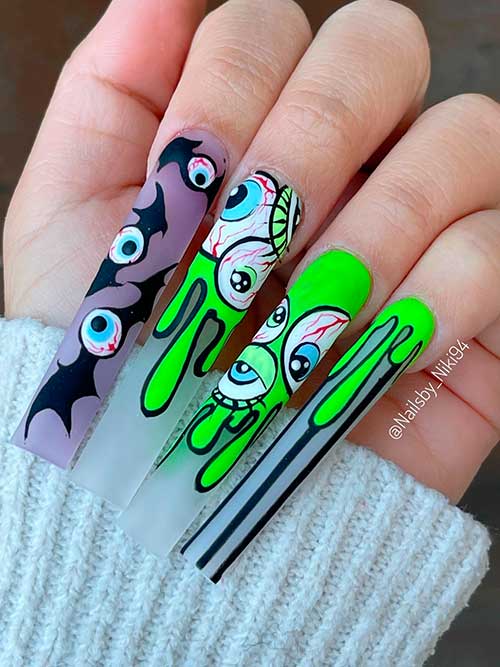 There are many ways to achieve an evil eye manicure, and the best part is that it is easy to create at home. So, you can use nail art pens or a simple dotting tool to create the evil eye effect. Of course, this nail design is a fun way to add a little spooky flair to your look.
20. Matte Orange and Black Spooky Nails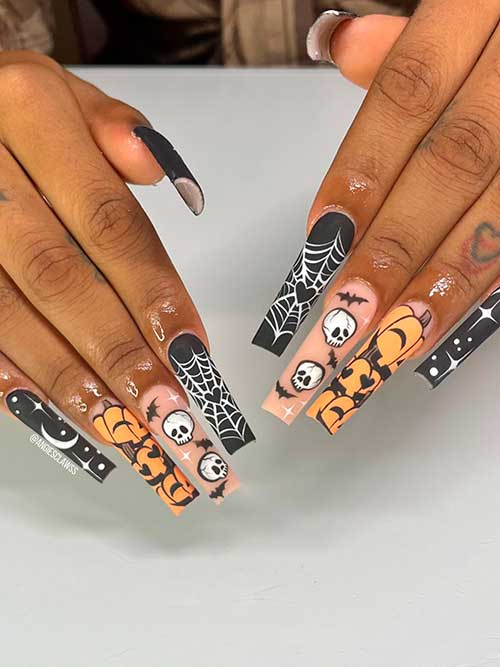 Still, black and orange nail designs have a striking contrast and are a great choice for Halloween. Furthermore, these two colors are versatile and you can use them together in many different nail designs. So, you can combine different Halloween themes: spider webs, skulls, bats, pumpkins, and celestials in one nail design.
To Conclude
At last, Halloween nail designs are a fun way to add spooky, ghoulish fun to your hands this year. So, you can paint your nails in various designs based on your favorite Halloween theme. Additionally, you can play around with colors. Of course, some nail designs are spooky, while others are very classy but cute.